This week, how about we make some granola? You know you want to and everyone will love you for it! Let's do it!
I learned this recipe from Ann Gentry's marvelous book (which I highly recommend), Vegan Family Meals, and simply added a few ingredients myself. It is so delicious! You can eat it as a snack, combined with your favorite cereal, non-dairy milk and fruit, or add a little to your favorite raw nut mix to increase the yumminess factor!
We already discussed the large variety of non-dairy milks on the market. With such tasty, healthy, kind alternatives to dairy, it's so easy to make the right choice. We can also easily make fresh nut milks at home, which are, the healthiest option of all! Ann Gentry provides an easy recipe in her book. Also, the amazing Montreal-based Naturopath and Raw Food Chef Joanne Gero has a Youtube video channel where she shows us step by step how to make a fabulous almond milk! YUMMY!
This granola is really simple to put together; the majority of the time it takes to prepare this recipe is spent chopping all the nuts! I put some tunes on and it becomes a meditative process for me. I also love to teach this recipe to my students in my vegan cooking class at McGill University. We have lots of fun preparing this recipe together and we practically smell up the whole building with the tantalizing aroma as it bakes!
You will notice from the recipe below that the sweetness comes from maple syrup. The rice syrup is also necessary, not for sweetness since it doesn't have much of a taste on its own, but rather it is essential for its binding effect. The rice syrup is our little secret weapon for creating those much loved clusters in the granola! Love granola clusters!
This granola stores very well in mason jars or any glass jar for 2 weeks and more! The crunchiness and freshness remain intact. This is why I love making a batch and bringing it as a gift to friends. Who doesn't love homemade granola? Try it and have a blast!
Enjoy, in joy and in health!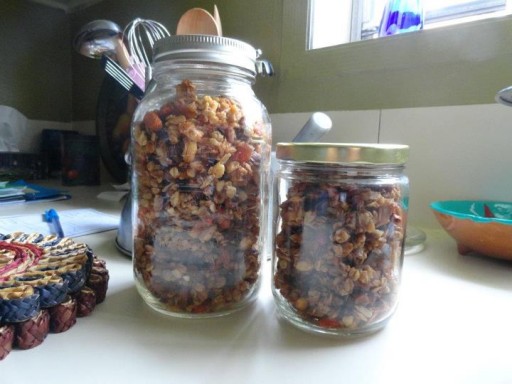 Ingredients:
Makes about 7 cups
1 ½ cups old-fashioned rolled oats
½ cup raw Brazil nuts, chopped
½ cup raw, shelled sunflower seeds
½ raw almonds, chopped
½ cup raw pecans, chopped
½ cup raw walnuts, chopped
1 teaspoon ground cinnamon
1 teaspoon sea salt
3 tablespoons coconut oil, melted
¾ cup maple syrup
1/3 cup brown rice syrup
3 tablespoons water
1 tablespoon vanilla extract
¼ cup dried apricots, diced
1/3 cup golden raisins
¼ cup goji berries
Method:
1. Preheat oven to 300˚F.
2. Line large baking sheet with parchment paper and set aside.
3. In large bowl, mix oats and all chopped nuts and seeds. Mix in cinnamon and salt.
4. Heat coconut oil in a saucepan over low heat. Add maple syrup, rice syrup, water, vanilla and whisk just until blended and heated through.
5. Drizzle the syrup mixture over the oat mixture and stir with a whisk to coat.
6. Spoon granola mixture evenly over parchment-lined baking sheet. Bake for 40 minutes.
7. As granola bakes, gently stir it every 15 minutes.
8. Add apricots, goji berries and raisins and cook for 10 more minutes.
9. Allow to cool. It will become crunchy when cool. Serve alone as a healthy snack, add a couple of spoonfulls to your raw nut mixes, or with cereal, banana and/or blueberries and a non-dairy milk of your choice.
"Want your family to enjoy delicious, healthful meals and snacks? Feel and look their best? Improve their long term health? Help the environment? Vegan food makes an incredible difference, for our bodies and for the world around us." ~Ann Gentry, Vegan Family Meals