Surprise Me Mr. Davis played their first show in Montreal last Tuesday to a crowded Sala Rossa. Mixing blues, bluegrass, country licks and rock, the band is a washing machine of style that comes together beautifully because of   talented musicians that make the band feel flawlessly good.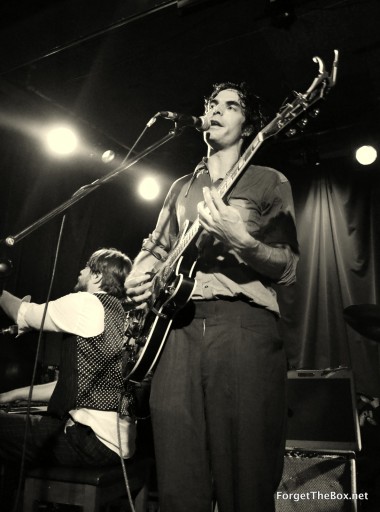 Founded in 2003, Surprise Me Mr. Davis is a collection of musicians that played together in the Boston area; Andrew and Brad Barr on guitar and drums (from The Barr Brothers), Marc Friedman on bass (The Slip), keyboardist Marco Benevento, and troubadour Nathan Moore on guitar and vocals.
In 2005, Nathan had a run-in with California State Troopers while en route to the High Sierra Music Festival. During the show, he pinched his fingers to show the crowd the amount of mushroom stem it took to get busted and detained.
Because of this, he wasn't allowed to enter Canada, complicating the band's That Man Eats Morning For Breakfast tour. But after Nathan handed over fingerprints, scans and documents, he was finally able to petition the government to allow him to sing and entertain us Canadians.
On Tuesday they played a full set – what felt like a good two hours of music – mixing complicated country riffs with dusty electronic feedback folk, poppy rhythms and blues, which made me feel like I was in some futurist western dream.
I really appreciate Nathan Moore's deep voice and raspy quality, its confessional twang and its sweet harmonies with Brad Barr's pipes.
One of the songs that stood out at the show was "Sissyfuss." It had a great rhythm and got the crowd moving. It is a song that tells us about the reasons why you don't commit to something, you may want it, but you don't want the burden.
But there was even more heartbreak later on when they played "Joelle" and my heart sank during "Home Away From Home," a song that can make you homesick, even while you listen to it at home.
But not everything they played was sad and bluesy. There was also compositions that were pretty busy with fun riffs that make your body sway to the music like "Emily Green." With this little pop number how can you not get into the groove?
Andrew Barr's drumming was hard, tight and played with the command of experienced precision. His style really defines the music, I find. Of course, if you have seen him play before, with the Barr Brothers, you won't be surprised by his talent with a kick drum.
The show was great, thank you government of Canada for letting these young men entertain us. Let's hope they make it back to Montreal in the near future.
If you want one really good driving album when you run away from home I recommend that you listen to a few tracks of their last album, check out their website. here
* photos by Chris Zacchia