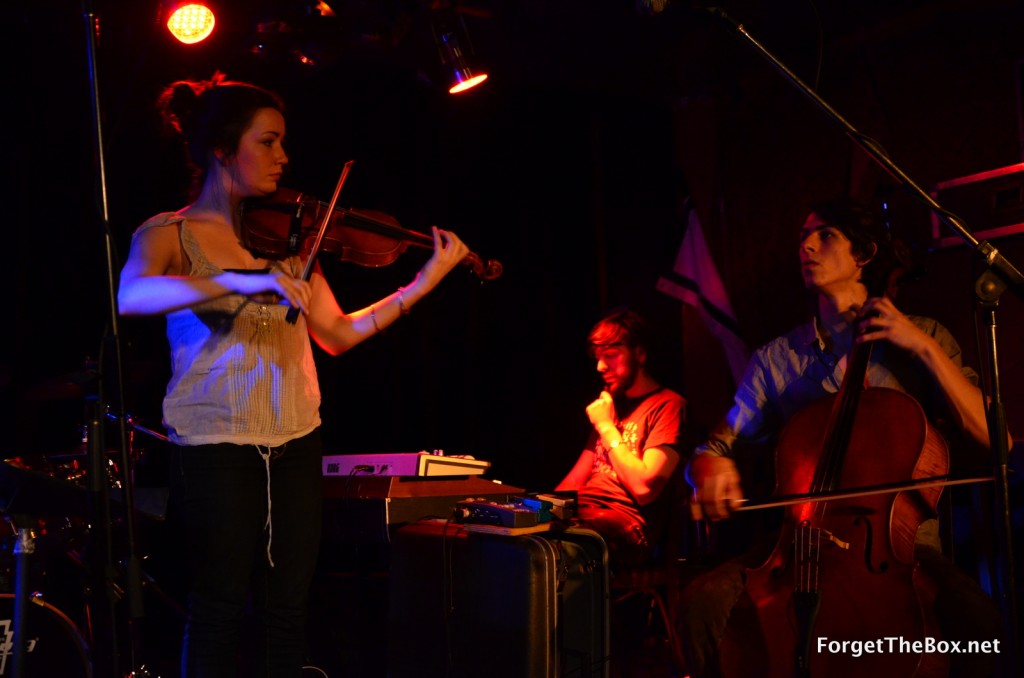 What makes you most confused? Does it confuse you when you go around a corner? What about a person randomly dressed up as Stephen Harper sitting next to you on the metro? How about going to get milk and realizing all the milk has magically turned into cereal…wtf. Yup, that'd be pretty damn confusing. Anyway, I think we can all agree being confused just means not understanding. But what happens when not understanding isn't confusing, but interesting and unique? That's what Sweet Mother Logic sounds like live interesting and unique. Don't be scared of the wordless music, Tim Burton's not afraid of the dead.
(WARNING: This is a regurgitated thought from my preview), instrumental music isn't for everyone. (EXCITEMENT: original thought from this review) you've really gotta want to listen to this music, which may be what divides music lovers and music listeners. Being able to define your music the way you want – style, instruments, sound, band mates without too much outside influence is a critical part of making good music. There's a certain pesticide that has been sprayed over artists these days…like a money foam or something. It's killing the vitamins needed to produce original music. Thankfully Sweet Mother Logic seems to have avoided this death-of-organic-music-spray.
Last Thursday I saw Sweet Mother Logic live at Le Divan Orange. Their music is a series of sound stories bound together by an amazing, talented group of artists. Every original sound connects to a piece of a puzzle that both lobes of your brain are trying to digest. You might be confused at first because the stage is packed with artists, and you can't understand how everyone fits in such a small space. And then you just listen and stop trying to get your mind to understand things that really aren't as productive as the enjoyment of music. It's a pretty simple concept, produced by a group of intellectual people who share with you their complex tunes.
Sweet Mother Logic's music isn't light, fluffy unicorns that wander around with that creepy child molesting leprechaun from Lucky Charms (seriously dude, those star marshmallows are sketchy). There's a certain stream of conscious that lies above each song. As I'm sitting down watching them perform it looks like there's an invisible string attached to each band mate that pulls at them to jump in at the exact moment you think the story of the song is about to fall off a cliff. It's like all of a sudden POOF a new sound is added, POOF a new person opens in, POOF a new audience member's ears perk up. Their live songs go into the woods or jump in the water or becomes an invisible monster that only the kid from Where The Wild Things Are could ever possibly understand.
Yup, they're pretty Tim Burton style awesome. Yup, it's like your brain's biking (both pedals aka lobes are moving). Yup, you did miss a good show if you weren't there (I'm no good at lying).
So friends, take an hour to listen to Sweet Mother Logic and see them live next time. You could even invite that crazy leprechaun; pretty sure it's not going to be an all age's venue.
Cool beans.
Sweet Mother Logic played live @ Le Divan Orange on February 3. Our brains' got sparked and wired while our ears perked up and our eyes just gave up. It's Tim Burton style awesome.
If you like bands like this check out indiemontreal.ca for up coming shows.
Also check out this video from their last show
For more pics check out our FB photo album
Photos & Video by Chris Zacchia