So how do I feel about the Quebec 2014 election results? Hmm, well, that's a tough one. Really, it is.
I'll break it down for you:
The Good: Xenophobia lost hardcore
This election may be remembered as a historic loss for the PQ and an end to Pauline Marois' long political career, but that's not the real story. This was primarily a rejection of the Charter, state-sanctioned xenophobia and the politics of ethnic and cultural division. And that is a very good thing.
Marois wasn't elected to ban hijabs and turbans and when she staked her re-election on it, she lost resoundingly. I doubt the PQ, or any other Quebec political party for that matter, will try using extreme identity politics again.
I'm proud that the place I call home won't be known internationally as the racist part of Canada for much longer. That was sooo 2007.
I'd also like to congratulate Manon Massé for winning in Sainte Marie-St-Jacques. Quebec Solidaire now has three MNAs and a strong, committed activist now has a voice in the National Assembly.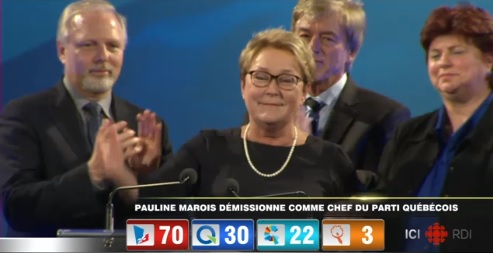 The Duh: Liberal Victory
It makes sense. After PKP's fist bump and Marois desperately trotting out Charter supporters who apparently had no clue what the proposed law was supposed to do (seriously, Janette Bertrand needs a better rental agreement and maybe a psychiatrist, not a government edict) it became apparent that the PQ was going to lose power.
I know that barring a political wave (they do happen here from time to time), Quebec wasn't ready for a QS or Green government and the CAQ was fast becoming redundant. That leaves the Liberals.
I was fully expecting a Liberal victory and thought the prospect of Couillard as premier for a bit was a necessary evil that I could endure. Except…
The Bad: It's a Liberal Majority
I like a minority government situation. It forces the party in power to either work with the other parties and by extension the voters who put them there or pull a Marois and try to re-work the social fabric and go out in a blaze of wealthy Islamic fundamentalist McGill students stealing your pool time.
It also sends a strong message about voter intentions. Giving an opposition party minority government status is more a rejection of the outgoing party than approval of the incoming one.
In 2012, people voted against Jean Charest, Bill 78 and his austerity agenda more than they voted for the PQ. It was clear to almost everyone except Marois, but then again, she also thought the Charter was a good idea and believed that PKP wouldn't stab her in the back, not the sharpest tack in the drawer.
If this time around the result had been a Liberal minority, it would have been clear that people voted against Marois and the Charter and the Liberals happened to benefit. Instead we have a majority and the Couillard can claim to have a mandate from voters, because, well, he does.
A few months from now, very few will remember how we ended up with the PLQ in power. When Couillard passes austerity measure after austerity measure, tries to privatize healthcare and raise tuition again, there won't be anyone standing up saying "dude, you're only here because the last premier was a racist nutjob and an international embarrassment."
Couillard isn't Jean Charest. He's more of a placeholder PLQ leader who found himself with a majority government because of a strategically inept PQ. I can only hope he recognizes that and doesn't try to foist an agenda on people who were, for the most part, listening to what the PQ was saying when they voted Liberal.
If instead he tries to be Charest, we're in for four years of social unrest that may make the Maple Spring look like a day in the park.