It's been a year, y'all. We shook off the collective nightmare of lockdown, put on our dancing shoes, and partied. Bars, theatre, concerts, comedy, art, all the stuff that keeps the lights on in our city and our souls returned from the forced hiatus.
It didn't take long for us to get used to it, and every now and again I stop myself while doing some mundane thing like walking through the Eaton Centre and remember how much I craved the basics.
As some of you may know, I have a lot of well thought out complaints about the ways of the world (catch me on FTB Weekends with Jason C. McLean), but provincial elections and healthcare crisis aside, the gratitude was especially delicious this 2022.
January
It's a mind bender to recall that we came into 2022 under curfew, and in lockdown, but at the time it was hard to think of much else. Instead of show announcements, we kept our ears to the ground for cancellations, wondering how far ahead they were planning.
It was miserable. Igloofest was canceled. Online shows offered some reprieve, but meh. If we were in a tumbleweed climate, they would be rolling through this month.
The whole thing was gloomy.
February
February is often called the most depressing month, and in the COVID time it was at least doubly so. We were still under partial lockdown, but hope was on the horizon!
Nuit Blanche was finally coming back and Osheaga announced its lineup, signaling that normalcy was within reach. Some performers would change before the show, but all we heard is that there would be shows.
In fact, some local shows started to pop up and bars were scheduled to reopen February 28. Is dancing allowed? Is singing allowed? No one's sure, but we're stoked to get out there and find out.
March
The show is finally going on, which is really saying something considering the curtain on CATS was originally supposed to go up in March of 2020.. Just For Laughs announced its lineup and things to look forward to were starting to pop up everywhere.
This is when Montreal Museum of Fine Arts was doing what it could with limited capacity: starting at the end of February, you could get in if you booked your time slot (in 15 minute increments) online, masking and distancing are mandatory, giving the security staff the new task of keeping people from moving through the rooms too quickly or getting too close to one another. Only the major exhibit was open, and I learned that I don't like Riopelle, but being back feels momentous.
Concerts have begun, but safety measures are in place there too, making the whole thing seem weird. My bf goes to see Sepultura at a fully masked metal show, and it sounds dystopian to me.
April
The MMFA is actually factually all the way open, though you still need to book a time slot. I beeline for The Decorative Arts & Design Pavilion, which is open for the first time in ages, having been "closed due to reorganization" or some such even before the pandy. I am in my happy place.
As part of an experiment on our party rules, the SAT serves up drinks and tunes for 24 hours straight which gives me some hope that maybe the "new normal" will allow for some reconfiguration of things we've taken for granted as status quo for too long (writing this at the end of December, that hope has long since crashed and burned, but it was lovely while it lasted).
I'm comforted knowing that while everything feels like it's on the brink, Montrealers can unite against some showy corporate silliness as we all discuss the city's new giant ring.
May
Spring is springing, and the good times are indeed rolling. I finally get out to my first post-COVID show. I've seen Symphony X before, and they put on a good show despite not being on my regular rotation. This is about getting out, and bring with people and not wearing a mask in a crowd.
We meet up with friends for drinks and food. No vax passes. No masks. We come and go from the show so much, it's about the band the same way high school dances are about dancing. I'm jazzed.
I also leave town for the first time in years, and head to Halifax for the first time ever. We hit some familiar territory, and hug people we've missed.
Back in Montreal, masks were still in place at Mainline Theater where performers wore them throughout Carrie: The Musical rehearsals. As someone who's still masked at work, let me say that phone calls are hard enough, kudos for pulling off a musical.
There were no masks on stage for Contact Theatre's Next to Normal at Monument Nationale and Cirque du Soleil came back strong with Kooza.
June
At this point our regularly scheduled Montreal programming seems to be rolling right along, and Fringe is next! James Gartler checks out Tango to the Pointe along with Al Lafrance's Is This Yours? and Josephine, a burlesque cabaret dream play, saying of Josephine that "it stands easily as one of the best shows to ever play at the Montreal Fringe Festival".
I peep What About Albert? and enjoy the heck out of it.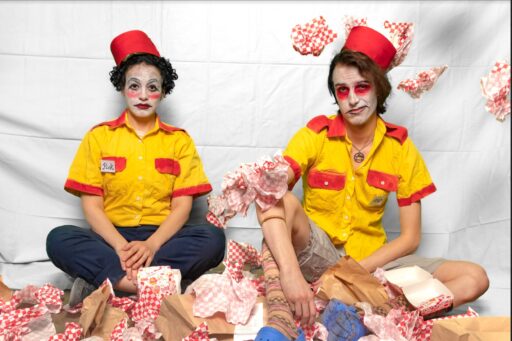 July
I smiled through this whole month. There are events at every turn, and Montreal summer is thriving. At the beginning of the month, our Editor Extraordinaire says to me "hey, someone approached us with a creative thing that made me think of you", which is how I met my creative soulmate, and that will come up later.
ComicCon is back, and the fits are fierce. Flipping through the cosplay pics, I get a little sentimental thinking about how long it's been since we've all been able to let our freak flags fly in all their carefully crafted glory. Man, we're beautiful.
James Gartler went to Malcolm McDowell's talk and he learned that the only time in his 60 year career he was ever stiffed on gig was by a producer in Montreal, so we have that dubious distinction.
JFL is back for its 40th edition, and I'm desperate to laugh with strangers. From late July into early August, all my friends have to listen to me fangirling about who I'm interviewing. I loudly tell everyone I know that I can't make their things 'cuz I have media passes to comedy shows, and article deadlines. Everyone calmly assures me that I wasn't invited to their things, and pats me on my head for being so cute and excitable.
Seriously though, when you look at it all in one place our FTB Team had JFL on lock. Samantha Gold spoke to Canadian comedy royalty Rick Mercer, comic, Hollywood and Bollywood actor Vir Das and even Randy Feltface, an actual puppet. Jason C. McLean spoke with Letterkenny star Mark Forward and caught Irish comic Tommy Tiernan's new show. James Gartler took in Trixie Mattel's free outdoor drag show and SNL and stand-up star John Mulaney's latest one-man show.
I spoke to a bunch of folks I never thought I would such as Alonzo Bodden and Pete Holmes. Despite Big Jay Oakerson closing out our phone interview by saying I should come up and say hi at the show, I freeze and never say hi. I see him outside with Brendan Sagalow on another day, after a different show, and I stare like a weirdo, but keep my distance.
July/August
As Montrealers we're confident in our summers, but painfully aware of their fleeting nature. By the end of July squeezing in all the summer activities becomes a full time job, and this year it's coming to a head as Osheaga & JFL share a weekend.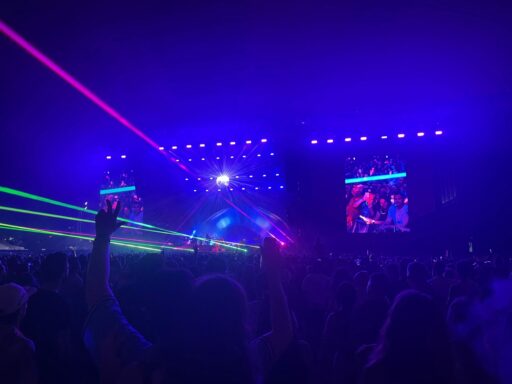 As one FTB team was all over JFL, another team covers Osheaga with Joe McLean and Jerry Gabriel's previews and coverage from Jerry Gabriel of the rock-oriented Day One and the mix of everything Days Two and Three, plus Chris Zacchia's festival photos.
Meanwhile, my Maritimers BIL & SIL come to town for their first Osheaga, and they haven't been here in years. We live it up, and I fall in love with MTL yet again as I experience it through tourist eyes. They had a blast at the show.
August
Oh, I remember August because before we'd even sent the Scotians home, my bf tested positive for COVID. Damn it. We lock ourselves in, and I catch it in short order.
Considering I've been working at an office this whole time and taking public transit throughout, it seems fair. We both feel like bags of poop, but we're super glad it wasn't worse.
Meanwhile, Samantha Gold was checking out Repercussion Theatre's All Shall Be Well and the POP Montreal lineup is released giving us more to look forward to.
September
In September I interviewed a fictional character when I sat down with Andrew Jamieson as Conor Blaine, (the aforementioned creative thing and the aforementioned creative soulmate). It was like playing with someone else's imaginary friend, and it tickled me.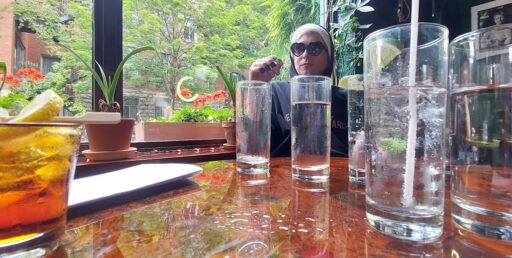 Montreal Stop Motion Film Festival returns for it's 14th edition, and I didn't know this existed until it was over, so as I write this I'm marking my calendar for next year.
At MMFA, Nicolas Party's pastels surprised me as the colours spilled off the pages and onto the walls. The Decorative Arts & Design Pavilion is closed again as pieces from there are used as part of another exhibit.
POP Montreal started at the very end of the month which takes up right into…
October
POP Montreal taught me a lot about how to better cover a multimedia, multi location arts festival. There was so much to do and see, but for me the highlight was catching Sophia Bel, who I'd never heard of, and now I tell other people about.
Samantha Gold interviewed Rocky Horror Show director Amy Blackmore and the time warp was live for the first time in years. Me First & The Gimmie Gimmies come to town, and it's a fun time.
November
In art news, MMFA puts on a fantastic Jean Michel Basquiat exhibit called Seeing Loud: Basquiat & Music. It features works by the artist, but is specifically designed to showcase the importance of music in both his career and life. The music plays throughout.
Big famous pieces aside, there are framed journal pages, concert posters, and a super cool map where you can track his path via concerts in NYC. This bad boy runs through February 19, 2023.
In other museum news, the Decorative Arts & Design Pavilion is back to being closed for reorganization or whatever. I sigh dramatically.
Anti-Flag brought old school punk to town, and image+nation celebrates 35 years.
December
The beginning of December already feels like a year ago. The Candyass Cabaret brought sexy back, the Stygian Caravan brought creatives together, and speaking of together, Glass Tiger still is.
Andrew Jamieson's Sleazy Christmas introduced me to comedian Morgan O'Shea who I thought was just some friend of a friend, and next thing you know, he's going up on stage, and I'm laughing till it hurts. Turns out he's profesh. I'll be intentionally seeking out his comedy in the future.
As is always the case, this year isn't over yet, and we're already looking to the next.
Osheaga 2023 headliners have been announced, and I already have Lizzo tickets for May.
Entertainment this week? Personally? So much chilling.
All the best to you, yours, and the dreams you're chasing. Blessed be & haribol.
Featured Image of Sophia Bel @ POP Montreal by Dawn McSweeney