Tomorrow is September 11th.   Most of you know that already and if you don't, just turn on the TV or pick up a newspaper and you'll most likely be bombarded by stories of tragedy remembered.   Some of you may also remember how this tragedy prompted more tragedy in the form of two wars and restrictions on personal liberty unprecedented in western democracies.

For some, though, this date was important already before 2001, but in a positive way, a way that has now changed for the worse.   These are the people born on September 11th who now have to share their birthday with a tragedy.
"I know a good five or six people who share that birthday," says Jay Lemieux, a documentary and guerilla video artist and one of the people behind the weekly Smoke N' Mirrors series, "they all say that September 11th changed their lives as they no longer can enjoy their birthday now that all that negative energy is associated with it."
That's why Smoke N' Mirrors will be throwing them a birthday party this Saturday, cake and all.   As Lemieux puts it, "we're trying to give back to some of the forgotten victims of 9/11."
Lemieux is fully aware of the bad taste implicit in such a statement.   He is also aware of all the baggage that comes with 9/11 and the ironic way the events of that day have been used to "manipulate and even hypnotize the population."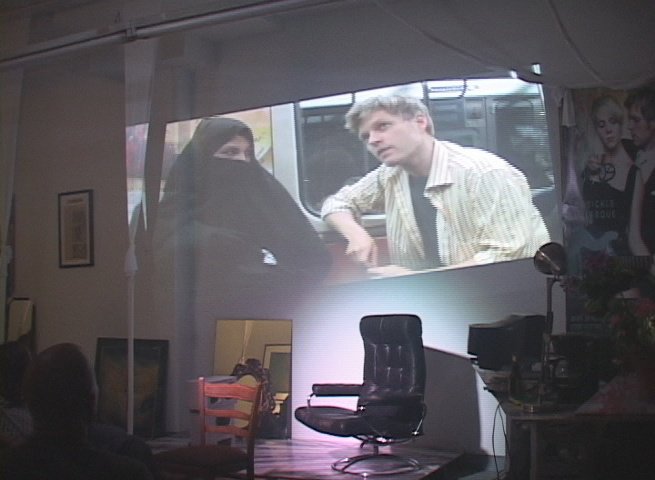 "I just think about all the propaganda that came with it," he argues, "it was a very sad day of course, but even more sad is the hundreds of thousands who died from the wars that were justified because of the attacks."
Smoke N' Mirrors is all about cutting through the propaganda.   The weekly series conceived by Lemieux and comedian and visual artist Math Boylan "is a multi-media brain fuck that is meant to show the audience a different perspective then what they usually see at most shows."
The event features comedians such as Boylan and George Hamilton Braithwate, Sandrine Charbonneau and Stefan Petersen performing with a live video feed of themselves mixed in with projections of videos by Lemieux and others.   Lemieux sees it as an alternative way of doing comedy.

"Most comedy shows have a certain formula – set up, punch line, laugh –   mostly based on self deprecation," he says, "I think that just by taking people out of that formula or box you are giving their brains room to breathe and hopefully open up to things they were previously closed minded to."
The show premiered in June at the Montreal Infringement Festival then picked up again and went weekly in August.   Lemieux feels it will keep growing, just as media disinformation and public acquiescence unfortunately grows as well.
"I think right now, with the BP spill that people have already forgotten, a US president that is doing the same shit as the last one but happens to be black so everybody either likes him or dislikes him for the wrong reason, there's a lot of smoke n mirrors going on in the media," Lemieux points out, "so as opposed to most magic shows where they try to trick the audience, we're trying to show the audience how we're being tricked.   It's an unveiling of sorts."
The Smoke N' Mirrors 9/11 Birthday Bash starts at 9pm at Xpression Gallery, 5334 de Gaspe #308, pay-what-you-can