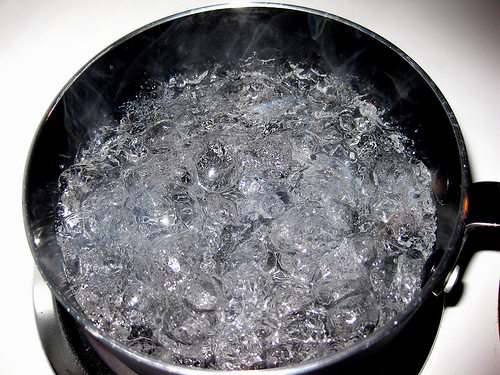 Unless you've been under a rock, you may have heard that Harper made some major cuts to Environment Canada in his most recent budget released this spring.
On the chopping block were "redundant" air quality monitors, but also the Sustainable Water Management Division of Environment Canada. The rationale of the government was that their work is being duplicated provincially and by municipalities, though smaller cities and towns will also be losing some of their conservation and wastewater programs.
Maybe the state of water in Canada is better than a decade ago, but the folks at the Sustainable Water Management Division say Canada needs a water charter, possibly because safe water could be considered a human right.
So just for kicks, let's look at drinking water in Canada, à la Harper's magazine Index:
Number of boil water advisories put in place across Canada in the past week: 15
Number of sites de-listed in the past week: 21
Number of precautionary advisories given in the past week: 39
Number of advisories currently in place across Canada: 1154
Number of code "red" warnings, telling communities not to consume their tap water: 45
Province leading in number of warnings: Quebec (172)
Province leading in number of red alert/"Do not consume" warnings: Quebec (32)
Number of warnings in place in 2008 in Quebec: 1760
Communities across Canada advised to boil water: 888
Province with most boil water warnings: Saskatchewan
Number of warnings there as percentage of total boil water warnings in Canada: 23%
Percentage of water advisories in First Nations communities: 6.8% (79 orders)
Total aboriginal population, as a percentage of Canada: 3.8%.
Percentage of reserves facing a health risk in 2001 from unsafe drinking water: 75%
Number of provinces where boil water orders disproportionately/entirely exist on aboriginal communities: 3 (Prince Edward Island, Alberta, and Newfoundland/Labrador)
Most recent CBC exposé of water boiling in aboriginal communities: 2006
Funding channelled to First Nations water and wastewater action plan in 2008: $330 million plus $165 million for priority water projects.
Photo courtesy of Scott Akerman via Flickr