I am the type of person that has a lot of irrational fear. I am afraid of things going too fast, I am afraid of letting go. I don't know if I have ever really had an orgasm or truly allowed myself to be vulnerable. I am a loner desperately trying to love life and experience everything, but rarely take the necessary chances.
Well, I did something spontaneous. I got in a car with my friend and his dog and drove across the United States in four days. I have always wanted to do the road trip to California, but I had a romantic image of doing it with a lover.
I wanted someone to want to see the world with me, I wanted someone to want to be confined in a car with me. I was sick of watching everyone else go, waiting my whole life for a moment to arrive. I came to the realization that if I waited any longer I would never do it.
Regret is not part of my vocabulary. Nothing is ever going to work out as planned because we have no idea about the minute details that can change with the flutter of a butterfly's wings.
You can't wait for the perfect person or the right situation to come along, you just have to work with the cards you are dealt and make your own path in life. Find happiness in your own heart and do good things for others. Get in the car, take the leap, it will always be worth it.
I only had one week. The final destination was never the main attraction. Last year I went to the West Coast for the first time to go to the Burger Boogaloo (a punk music and art fest in Oakland). This year I was offered a free ticket from a beautiful person. How could I give up the chance to see Iggy Pop for the first time in my life? Now that Bowie is passed I can't miss Iggy. I also had the hopes of meeting John Waters.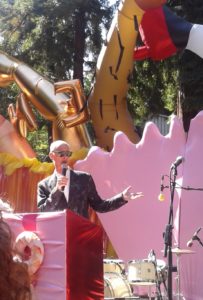 Of course I didn't meet John, that elusive bastard. Iggy Pop was fantastic, he has never changed, still rocking, made of leather, pickled by drugs, partied to the pit, hardened by rock and roll. John Waters proclaimed that he was a god.
It was exactly what I expected, but still left me with a strange emptiness. I remember the first time I ever heard the Stooges. Your Pretty Face is Going to Hell will always remind me of a time when I was young and beautiful, but so unsure that I missed out.
I was in a dive bar with my crush who had a punk rock soul and the most beautiful baby blues I have ever seen. I guess a part of me thought that if I saw Iggy live I would finally find something I have been looking for all of these years.
Now I watch a beautiful tattooed woman crawl on all fours to try and sneak up close, and then he ironically opens with I Want to Be Your Dog on the Butt City stage, his skinny greased shirtless body writhing between quirky inflatable characters with luscious asses. 
People pay rockstars to be confident. Society worships those who are sure of themselves and don't give a fuck. Art has no apology, it is god.
"Nobody understands me, I'm really sensitive. Everyone thinks I should be so happy, fucking all these chicks, and all the drugs and being a star. But I hurt. And I'm lonely." – Iggy Pop on being famous.
I think about my life as a performer, attempting shock and awe. Will I ever be as shocking as Iggy Pop with a jar of peanut butter? Will I ever be a household name? There is still heartache in the stars.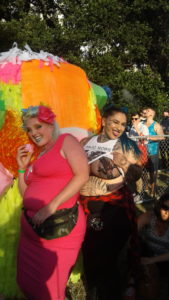 I wonder who Iggy sold his soul to for survival? My soul is not for sale. I will not become hardened leather, I will get softer with age.
I have always been living what I thought I needed to find all along. Fear and insecurity hold us all back too often. Everyone is flawed and everyone is perfect. The journey was always the important part. Proving to myself that I was strong without my "missing" soulmate. I am my own soulmate, my lover is adventure, my partner is the great unknown.
It was fun googling weed laws in each state that we drove through, just to see if we could drive recklessly with joints in our mouth. Blazing through the desert without a care in the world. I loved driving through the whole state, seeing the "Welcome to Arkansas" sign and then being welcomed to the next state.
It was addicting and inspiring. I was doing something that was just a dream before this. I don't follow though on a lot of my dreams. I have never lived anywhere but Buffalo and I am very naive in so many ways.
I would have to say my favorite part of the trip was at a moment where I was being bitchy and tired, we were heading through Arizona, about to go into Nevada and I didn't want to drive but continued on as my friend slept.
We had chosen Death Valley as a destination for this night. It was half way to San Francisco and had the best view of stars. Then I saw the twinkling lights of Vegas in the distance and knew I needed to shut the fuck up and keep driving.
I stopped at a truck stop and accidentally peed on my feet in a field of truckers. It was so sketchy and timeless. Kimya Dawson soothed my soul as we plotted on into the abyss. We pulled into Death Valley National Park at about 1 am. A wrong turn brought us to some tourists (country of origin unknown) who had gotten their rental car stuck in the sand (much in the same way I have been stuck in the snow). They were having a much worse day than I was.
It was 100 degrees Farainheit at night, you could die there during the day it gets so hot. (I laugh because the US is still behind the times and not using the metric system).
We just put a blanket out, set up camp, and I remember falling asleep watching the second most amount of shooting stars I had ever seen. The first was when I was laying in Lake Erie, naked, with some beautiful women during a meteor shower, that was magical. This was also magic.
I was in the hottest part of the desert on a summer night, I was far out of my comfort zone and there was no cuddling up to my cats or hugging my mom for a safety net. Watching stars dance and twinkle, looking at constellations I didn't know the names of.
Whenever I see a shooting star I wish for love. I do not know what that love looks like, but I will know it when I feel it. Love is waking up in the morning, the mountainous glory revealed, and indulging in a nude photo shoot in the desert.
Love is finding the perfect gross punk bar, love is kissing vegan girls, love is musicians who look you in the eyes and undress you with their sweet serenade, love is ending up naked on a basement floor in a warehouse in the Mission in the shadow of a Ghost Ship. A gypsy from Poughkeepsie. Love is smoking a medicinal joint in a park while a banjo plays behind you and two girls casually smoke a bong on a decorative blanket. I search the world for a feeling. Maybe I have met her 20 times before.
She kissed me and I wanted to hold her, she bit my lip and I bit her inner thigh. She held me under the same stars just in a different place. On a roof in my hometown, the stars were clouded by light pollution, I have been clouded. I have been so lost that the only way to find myself is to go. Go anywhere, just get in the car and run from all the abstract illness that has been constraining me.
The breeze was refreshing and my toes stuck out the bottom. She held me tenderly under the thin hole punched blanket, and I felt so safe. It was easy and I didn't need to guess how she felt. The familiar scent of bonfire burning made me happy to be home. Open to whatever possibility that may bloom in the warm sun. Water and cultivate to exist in happiness.
Let yourself try things and you will end up in the right nooks, on the right roofs, and always under the same stars.