A few months ago I had the privilege of meeting and interviewing members of Toronto indie rock band Low Hanging Lights following the release of their EP Insulated Picnic Bag. Last week, their singer-songwriter/guitarist Al Grantham released a solo album and sat down with me to discuss his songwriting process, what he was aiming for with this project and what it's like being an indie artist in a big city.
Stephanie Beatson: With your solo work, what kind of sound are you trying to achieve? You told me before that you are strongly influenced by Bob Dylan and a lot of his contemporaries in the seventies, partially because of the lyrical content. How does that translate into what you're trying to do as a solo artist?
Al Grantham: The original idea for the record was for it to be kind of a throwback, a confessional singer-songwriter album that would be pretty stripped down with basic instrumentation. What ended up happening is once I got into the studio, I can't help myself, but I want to try to make really weird sounds and arrangements. We did a couple of weird things on one track and then I said, "Whatever. Let's just make the whole album like this." I like hearing weird and new things. To me that's way more exciting than the alternative. I think the songwriting is very old school songwriter stuff, but we dress it up with arrangements that are hopefully a little more progressive and different.
SB: Tell me about the instrumentation on the album.
AG: Originally we wanted to do the whole album live off the floor, acoustic and vocals. It was supposed to be a Nashville Skyline Bob Dylan -type album, or a Neil Young album. Kind of a throwback with minimal instrumentation and just make it folky, rootsy. We went about recording guitar and vocals, but it's really stupid to record that way without a click track and then record drums to them. Thankfully Kaleb Hikele, the producer, is a freak and can do that sort of thing. Luckily, after listening through we decided we could record drums to about two thirds of the tracks after the fact. A few of them we had to re-record with a click track. I like the looseness of the live-off-the-floor tracks, but I think I'm a better vocalist when I'm recording them after the fact. I'm glad we have a blend though. It makes the album more varied.
SB: In what ways does your solo project differ from the band stuff?
AG: Ian Boos (bassist in Low Hanging Lights) used to play in a punk band. That's his background. I like a heavier sound as well, so we made a decision to streamline LHL about a year and a half ago and play more upbeat, heavier stuff but still with some strange things in the arrangements. The solo stuff I don't think about playing live. I kinda like that because I feel like I don't have to be hampered in the studio. Not to say that the tracks on the album couldn't be played live, they all could with the right people, but I don't have to worry about it which gives me the freedom to do whatever I want with the arrangements. That's exciting because it's like the sky is the limit. You can go down the rabbit hole without having to worry about finding a way back out. In terms of the band and the music, there are similarities. We've been playing two or three of the tracks on the album as a band, but made them more streamlined and aggressive.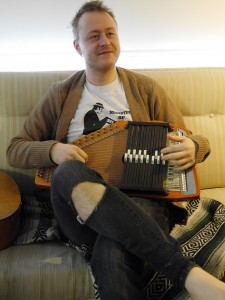 SB: What was the inspiration behind this album?
AG: When I started writing the songs, I was going through a really bad break-up that was messy. It fell apart and it was pretty bleak. I was in a bad spot. It was kind of like when you're eighteen or nineteen and you're kind of messed up, and you write compulsively. It is a very therapeutic thing. I'm not sure when that stopped for me, and I still enjoy writing, but I didn't do it out of necessity. After what happened a year and a half ago, that feeling came back and I found myself writing all the time because I had to. Then I had all these songs. I wasn't even really planning on making an album, but the idea came around and I got excited about it. I'll have to get another broken heart before the next album! When you're writing from a dark place it comes so easily. When you're not feeling that dark or sad anymore, it's hard to know what to write about. Lately I've been writing about people and characters I see around town. It's so easy to see stories everywhere you look.
SB:  What's it like to be an aging independent musician?
AG: It's difficult. At times you feel like a crazy person. I've sacrificed everything in my life so far (career, money, girlfriend, family) for something that's not always very rewarding. When it is though, it really is. That keeps me going. That and the fact that I'm not sure how functional and effective I'd be in a normal environment anyways. I remember the last few years I spent in Paris (Ontario) when I was trying to figure out what path to choose in life. I was so bored growing up there at times that I could literally feel myself dying. The thought of settling down into something comfortable at the age of twenty-two was scarier than every horror film I'd ever seen combined. Also, I really believe this is the worst time in history to be a musician, unless in the middle ages musicians were executed for bad performances or something.
It's a strange feeling to keep investing so much time and money into something that doesn't even seem to be on an upward trajectory. I'm a total independent. I don't work with a label. I'm used to playing empty rooms, and have been for ten years. I'm almost thirty. This is just a crazy, crazy thing to keep doing. You do it though, because you know somewhere, someplace, there are people who will really, really understand what you're doing and you will make their lives better in some capacity.
SB: What's your favourite song that you've written so far?
AG: For a long time it was "Solitary City Man Death," a Low Hanging Lights song. Musically and melodically I thought it was the most interested song I'd written. Recently I really like "Ms. Who I Thought That You Were," because it's so simple and really direct. I listened to After the Gold Rush by Neil Young right before bed one night, and when I woke up in the morning I grabbed the guitar right away and tried to write something in that style. It evolved into that song.
SB: What would you say your favourite subject matter you've written about has been?
AG: I always try to write about personal experiences. I wrote a song about Optimist Park in Paris, Ontario which is on the first album I put out. I think just writing about relationship dynamics. I think a lot of people think they know more than they do, including myself. I think it's a human condition that we all believe that we should have answers to a lot of things. When something goes awry, then we get angry because we have other expectations and we think something's a certain way. In reality there are a million different valid perceptions about anything. We're not above basic human processes like attraction, repulsion, that kind of thing. I try to get across in songs that I really don't know anything, haha. It's okay to not know. People always need a definitive answer for everything, you know? We don't do well with the unknown. But that's okay. It's life.
I wrote a video game song called "Never Found a Princess" about video game addiction. I wrote a song called "Emo Porn Ballad" about the porn star Sasha Grey. I think it's a really weird, interesting industry. It's one of the most profitable industries in the world but it's still so taboo to talk about it. Most people watch porn in some capacity, but a lot of people still feel uncomfortable admitting it. Sasha Grey is an interesting case because in interviews, she's very intelligent, very articulate and she's done some serious acting as well. That led to a song. I'm always interested by people and subjects that are on the fringe. I've always identified with outsiders.
Al Grantham's original (it's got theremin!), interesting and poignant self-titled album is out now and available on Bandcamp.
Photos by Stephanie Beatson.