There's really nothing better than sitting down for an evening of live theatre and getting swept away by a dazzling production and a wonderful score. The touring company of Broadway's Aladdin has descended upon Montreal this week to provide us with exactly that – a much-needed dose of magic and music amidst this slushy spring weather. Whether or not this theatrical voyage to a faraway place has more ups than downs, however, might be a matter of personal taste.
Make no mistake – the source material is solid. Disney's animated adaptation of the Thousand and One Nights tale about a boy who finds a magic lamp became a pop culture phenomenon when it debuted during the thick of the Disney Renaissance period. The film seamlessly blended adventure, comedy and romance to great effect, pleasing audiences and critics alike. It ultimately proved the most successful film of 1992, earning over 500 million worldwide and two Academy Awards, for Best Original Score and Best Song. It seemed inevitable, then, that the work of composer Alan Menken and lyricists Tim Rice and the late Howard Ashman would eventually be brought to the stage, but it wasn't until 2014 – after several out-of-town tryouts – that Disney Theatrical finally made it happen. The show has since weathered mixed reviews and a temporary shutdown due to the pandemic and continues to play to Big Apple audiences eager to revisit the story of Aladdin.
In this lavish touring production, fresh-faced Adi Roy is warm and winning in the title role, opposite Senzel Ahmady's comely and confident Princess Jasmine. His gentle vocals and her strong belt make for a pleasant combination as they navigate Menken's classic score. Unfortunately, their characters don't feel quite as fresh or groundbreaking as they once were. The independent princess and the pauper with a heart of gold have become a touch one-note in the intervening years, especially compared to the more complex protagonists seen across the current theatrical landscape.
Perhaps it's partially because there's little dramatic tension in their seemingly forbidden romance. The headstrong Jasmine is willing to run away from the comforts of palace life even before she meets the "street rat" who wins her heart. It's reasonable for even the youngest in the audience to assume she would abdicate her throne to be with him, or at the very least twist the arm of her kindly father the Sultan (Sorab Wadia) to land the husband of her choice. Why, then, does Aladdin persist in lying to her and disguising himself as the fictional "Prince Ali" when it's clear she already loves him for who he is, with or without a royal title?
Hoping to justify his insecurities, the producers have reinstated a song excised from the film called Proud of Your Boy, which touches on Aladdin's desire to make something of himself in the eyes of his deceased parents. It's a valid idea that goes unexplored, as he repeats his otherwise unaltered character arc from the movie. It's a shame book and lyric writer Chad Beguelin didn't manage to mine new territory for either of the heroes by expanding upon what once made them so compelling.
Thankfully, the Genie at the heart of the story has lost none of his trademark punch and pizzazz in the translation from screen to stage. Marcus M. Martin brings all the magic one man can muster to his portrayal of the quick-witted character made famous by the incomparable Robin Williams and created on stage by Tony winner James Monroe Iglehart. It's a show-stopping role to be sure, but that can be a double-edged sword. When audiences come into the theatre already expecting you to deliver, it's even more difficult to exceed expectations. Martin manages it with panache, commanding the stage with sassy charm, jazzy vocal stylings and enough razzle dazzle to make even the most jaded of audience members sit up in their seat and smile like a kid again. By the time he and the tap dancing chorus reach the frenzied finale of Act One's Friend Like Me, you'll have to resist the urge to rise to your feet in an ovation. This is one Genie who definitely works hard for your money.
The show's other big coup de théâtre comes in the second act, when Prince Ali attempts to woo Jasmine aboard his magic carpet. Impossible as it may seem, the duo do in fact sing their love song in midair thanks to the brilliant effects work of Jim Steinmeyer and Jeremy Chernick. It's a jaw-dropping sequence and sublime example of "less is more", as the swelling orchestrations from the film are dialed back to a gentle, almost music box-like arrangement of A Whole New World. Watching them float across the moon singing sweetly to one another brings new meaning to the lyrics, "hold your breath, it gets better."
The shining, shimmering and splendid sets and costumes – designed by Bob Crowley and Gregg Barnes respectively – add immeasurably to the atmosphere of fantasy and romance. Like the show's hero, however, there are times when it does feel as though they're trying a little too hard to impress. Natasha Katz's lighting design, for instance, seems to be in an almost constant state of flux, bathing the bedazzled harem pants, capes and crop tops of Agrabah in such vibrant color combinations that one occasionally wonders if the plot isn't actually taking place on the Vegas strip.
Casting a welcome shadow over the proceedings is Anand Nagraj as the scheming Jafar, a role originated by Jonathan Freeman in both the animated film and Broadway production. Nagraj's malevolent voice and willingness to embrace his character's sneering snobbery make him a terrific – if underutilized – addition to the proceedings. In a glaring missed opportunity, he is denied a proper villain song and instead left to pitch Aladdin on being the Diamond In the Rough he needs to brave the Cave of Wonders and retrieve the lamp. Aaron Choi accompanies him as the rarely-helpful human sidekick Iago, who at times parrots his master's words.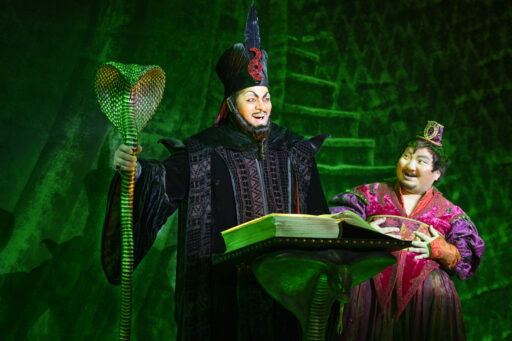 In another attempt to work around the headache of integrating animal characters from the film, Aladdin's monkey Abu has been replaced by a trio of loyal buddies who help him hustle in the marketplace and tussle with the palace guards. Though Colt Prattes proves a swarthy scene-stealer as the group's unofficial leader Kassim, the Huey, Dewey and Louie-colored comrades are almost completely irrelevant to the plot. In spite of getting to sing the best new numbers in the score – High Adventure and Somebody's Got Your Back – their presence in the narrative needlessly complicates matters. After all, if they're as broke and homeless as Aladdin, wouldn't they also be interested in stealing away the Genie's lamp and getting some wishes for themselves? And if they're not, why do they allow their disadvantaged friend to live on the streets in the first place?
Perhaps it's simply best not to dwell too much on the musical's shortcomings. As Broadway producers continue to dial back on the opulence of their shows in these hard financial times, audiences are often left wanting more bang for their buck especially from touring productions, which notoriously cut corners. This is one of the few big-scale musicals to come out of Broadway in recent years and survive long enough to make its way around the continent with much of its sparkle intact. So, as a faithful adaptation of a beloved classic that delivers the kind of fantastical stagecraft that makes you leave the theatre feeling like you're floating on air, can it really be faulted for falling short in a few places? Hardly.
As Aladdin himself would admit, two out of three wishes granted ain't all that bad.
Aladdin runs through Sunday April 2nd at Salle Wilfrid-Pelletier. Info and tickets on the Place des Arts website and Broadway Across Canada. Information about the Broadway production of Aladdin can be found at AladdinTheMusical.com