By the time I got off the 80 Parc bus, it was well after midnight. Small crowds of concert-goers were huddled around in clusters, smoking and chatting just outside of the doors of the Rialto Theatre where M for Montreal was kicking off. I shuffled around, anxiously waiting for a friend to arrive before heading in to check out the first of many acts that would follow over several nights of music that could most aptly be defined as insightful.
The scene's epicenter, the ground zero of the Mile End if you will, is arguably the corner of Parc and Bernard– the location of the Rialto, and the precise place at which I began my four-day musical odyssey through Montreal's indie network.
Almost right off the bat, I began to notice subtle, cultural markers embedded within Montreal's diverse performance spaces. I found it interesting that the indie, or underground, acts that I was about to go see were quite literally performing underground.
The artists performing at the Rialto that evening weren't playing on the main stage, but instead, at the Piccolo Rialto, a much tinier (let's say intimate) stage one and a half stories below the street. I guess the implication was that these acts weren't quite ready for the "big leagues" just yet.
As I sipped on a couple of tepid beers, listening to the likes of Calvin Love, She-Devils and Doldrums well into the early-morning hours. I found myself more people-watching than anything else. I was captivated by the amount of people drawn into this small, dark space, late at night, to listen to relatively-unknown bands.
Sure, the music was pretty good, but the word that kept cropping up over and over in my mind was communion. No, not the Sunday School kind of communion, but instead, the almost-transcendental bond that exists between spectator and performer at a small, indie show in Montreal.
The obvious question of why (why these spaces? why these artists? why these audiences?) was addressed when, by chance, I noticed indie-rocker and Montreal resident Alex Calder huddled at a corner table talking to a couple of friends. Calder, who once played with Mac Demarco in the lo-fi rock group Makeout Videotape, is now well established as a solo artist and recently released the well-received indie LP Mold Boy.
As a pretty big fan, I sort of nervously approached his table, feeling like the world's biggest hack. Pretty quickly, I realized that not only was Calder a really nice dude, but he might help me unpack the seeming mysteries of the Montreal indie scene.
Quite casually, he mentioned that he lived "just down the street" from the theatre. What seemed at first like a self-evident, mundane piece of information actually turned into something of a "Eureka!" moment as I mulled over my night on the busride home, chowing down on a St. Viateur bagel.
Calder's close proximity to the Rialto, and many other culturally-relevant performance spaces like it, wasn't just coincidence. And it's not completely convenience, either. Rather, it's a cultural trace of an intimate, artistic community at work. The indication of a close connection between performer and performance space in Montreal.
A picture, although still fuzzy, began to form in my mind. Perhaps what draws aspiring artists to Montreal is not just the "cheap rent" (as one music executive mentioned to me in passing), but the intimate connection organically established between artist and audience.
And I don't mean to say that it's all sunshine and rainbows, either. In fact, the vibe at the Rialto that night was strangely disengaged, distant. But I began to get the sense that the performer and the spectator relied on each other in an incommunicable way; these indie artists needs the consistent support of a local fan base, and in turn, the fan base relies upon a network of artists to have a musical scene with which they can affiliate.
Poets would call this relationship communion, biologists would call this relationship symbiotic. Personally, I would just call it necessary in the formation of good art.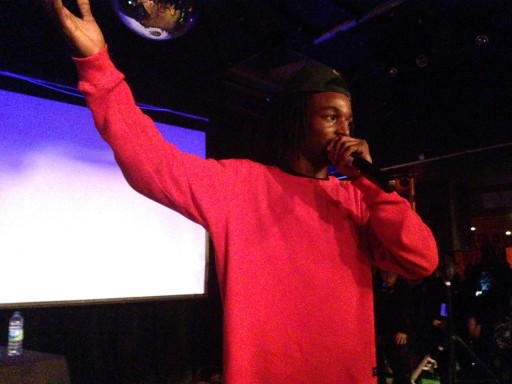 The next few days passed in rapid succession. Thursday morning, I waltzed into Hotel 10 under the pretense of free coffee and continental breakfast for members of the press. In addition to the free joe, what I also inadvertently infiltrated was an industry meet-and-greet, a kind of speed networking for festival pass holders who wanted to learn more about the ins and outs of the music business.
That morning served as an interesting foil for the rest of my weekend. It was as if I caught a fleeting glimpse at the cogs and gears that make Montreal Montreal's music scene, for lack of a more artful term, "work."
That night, I watched up-and-coming Toronto-based hip hop artist Jazz Cartier take the stage at Cafe Cleopatra in front of a small, but very hyped-up, audience. And on Friday, I headed up to Little Italy to check out the Blue Skies Turn Black showcase of Nancy Pants and Look Vibrant! before bombing back downtown to see Busty and the Bass perform (for the first time) at an absolutely packed Club Soda. If there's one word to describe my own personal M for Montreal adventure, it would most certainly be hectic.
And let's make one thing clear: M for Montreal is not Osheaga, nor is it trying to be. It is a festival packed to the brim with talented indie artists that are trying to make a long term career out of their music.
But it is also much, much more than that. It's a celebration of a scene at work. But not just any scene. Montreal's music scene has historically held, and continues to hold, worldwide status as a juggernaut.
The first, massive name that comes to mind is probably Arcade Fire, a band that has roots in the Plateau, and whose members continue to live and record in Montreal. Think for a second longer, though, and many more contemporary names will emerge: Patrick Watson, Mac DeMarco and Grimes.
Claire Boucher, better known onstage as Grimes, got her start in the small performance spaces and venues scattered around the Plateau and the Mile End. In fact, in her early days, when she was better known as Claire rather than Grimes, Boucher would hang out at the now-defunct Lab Synthese in the Mile End, a DIY-style, art-collective space that eventually spawned major Montreal-based indie label Arbutus Records. It is fitting, then, that Grimes would serve as the headliner for a festival that represents the scene that she used to call home.
And indeed, Grimes' sold-out Saturday performance at Metropolis felt like a homecoming game of sorts. The floor was packed, the fans were boisterous and rowdy, the energy was off the charts.
Boucher was her typical sweet and eccentric self, taking just enough time in between some of her massive hits such as Oblivion, Genesis and REALiTi to pause to thank the audience and specifically the Montreal community that effectively catapulted her to critical and commercial success. The expectations for the show were undoubtedly high, but Grimes delivered in a fashion that not only felt like artistic triumph, but also a kind of emotional catharsis.
Indeed, the return of Grimes to Montreal validated the existence of the Montreal indie scene. In her early days, Grimes, like so many artists featured in M for Montreal, embraced Montreal's intimate indie circuit as a place of artistic incubation. On Saturday night, her performance served as vital evidence of a scene that is not only alive, but thriving.
Here's to many more years at M for Montreal and many more years celebrating the musical talent that this city has to offer.
* Featured image of Grimes playing M for Montreal by Bruno Destombes