M-103, the Private Members' Motion introduced in the House of Commons by Iqra Khalid, Liberal MP for Mississauga—Erin Mills, to fight Islamophobia in Canada has sadly and predictably sparked anger and debate. While most of the venom being spewed in comments sections and at rallies comes from Islamophobes afraid they may have to stop hating Muslims in public, the Conservative Party of Canada (CPC) is fighting it in a different way, at least officially.
The CPC's Religious Freedom Critic David Anderson introduced a counter-motion which doesn't use the word Islamophobia and instead calls on the government to "condemn all forms of systemic racism, religious intolerance and discrimination of Muslims, Jews, Christians, Sikhs, Hindus and other religious communities."
Looks like this was the kind of "doesn't sound that bigoted" cover some were waiting for. I'm now seeing arguments on social media that start by asking why Muslims should be singled out for protection. Of course these are made by some of the same types of people who have no problem singling them out for criticism.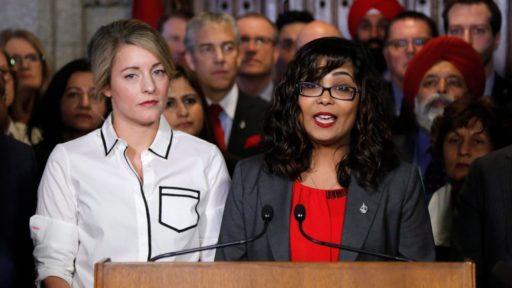 Generally, a few comments later, or sometimes even in the same paragraph, their cover drops and they show exactly why we need to take Islamophobia seriously. As if the recent Mosque attack in Quebec City, Friday's "anti-Islam" blockade in Toronto and the threats received by Khalid and Heritage Minister Melanie Joly over this motion weren't each enough to do just that.
The CPC approach sounds very familiar to that employed by opponents of the Black Lives Matter movement in the US and here in Canada as well. Instead of speaking out against police indiscriminately murdering people in communities of colour, some opted to promote the All Lives Matter narrative instead.
Basic deflection. Saying Black Lives Matter doesn't mean that other lives don't whereas insisting that people say All Lives Matter instead means that you want everyone to ignore the disproportionate amount of young people of colour being murdered by police. No one counters a Stop Cancer fundraiser by saying All Diseases Matter.
And that's exactly what's happening here. Yes, there are hate crimes against other religions, too. Here in Montreal, synagogues get vandalized on a regular basis. Antisemitism is a problem that needs to be dealt with and people are trying to fight it. That doesn't mean Islamophobia shouldn't be attacked as well.
When there is a real and present danger to a specific group of people within a society, that danger needs to be admitted, addressed and fought. I'm not sure if a motion in the House of Commons is anywhere near enough to fight Islamophobia, but admitting that it is a problem that needs to be dealt with is essential.
The CPC would stop us from performing even that most basic of civic duties. Meanwhile, some of their leadership candidates are openly campaigning for the Islamophobic vote. It's two sides of the same coin, like the All Lives Matter crowd and the open racists.
Defending the right of the special snowflakes in their base (two can play at that particular name game) to be bigots is no justification to block fighting Islamophobia. Muslims are a target and no amount of defensive re-wording of language will change that, only action.
* Featured image of David Anderson in the House of Commons