In the last few months the animal rights debate in Quebec has been dominated by Montreal's proposed pit-bull ban. One side argued that animals are not dangerous if they are raised right, while people in favor claimed it was necessary to protect humans from dangerous dogs. With all the discourse about whether we can protect humans from animals, it's time to talk about the laws that protect animals from us.
On December 8, 2016 the Quebec Court came to a unique decision. Over the course of ten years, the SPCA had seized four dogs from the Alain Marchand, a man in Outaouais. The dogs had been neglected, abused and malnourished.
Marchand was charged under Quebec's Animal Health Protection Act and the court undoubtedly realized he could not be trusted with a dog and fined him eighteen hundred dollars but also, for the first time in Quebec legal history, banned him from owning animals. Criminal charges of animal cruelty against Marchand are soon to follow.
Quebec Animal Health Protection Act
The Quebec Animal Health Protection Act has the goal of ensuring "an appropriate level of animal health protection is maintained." The law establishes standards of hygiene, care, and disease control of livestock and domestic animals.
Specific rules for dogs and cats are established in the Regulation Respecting the Safety and Welfare of Cats and Dogs, which was enacted to work in conjunction with the Animal Health Protection Act. Its violation can result in the penalties set out in the Act, which range from two hundred and fifty dollars to two thousand four hundred and fifty dollars for a natural person (first offense) and six hundred and twenty-five dollars to six thousand seventy five dollars for a legal person such as a business.
The Regulation establishes the standard of care for cats, dogs, and their hybrids. The rules set out not only cover the owners of pet shops, breeding operations and obedience schools, but also set standards that must be obeyed by individual pet owners.
Dog and cat owners have to provide food and drinking water for their animals. The water has to be clean and free of contaminants like urine, feces and kitty litter. Snow and ice don't count as sources of drinking water.
The animals have to get their biological needs met as per their species, size, growth stage, age, level of physical activity, state of health, whether they are gestating or lactating, and as per their ability to adapt to different levels of heat or cold.
Dogs and cats have to have access to a rest area at all times that is clean, dry, comfortable, and large enough for the animal to be able to lie on its side with its legs extended. This rest area has to provide shelter from the elements that could risk the animal's health or cause it stress. Such elements include bad weather, sun, drafts, loud noises, and harmful gases.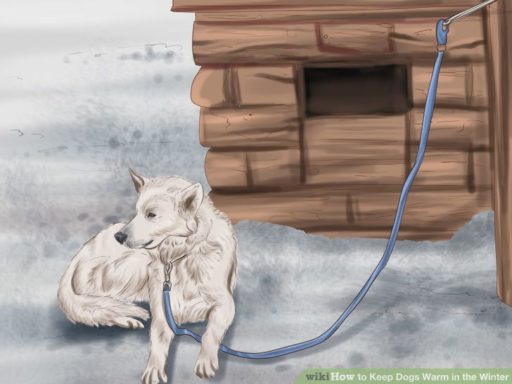 If you have a dog you want to keep mostly outdoors, the regulation restricts what kinds of animals can be kept mostly outdoors and under what circumstances. Only animals whose specific structural features, age, health, coat and who have the ability to adapt to heat or cold in such a way as to be protected from weather conditions can be kept mostly outside.
If the owner or caretaker of the animal doesn't know the adaptability level of the animal to be kept outdoors, they have to plan for a gradual acclimatization period. The animal has to have a sturdy shelter made of durable non-toxic materials of a decent size to allow it to keep warm and protect it from the weather.
The regulation also covers the rope or chain used to keep an animal tied up outside, as well as the collar an animal wears. The rope or chain cannot cause discomfort for the animal due to its weight. It cannot be liable to get stuck or shortened by wrapping itself around an object, and has to allow the animal to safely move around and reach its food and water. Collars are not allowed to hurt the animal or restrict its breathing.
Muzzled animals cannot be left unattended.
The Canadian Criminal Code covers the worst animal cruelty offenses, and unlike the Quebec law and regulation, the penalties are not just financial but can also include a prison sentence.
Criminal Animal Cruelty Offenses
There are three types of animal cruelty offenses in the Criminal Code.
The first is the act of Causing Unnecessary Suffering which includes willfully causing or permitting unnecessary pain, suffering, or injury to an animal, willfully giving an animal or bird poison or harmful drug or substance, and even getting money for promoting or arranging hunts where captive birds are liberated for the sole purpose of being shot. Penalties for this kind of offense can be up to five years in prison if you're indicted or up to eighteen months in jail and/or a maximum fine of ten thousand dollars if you get a summary conviction.
The second type of animal cruelty offense is Causing Damage or Injury. This entails damaging animals while driving them through willful neglect, and willfully abandoning an animal or failing to provide food, water, shelter and care. This offense can result in up to two years in prison or a maximum fine of two thousand dollars and/or six months in jail.
For some kinds of these first two offenses there's a legal presumption that in the absence of evidence to the contrary, the person is presumed guilty, a reversal of the innocent-until-proven-guilty standard in criminal law.
The third type of offense is about cockpits and punishes the owner of a location used to hold cockfights. The penalty can be up to five years in prison or if a summary conviction, a ten thousand dollar fine and/or up to eighteen months in jail.
With all the talk about how humans need to be protected from animals, it's time we look back at how to protect animals from humans. People can yell and write letters and picket, but dogs and cats can only scratch, bite, growl, bark or meow in order to be heard.
It's time we remember that we can fight back better than they can and protect them for the vulnerable beings they are.
* Featured image: blacklemag.com Creative Commons