Content providers who publish April Fools posts were understandably shocked to learn that Facebook will now be treating their generally sarcastic annual jokes the same way they treat fake news.
"Fake news is a huge problem," Facebook CEO Mark Zuckerberg said in a press conference this morning, "and so-called April Fools celebrations are just cover for this practice. We say no more!"
In an effort to curb the spate of completely made-up stories cramming people's newsfeeds which helped turn the tide in the last US Federal Election, Facebook went on the offensive a few months ago (and a few months after such an offensive was needed).  This involved blocking stories reported as fake and entire sites that were responsible for several fake news stories.
Zuckerberg didn't specify what algorythms would be employed to curb the impact of "fake April 1st news" as Facebook has taken to calling it, or if they would be reporting transgressors to authorities as they had talked about doing in the past.
US President Donald Trump weighed in with an early morning tweet: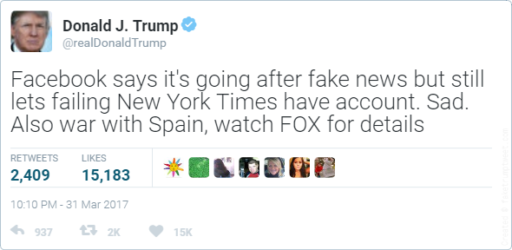 While it remains unclear if this new decision by Facebook would only be applied to US-based accounts or to all of Facebook, organizations representing media around the globe came out with a strong statement of opposition. Except for media in Spain, they seemed a little preoccupied with something.
It remains unclear if April Fools media pranksters will be able to weather the storm. In addition to Facebook's decision, they are also facing an uphill legal battle against parody sites like The Onion, Breitbart and Info Wars (and their Canadian counterparts The Beaverton and The Rebel). In a class action suit filed last month, these outlets claimed that running BS content is something they do 365 days a year and therefore sites who partake in the practice on April 1st owe them royalties.
At this point, you're probably guessing that what you are reading is not true (and maybe a little too meta for this early on a Saturday). Fake news, the actual kind, is a blight on web journalism and Facebook is right to try and fight it, as long as they remember that opinion backed up by facts is not fake. April Fools jokes are a cherished part of our culture and something that are part of our culture and something FTB partakes in once a year.
So, without further adieu, I'll let Fake Twitter Trump let you know officially what you've all guessed:
* Please note that as far as Forget the Box knows, there is no US Military action planned against Spain