* This is the  third part of a multi-part series on the changing shape of Montreal's skyline. Here is the first article with a list of new construction in Montreal. This series originally appeared on taylornoakes.com*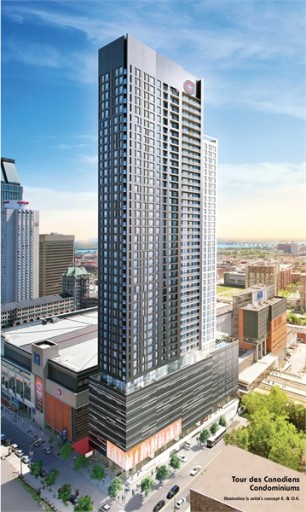 Other new towers, such as the new Canadiens tower, or Roccabella or l'Avenue, will be in more direct 'competition' with each other and all seem to be unique enough from their neighbours to set them apart (they don't seem to be entirely cookie cutter, overly corporate designs), but of course getting a good view will be increasingly difficult as time goes on. Within five years four massive new projects will have been built in a line along Rue de la Montagne, with the Bell Centre serving to act as a major pole for development.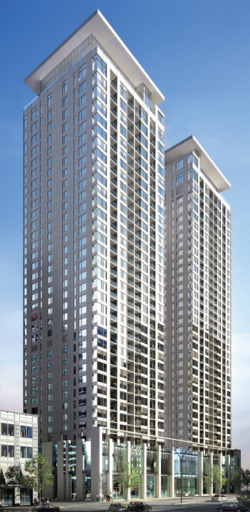 The other major sectors for development will include the northern extension of the International Quarter and empty lots on side streets on either side of René-Lévesque West of Stanley. Given that it will be increasingly difficult to get a good view of any of the downtown landmarks, I wonder if we're not overloading admittedly underused spaces on the urban fabric. And will these new buildings look distinct enough—impressive enough—to join the ranks of the current skyline? We currently have a bit of an architectural cornucopia. Will this be maintained? If the Roc Fleuri, Crystal de la Montagne or Lepine Towers are any indication, we can expect a lot of blah. The renderings give me hope, but the reality may not be as clear and crisp.
Among these projects, almost all are being constructed on parking lots or otherwise undeveloped properties. There will be at least one big demolition when the Hotel de la Montagne comes down (though I sincerely doubt they'll use explosives – it comes to mind that it's been a long time since we've destroyed a high rise in this city) to make way for the Ogilvy expansion, and one major re-development of an existing, albeit unused, office tower (this would be the new Tour de la Musée condo project, an element of the city's Sherbrooke Street redevelopment scheme).
A few heritage sites are going to be implicated, including the aforementioned cathedral, the LaFontaine Mansion and Ogilvy's, though all of these are to be integrated into new construction. At least they're supposed to be. Despite all the new residential construction in various downtown locales that are arguably currently uninhabited, there is almost no development to support the influx of people. It should be noted that the apartments will be expensive and likely not terribly large – based on the number of units per building, I can imagine most if not all will only be able to comfortably accomodate at most three people, and even that might be a stretch.
Given a lot of the advance branding seems geared towards the apparently thousands of eager young property owners seeking refined urban living 'experiences' it perhaps should be surprising that the city wouldn't be responding to private sector development plans with public services development. There aren't any parks planned, nor city-sponsored beautification and branding schemes. No schools, no librairies, no daycares, no public art, no community or cultural centres planned as far as the city is concerned – this is all private interest development and geared towards what might be an unsustainable demographic.
If there's any hope of establishing a uniquely Montréal community within, perhaps integrated in to, the Central Business District, we must demand that the city provide the necessary infrastructure to support some economic, social and cultural diversity, and this cannot be left in the hands of the private developers. A key example of this: the retail commercial space likely to occupy the bases of all these buildings. Will they provide for small, private entrepreneurial business opportunities or more of the same corporate chains. Will the city mandate such space be reserved for people who may in turn purchase condos in the buildings where they run their businesses?
I can imagine this may be of interest to the city because it could help anchor these developments into how we conceptualize the city, and how we understand the inter-relations of neighbourhoods. Still, it will take much more than independent cafés, bistros and dépanneurs. A school, a playground and the other requisite provisions for families should also be implemented by the city, again, to help make sure this is a success. Without citizen driven development in these respects, these new towers run the risk of failing with an adjustment in the housing market, an economic panic, or any number of other possible disrupting factors. In my opinion, the city has a big role to play here that goes well beyond simply having a consultation and rubber stamping a developer's plan. But I digress.
*Part four in the series will be online soon.
*Photos from taylornoakes.com.