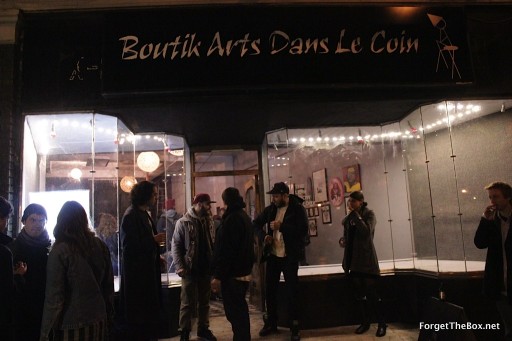 For all those Plateau folks out there who so obnoxiously declare that nothing cool ever happens outside of their neighbourhood, I say you better watch out. I love the hustle and bustle of The Main as much as the next person, but with the opening of Gallery Boutique Arts dans le Coin, right next to NDG staple Shaika, things are starting to develop on Sherbrooke West. And for this west end girl who has spent more then her fair share of time on the orange line heading east, I say its about darn time.
This past Thursday I made my way to the Gallery Boutik to check out "The Lowbrow Theory" Vernissage. While there was no specific theme for the show, it  was easy to understand why the curators brought the 12 artists on display together; the work was a combination of surrealistic, illustration,  pop and street art, and it flowed together perfectly. To enhance your viewing pleasure the event had a DJ and gal in a Princess Lea bikini serving drinks… now who could possibly resist that?
I've greatly enjoyed expanding my arts coverage here at Forget the Box, and I do believe this is my first time devoting a post to a vernissage. It's made me think about how I can ramble on for a thousand words about film or theatre but I find it much harder to analyse a piece of art. My date for evening summed it up best when I asked him why he liked a certain piece the best (painted by FTB friend Jody Hargreaves) and he shrugged and replied. "I don't know… I just do."  A film or a play has two hours to  win you over, but with a piece of art its all about the initial impact. You can wax on poetically about the use of colour which all the paintings (especially Hargreaves), used to excellent effect, but in the end like fashion I feel it comes down to that immediate feeling you get when you first lay eyes on it. Thankfully for me the night was full of positive gut feelings.
Of all the work on display that night, the pieces I found myself drawn to were the illustrations and prints. Dewey Guyen for instance, was one artist whose dark work reminded me of the "American Splendor" graphic novel series. While I don't know if I would ever purchase his artwork, Guyen's pieces are so intriguing that I found myself examining them the most all night. There's got to be something said about art that creates such an intense reaction in you that you just can't look away.  If I was a wealthy art collector instead of a poor blogger, I happily would have purchased all the work of Earth Crusher  whose simple yet engaging prints would look great hanging on any wall.
I wish I could have stayed longer on Thursday, but thankfully with The Gallery Boutik just around the corner from me now I'll hopefully have plenty more chances to stop by and ponder the question of what it means to analyse a piece of art. If you want to check out The Lowbrow Theory show for your self the vernissage runs until November 15th.
* photos by Emily Campbell