Recently, I had the pleasure of sitting down with Nicholas McCarthy before the premiere of his second feature At The Devil's Door to talk about his debut film The Pact, the craft of storytelling and the casting for his latest project.
In 2011 The Pact screened at Fantasia leaving me unsettled and creeped out for many months.
"When I premiered The Pact short, I hadn't even a glimmer of what it could be," McCarthy explained. "I think between when I first sat down to write it, it was 40-something weeks 'til when it was finished."
One of the greatest strengths of The Pact are the stories that are left untold, and the moments left unseen.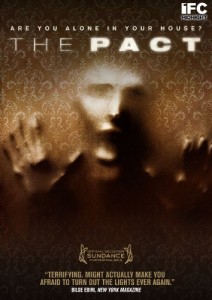 "The kind of gamesmanship in The Pact feature was about not showing some things and showing others," McCarthy said. "When you look at Hitchcock, you see a film like Frenzy and The Birds and you realize that he probably [wanted] to show horrific things but it was censorship and the times that prevented him. Or maybe [it could have been] his own British morality. That's not to say that that made him a worse filmmaker, it probably made him a better filmmaker."
McCarthy found inspiration in short fiction such as Raymond Carver and John Cleever's short stories along with the curious question of endings. He found formal inspiration in this for both the short and feature versions of The Pact as well as for At The Devil's Door
"It's all about kind of following down these trajectories, these hallways, and then you come to a wall and you don't know where you are going to go and then you go where you never had thought you were going to go," he said.
After The Pact premiered at Sundance and went on to be successful, McCarthy found himself in new territory.
"I was in a position for the very first time in my life of meeting people who wanted to make movies with me, which is a thing that I, of course, had wanted my whole life," he said.
Although he was advised to adopt the safe route towards lining up to make a studio film, McCarthy chose a different path.
"For me, the cinema was the thing that brought me to this point in my life," he said. "What I really wanted to do was to make another movie with my core crew. And to make it a film that I necessarily hadn't felt like I had seen before […] I told myself that I shouldn't be afraid  to fail instead of taking that path that in some ways one is expected to follow in Hollywood, which is to find a series of sure things."
McCarthy retreated to a cabin in the woods to write his second feature. He began with the "obsessive dramatic structure" that he had begun exploring in The Pact about sisters. Along with this, an incident fueled his creative well. While at Sundance, a cab driver, prompted by the title of McCathy's debut film, shared in detail with the director about how he had made a pact with the devil and sold his soul.
"I was sitting idling in front of the condo listening to this and I realized that this was a story that would make a really great scene in a movie and so that became something else that I was working on," he said. "And that really was the genesis of this movie. I was just organically trying to find things that meant something to me and that I couldn't exactly put my finger on why. I just wanted to weave something that felt unexpected to me."
At The Devil's Door has the uniqueness of starring three leading women. McCarthy shared that he enjoys casting and finds it an important part of directing a film in terms of learning to communicate the ideas that will be most important in the film.
"We decided on the role of Leigh first just because she sort of dominates one section of the film," McCarthy mapped out. "The very first name that came up was Catalina Sandino Moreno (Maria Full of Grace) […] I met her and I realized that she has this really interesting poise, she's very beautiful, and she has this kind of distance that's really, really intriguing. It's really what I wanted for this character that is in some ways a contrary sort of impulse for a lead. I knew frankly that maybe it would be something that would turn some people off."
Next, McCarthy had to cast Lee's sister. Although McCarthy had not seen Naya Rivera in her starring role in Glee, his editor highly recommended he meet her.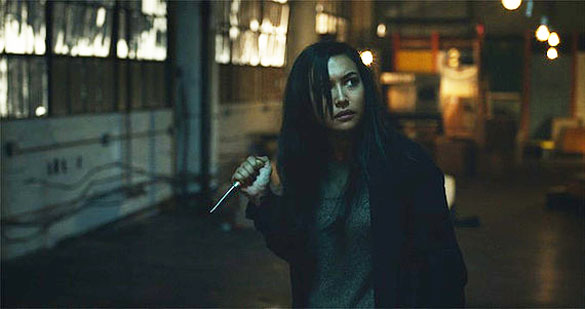 "I just knew as soon as she walked through the door that she's gonna play this part," he said. "It's a very similar role in some ways to Caity Lotz' in The Pact: a lot of pantomime, it's a lot of walking through dark hallways and reading her face. The character needed to have a certain toughness that you can't act. Naya has that."
Last but not least, McCarthy and his team cast the third lead. As with Rivera, McCarthy had not seen Ashley Rickards (Awkward) in her current role playing a teenager on television. McCarthy was drawn to Rickards for her performance in Fly Away where she played someone severely autistic.
"So I wanted to meet her and it was clear from meeting her that she was going to jump into this thing without any hesitation and she was really, really excited. Her role is the most kind of extreme in this film," McCarthy said.
Keep an eye out for At The Devil's Door for — fingers crossed — a wide release. Although not as strong as McCarthy's debut, At the Devil's Door is a film that doesn't shy away from trying unconventional narrative structures, exploring the meaning of home and will have you jumping out of your seat (literally, I dropped my popcorn). Added bonus for fans of Naya Rivera and Ashley Rickards who will find thrills in seeing these two actors out of high school, on the big screen and in altogether darker and more sinister circumstances.