Today I was handing out free bananas with a group of people dressed like bananas.  We are part of a group called Waste Not Want Not, saving food from landfills. Saving peoples smiles from being forgotten.
The song Banana Phone was blasting, it was magical. Most people smiled, most people hugged us back, people love free things, people deserve free food.
One man came up at the very end, after we had already handed out 650 pounds of rescued bananas (in one hour). We had none left, he looked disappointed.
Then I remembered the one I had stashed in the pocket of my rainbow sweater. I handed it to him. He said "no thanks, that banana has been through A LOT." Sure, it was a little bruised, but bruises make it more delicious. I am who I am because of what I have been through. I am proud of my darkspots. Character is brilliance.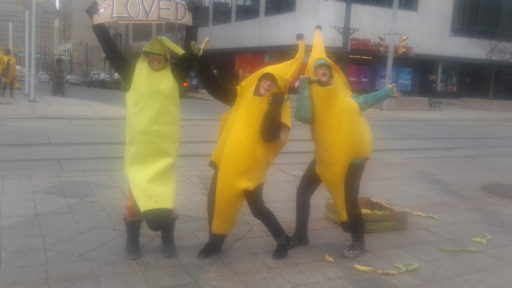 Haven't we all been through A LOT? Could you imagine being disregarded because you had a few bruises? I found a second banana on the ground that was "too green" therefore not good enough to keep, even for free. Someone didn't have the patience to wait for the ripening.
Can you imagine giving up on someone for not being ripe enough? Not being educated or old enough for consideration. I say give everyone and every banana a second look, don't just throw nourishment in the dumpster.
We all have bruises, scars, scabs, things that ooze and smell funny, bits of ourself that we might want to hide away, but can't because they are the fiber of our humanity. We are all broken. We are all bruised bananas, so sweet and ready for hungry bites. All the bread of revolution, with nuts.
Even if it is mushy, it is perfect, it is lovable. The darker the skin the sweeter the fruit, never forget that.