Hey you! Looking for some shows to see this weekend, but can't figure out what to see? Well you've come to the right place. Take a gander, or stay awhile, and check out some of these shows happening in our lovely city this week!
Thursday, November 7th: THe LYONZ
THe LYONZ, a Montreal-based DJ/production duo and art collective have just released their newest single, Fall. THe LYONZ had released their debut album Peace Beyond the Pines in 2015.
The muti-talented duo's work reflects a focus on hip-hop and electronic sounds, but their musical style is diverse and also weaves in touches of jazz, reggae, house, and funk.
The group will be performing this Thursday at Bar Loic, so check out their show and hear their newest single, live! 
THe LYONZ perform every Thursday at Bar Loic, 5001 Notre Dame Ouest, from 10pm to 3am. Entry is free! Check out the Facebook event for more info.
Thursday, November 7th: Jade Bird
Jade Bird is a 22 year old songwriter and musician from the UK, which makes her wistfully soulful Americana sound all the more a pleasantly surprising plot twist. Her debut EP, Something American, hits the nail on the head, and her most recent release, Lottery, has already blown up.
Her music rests on the edge of indie pop and hints to country and folk. Its charming emotional introspective character plays like a glance into her own soul at the junction of traditional story-telling genres and a more contemporary indie sound. 
Jade Bird plays Theatre Fairmount, 5240 Avenue du Parc. Doors open at 7pm. You can purchase tickets through the Theatre Fairmount website.
Friday & Saturday, November 8-9th: Barfly's 23rd Anniversary Party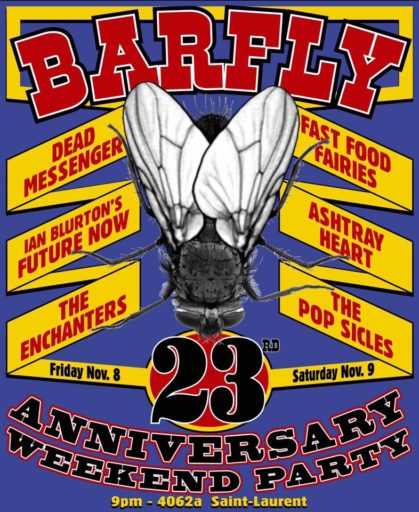 Local hole in the wall, (but not fly on the wall!), Barfly, will be celebrating its 23rd anniversary this weekend with two separate shows featuring some of your favorite local bands!
The Friday show will feature Dead Messenger, Ian Blurton's Future Now, and the Enchanters, and the Saturday show will include performances from the Fast Food Fairies, Ashtray Heart, and the Pop Sicles.
The shows will begin at 9pm for both days, but since Barfly is also doing a 23rd anniversary happy hour special from 4pm to 9pm, it might be in your best interests to get there a little early. 
Barfly's 23rd anniversary party will take place at Barfly, 4062a St. Laurent Blvd, on Friday and Saturday. No ticket necessary!
Saturday, November 9th: Ghostemane
Florida-man, Eric Whitney, known professionally as Ghostemane, is a modern-day pioneer of the metal hip-hop genre, though perhaps that goes without saying. Ghostemane's music career began with him playing in hardcore punk and doom metal bands, but he's since transitioned to producing his own sound that seamlessly fuses together hip-hop and metal in dark and unexpected ways that are sure to chill your spine.
Ghostemane plays Mtelus, 59 Sainte Catherine St. E. Doors at 6pm, show starts at 7:30pm. You can get your tickets through evenko.
Are you or your band playing a show in Montreal? Let us know at music@forgetthebox.net. We'll do our best to include you in an upcoming Shows This Week, but, of course, no promises.