I admit it, I don't know enough about the conflict in Syria to be able to come up with a solution. Neither does Barack Obama.
Sure, his administration has vast resources that can give him a very clear picture of what's going on, but that still doesn't mean he knows how to solve the problem. He admits this but is acting anyways, provided congress lets him.
Let's assume for a second that John Kerry is telling us the truth and Bashar al-Assad did in fact use chemical weapons on his own people (not saying he did). Obama's proposed surgical strike of his chemical facilities is still an ineffective move that only makes things worse.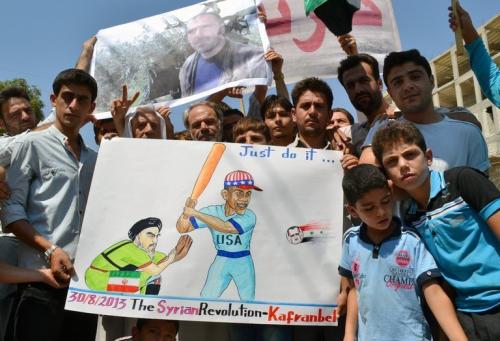 Imagine your neighbour gets drunk one night and starts beating his wife. You could call the cops, or maybe go and confront him yourself, bang on his door, hit him if you have to and try and get his wife out of the abusive relationship.
All of those are courses of action that may make things better. What Obama is proposing to do in Syria is akin to doing nothing in the moment and then stealing the guy's beer the next day when he's unlocking his door.
I think Obama knows this and doesn't care. This isn't, after all, about Syria. It's about the US and his presidency.
Why else would he make such a big deal out of going to congress for approval? It's something he's supposed to do anyways and is pretty much a rubber stamp.
He wants everyone to know he's doing this because he wants people to see that he can get congress to support him on something, anything. He's dangling the military intervention carrot that will make arms industry funded Republicans swallow their pride and support the President.
He'll get his war, or rather his limited intervention. Once again, America will flex its military muscle to the world and nothing good will be accomplished.
Syria's dictator will still be in place and continue to kill. In fact, he'll probably be even angrier and emboldened after a US attack. The rebels, peaceful protestors at first and now apparently backed by Al Qaida, will fight on and continue to kill as well.
This situation was brutal before anyone floated the idea of chemical weapons. Taking out the supposed facilities that produce them won't change that, just like taking away your abusive neighbour's beer will only piss him off more.
Do I think that a full-scale invasion like what happened in Iraq is the answer? Absolutely not, I was against that war and not out of any love for Saddam.
Going to war and claiming it's for humanitarian reasons is only justifiable if you do so every time a similar set of circumstances arises and not just when your oil and business interests permit it. There are horrible things happening in Egypt right now, too, sure it's a very complicated situation, but so is Syria.
On the world stage, the US likes to act like a teacher who punishes schoolyard bullies. Problem is they leave the bullies whose parents donate to the school alone and sometimes even befriend them.
Another problem is they're not actually a teacher, but rather a bully themselves and have proved this on several occasions. They went through their drunken cowboy phase, learned some big words and like to think of themselves as enlightened, but they're still the same person.
Whenever another bully moves in on their turf or outdoes their dickishness, they have to put them in their place. This time, though, two other bullies, Russia and China, are friends with the dude America wants to school.
Things could get ugly in the schoolyard of international relations, but things are already ugly on the ground in Syria and can only get worse. If people would think of that first and not the theatre of the schoolyard, then at the very least we wouldn't make things worse.