For the 550 some-odd people who made their way downtown to Hotel Bonaventure last Sunday, there was no place they would rather be. Montreal's first Cat Expo in here, and with special guest television star Jackson "Cat Daddy" Galaxy in town, the excitement is palpable.
The Cat Expo is the first of its kind in Montreal. Sponsored by Mondou and presented by Humane Canada and the Montreal SPCA, the unique exhibition brings together local and international humanitarian organizations, artists and vendors. Guaranteeing an evening of educational and entertaining activities, freebies and talks, the Cat Expo has it all. From adorable, adoptable kitties to a DIY catnip station, the Cat Expo has all of our cat needs covered.
I wish I had a cat, I really do, but a university lifestyle and two hesitant roommates means I may have to wait awhile. But I'm excited nonetheless – I've grown up with cats my whole life and love to cuddle with my childhood BFFS (best feline friends) whenever I stop by mom's house for dinner and laundry. The Cat Expo marks an important day for me, too – I may have to pull myself back from making an impulsive decision (i.e.; rehoming one of the kittens the SPCA is bringing for adopting), but, alas. The things we do for passion.
I make my way into the exposition hall just as the vendors are preparing for the influx of people. Big, silver balloons at the back of the hall spell out the words "MEOW" and "CAT EXPO". A charicature artist – who draws humans with cat features – sets up her station near the stage, where the events special guest is to perform later on in the evening. After scouting the room, I sit down to speak with Daniel Filion, founder of Educhateur (or Cateducator in English).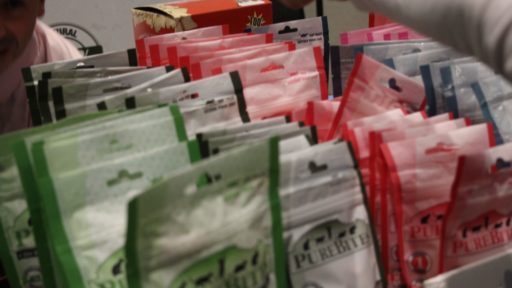 From peeing outside the litter box to excess nightly meowing, Educhateur is a local company that provides solutions for problems in cat behaviour. With a team of over 15 people at its Montreal location, the organization provides interventions for all types of feline behavioural issues. They'll come to your house, come to meet your furry baby, and work with you and your household to figure out how to adapt your behaviour and your conditions to meet the cat's needs. Whatever the problem may be, Phillion's got a solution – but you've got to be willing to compromise.
He's got a charismatic energy, a natural entertainer who is eager to share with me his knowledge and passion. "We believe in a day where a vast majority of people will understand their cats and their needs to live in harmony with them," he says.
Phillion works hand in hand with local veterinarians, explaining that many feline behavioural problems often have some undiagnosed medical issue. He started the company by himself in 2007, after finding that there was an extreme lack of specialists in the industry in Quebec.
The first thing he did was to go see Diane Frank, the head of Universite de Montreal's veterinary department. "There's no school, there's nothing that exists. It's a very new profession," he explains. "I asked her, what can I do to help? Cause there were only two cat behaviourlists at that time."
While animal behaviourists have been around for more than a few decades, Phillion addresses a important issue – we simply don't know cats, or at least not as well as we should. "Even though [cats are] the most popular domestic animal in the world, people just don't know what they need, don't know how they are working. We need to inform people on this and we're going to get better and better."
Next I stop by the Paw Project, who have been advocating against declawing for close to 20 years. Members of the Paw Project have been fighting legislation from state to state in the United States, and members have even been the cause of Canadian legislation banning the practice here. I had the honour of meeting the organizations founder, Dr. Jennifer Conrad herself.
The declawing of a cat is more than just removal of the nails, it includes complete amputation of the last joint. Declawing may result in arthritis and other permanent disability and can thus become the cause of bad behaviour in cats. A declawed cat may refuse to use a litter box because of post-surgical pain, and with her primary defence taken away – her nails – she may even begin to bite, along with other aggressive behaviours. Declawing has already been banned in the UK and over twenty other countries in the world, but is still legal in many states and provinces in North America.
"[In] Nova Scotia and for Atlantic Canada, it's illegal. A Paw Project director did that," she tells me. "In BC and Alberta, the veterinarians have now voted to ban declawing, and that is because we have provided them with the information, and BCSPCA pushed because they're like, look at all of this information." Her efforts have even gone as far as VCA Canada, largest chain of veterinary hospitals in Canada. All 110 hospitals have stopped the practice of declawing.
She hands me a DVD from a stack – the 2013 film The Paw Project starring the Dr. Herself. This documentary follows Dr. Conrad in her campaign to ban declawing all around California and the rest of the United States.
"It started because I was repairing the claws on big cats," she explains. "The policy has to change, or else you're going to sit there and try to do individual after individual. And if the policy were changed, then you protect a whole population. That's why it became a question of policy."
I leave with a small pin that says "arretons le degriffage!" and dutifully attach it to my jacket. Feeling humbled by our conversation, I make my way back around to snap a few pics of the expo space.
In terms of vendors, there is everything from new cat technology (a cat-sized running wheel and a self-cleaning litter box are among some of my favorites) to local cat artists selling mugs with cute, cat-inspired designs. Mookie and Lulu Designs specializes in hand-made cat tipis, made "with love" and inspired by the founders own cats, who are named – surprise – Mookie and Lulu.
Inspired by her late cat, co-founder and creative Mya specializes in 'cat tipis', where a cat can spend her time grooming and chillaxing under the home-made canvas.
I asked her what inspired her most about her cats. "The love. Oh, the love," she tells me, her eyes welling with tears. She is, admittedly, very happy to be here. "Oh my god, my life would be so empty [without them]."
Catorday is another favorite of the evening – designs include a cat in a Habs shirt skating down the rink, and the infamous We Can Do It poster, superimposed with the words "We Cat Do It".
As seven o'clock rolls around, people begin taking their seats. The guest speaker is about to begin, and he is not to be missed. Flying in from Los Angeles for his very first time in Canada, Jackson Galaxy has been taming cats for over a decade.
His show My Cat From Hell, which just closed its 10th season, follows Galaxy as he tours around America to heal both cat and owner with his unmistakable empathy and talent. Loveable and quirky and definitely unique, Galaxy is the main reason many are here tonight.
Galaxy takes his audience on a ride, combining fact with humour and a lively and warm energy. It is not hard to understand how the man holds such power over cats.
His audience is entirely captivated, holding onto his every word. He delivers calmly, devotedly sharing advice on how to cat-proof your home, when to give treats and how to deal with even the unruliest of cats. I take notes to share with my friends.
The only room at the exhibition hall to feature actual, live cats is an adoption room set up by the SPCA. The room has been packed with people all night, but what else would you expect at a cat expo? While I wait my turn to get a glimpse at the sweet furry babies, I engage in a conversation with a member of the SPCA' Trap-Neuter-Release-Maintain program.

To my own surprise, I learn that the Montreal SPCA offers a street cat sterilization clinic that is open all over the island. Aiming to keep the number of street cats down, the SPCA has inaugurated a system that involves trapping, sterilizing, vaccinating and deworming adult cats before either adopting them out to a new forever home, or releasing them back onto the streets if they are too aggressive or wild. Since its inauguration in 2010, the TNRM program has sterilized nearly 7000 street cats, contributing to lower levels of kitten homelessness.
The program works with the help of citizens like us, the representative tells me. A quick phone call to the programs' lead department will provide you with more information on how to get started in your own community.
I stop by the adoptable kittens again, trying not to poke my fingers through their cages to stroke their soft, soft skin. Through a chorus of coos, caws and meows, I manage to snap a few pics of the little poofs and wish them luck in their search for a forever home, though I know I'd make a better cat mom than anyone there. Obviously.
As the night comes to a close, I do my rounds and thank all of the vendors. The Mondou booth hands me a free catnip plant, and I stuff a few packs of Temptations in my back pocket for my friends cats – I'll be the fairy catmother this week, blessing friends with all the free treats and cat toys. I feel complete, equipped with a mind full of knowledge and an intense urge to fight for animal advocacy.
There's nothing more I want to do now than snuggle in bed with a cat on my legs, forcing me to keep as still as humanly possible. Maybe I'll visit my mom more often, or offer to catsit for my friend on her monthly trips to Toronto, or even consider fostering a cat with the SPCA.
I would call this edition of Montreal's Cat Expo a success. A purr-fect balance of inspiration, passion and activism, the Cat Expo has so, so much to offer.
I would recommend this event to every and any cat lover and to anybody interested and invested in animal rights activism. This event has been so very long-awaited by so many people, and now that it's' here, I am paw-sitive it is only going to get better and better.
The only thing we can do is hope for a better future – for our cats and us, their human counterparts. Here's to many more like one, and for a fur-midable first in-cat-ation.
All photos by Bree Rockbrand