ShazamFest celebrates its 10th anniversary this year with a great program full of music, skateboarding competitions, wrestling, burlesque, circus, laughter, workshops and so much more. The festival starts Thursday July 9 and runs until Sunday. Camping is available on location, at one of the first certified organic farms in Canada. Also, you can join the fun on Sunday for free, a little gift to the public for the 10th year anniversary.
What is ShazamFest?
From the road, the site doesn't look like much, just a simple field. But once you get in, you arrive at a magic place. A place that apparently has been a meeting point for a very long time. The site, located in the Eastern Townships, about 20 km South West of Magog, in Barnston West (roughly a 90-minute drive from Montreal) was an Abenaki meeting spot many centuries ago.
Ziv Pryztyk, the festival's founder/director, explains that the idea behind the festival, more like a carnival, is to bring together a community, for people to interact and build networks with people that might not be from their regular social circles (or even age group, as it is a multi-generation event).
In its first year, the festival attracted about 400 people. Since then, the party has now grown close to 2000 people, with three generations embracing the fun of camping on the grounds. The festival is free for kids under 12 and you will never be charged for water.
Shazamfest is an eco-conscious festival, meaning local food is provided. This year's beer of choice comes from Beau's All Natural Brewery in Eastern Ontario. This craft beer company has been invading the Quebec market for the past five months and is now available in over 70 bars in Montreal, as well as in IGA stores and depanneurs that carry craft beers.
The Lineup
Many acts will be performing during ShazamFest this year. On the musical side of things, there will be Buck 65 on Friday, Lemon Bucket Orchestra on Saturday and Mike Goudreau on Sunday, to name only a few. Miss BonBon Bombay will be hosting the Burlesque side of things.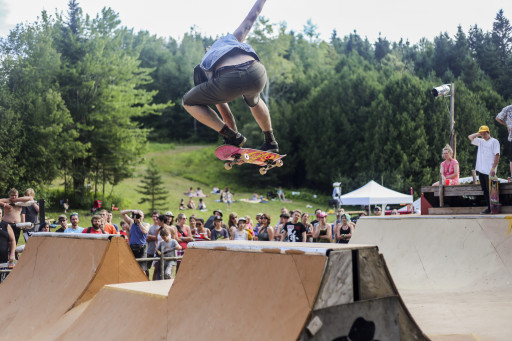 There will be a skateboarding competition on the famous Shazam ramp, which gets bigger every year.  There will also be wrestling events and a laughter competition held by Albert Nerenberg. Circus, forging and other workshops will be given each day of the event.
Win Tickets
Want to attend ShazamFest for free? FTB and Shazamfest are giving away a pair of day passes for Saturday. Since Sunday and camping at the fest are free already, this will get you two days and one night of Shazam for free.
To win, just share this post on social media and leave a comment below, letting us know what aspect of Shazam you are most looking forward to.
Good luck!