Today, I was waiting for a train in Berri-QUAM metro when all passengers were forced to evacuate because of an "accident" and couldn't return for over 30 minutes. The whole operation took less than four minutes and panic increased when all stairways and platforms were invaded by the SPVM officers and STM inspectors carrying flashlights.
It all started at 1:03pm when the intercom announced that service on the Green Line would be interrupted between Lionel-Groulx and Viau for 30 minutes. Two minutes later another announcement extended the interruption to the Orange Line.
As people were busy making phone calls and texting about the delay, a voice on the intercom informed everyone that they had to leave the station immediately and head to the nearest exit. In less than four minutes, the Berri-UQAM metro station was empty.
Once on the surface (next the entrances), everybody noticed the Police cruisers, the STM intervention officers and the yellow Urgence Sante cars. For those who were curious and started to ask questions the answer was simply "a fire" with no other information given.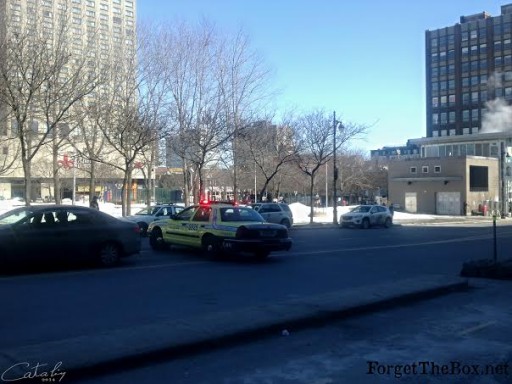 The ordeal was partially ended around 1:42pm when the Yellow and the Orange lines were open, but the Green Line remained closed. No official word on what happened.