Ethan Cox is a Montreal-based writer and political organizer. He was formerly FTB's news editor and the Quebec director of Brian Topp's NDP leadership campaign. He is currently a special correspondent reporting on the Maple Spring for Rabble.ca where this post originally appeared.
This Wednesday we need your voice. We only need to borrow it for a few hours, and I promise you'll enjoy its use. It needs to be raised in unison with others across the country and around the world.
Two events are happening Wednesday night that you need to be at, wherever you are. It just might be the most fun you've had all year.
It also might be the most important thing you do all year. If anyone doubted the severity of the situation in Quebec, and the urgent need for solidarity, this weekend's events will put those doubts to rest.
Police actions over the weekend crossed a line, an even more significant one than that crossed by the reviled Bill 78. Across Montreal's metro system, and especially at Parc Jean Drapeau, where the Formula 1 racetrack is located, police engaged in "preventative arrests".
People were pulled off metros, denied access to a public park, searched, and in many cases arrested. Why? Because they were wearing a political symbol. A red square of solidarity with the student cause.
Or, in the words of a Montreal police officer to a Le Devoir reporter, a "revolutionary symbol."
Many journalists were also denied access to the Park, as police tried to limit the public visibility of their repressive actions. However, the best account of what transpired was written by two courageous journalists with Montreal daily Le Devoir, who went undercover wearing red squares to see what would happen. The results of their experiment are hair raising, and must be read to be understood (English translation + French original).
In Montreal right now, you may be arrested en masse for participating in a peaceful demonstration. You may be stopped and searched, even arrested, for wearing a political symbol. You may be beaten in the street for no reason, as happened to two tourists a few days ago. You may end up with a concussion, broken ribs, bones and lacerations from batons. You may lose an eye, as has happened twice, or an ear. If you're media, especially CUTV which has been broadcasting live from all the demonstrations, you may be specifically targeted, and have your camera broken repeatedly.
You no longer need do anything to find yourself a target of police violence and arrest. Simply expressing your dissent, through peaceful protest, or even the wearing of a symbol, is now enough to make you a target.
In the streets of Quebec our people bleed for the dream of a better world, or simply one where governments defend the common good, instead of selling it to the highest bidder. They are tired, dog tired, after almost fifty straight nights of marching. They are scared, reasonably so, of arrest, injury or worse.
But they continue. They do not give an inch. They fight this battle for themselves, but also for all of us. Quebec is the front line of a global struggle.
The brave souls here in Quebec need your solidarity. Can you spare an hour to give it to them?
This Wednesday night at 8 p.m., for the third straight week, people across Canada and around the world will join together and bang their pots and pans in the joyous exercise known here as casseroles. Last week over 125 communities participated, from Brussels to Montevideo, New York to Saltspring Island, Tatamagouche to Dawson City.
Go to the national Casseroles Night in Canada Facebook page and find your community! If you're not on the list, start your own casseroles. Simply pick a central location, create a Facebook event, post it on the national page and share it with your friends. Then post your photos and videos on the national page so we can keep track of what happened where.
Beyond Wednesday, our next big Casseroles Night in Canada will take place on Friday the 22nd of June. Timed to coincide with the largest rally yet in Quebec, which may exceed half a million people, we are asking everyone to build toward large rallies on that day to send a strong message of support to Quebec.
Wednesday also marks the 13 Heroes national day of action against the federal budget. With the terrifying omnibus budget expected to pass early Thursday, LeadNow.ca has organized rallies at Conservative MP offices and support locations across the country at 5:30 p.m. They are calling on 13 Conservative MPs to break ranks and vote against the budget. Visit the 13 Heroes website to find your local action, or sign up to host one in your community.
As Gabriel Nadeau-Dubois, Brigette DePape, union leader Louis Roy and others said at a conference in Montreal this weekend, we need a common front against governments which are dismantling our democracy across the country.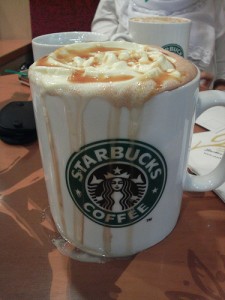 So please, bring your casseroles to the 13 Heroes rallies, and bring your friends from 13 Heroes to the casseroles. Together we are strong, but as Raul Berbano of Latin American NGO Common Frontiers said this weekend: "We can't start the revolution from Starbucks."
So start by sharing this article, the Casseroles Facebook page and the 13 Heroes website far and wide. Then take your love and solidarity into the streets.
You won't only be helping Quebec's social movement, or taking a stand against an unjust budget, you'll be helping to build your community, and strengthening your ties to your neighbors.
I'll see you there!
I'm occasionally witty, but more often outraged, @EthanCoxMTL on twitter. Follow me!