"Black Lab sounds like Flaming Lips having a three way with Nirvana and Frank Zappa while Syd Barrett sits and watches with a cup of tea," says Black Lab's Ian Boos.
Sounds a little wild, doesn't it? Check out the music. It's an interesting, raw and creative blend of sounds culminating in We Don't Pick Our Obsessions, a psychedelic rock EP written by Ian Boos (formerly of Low Hanging Lights).
Black Lab consists of Boos, lead guitarist Al Grantham (also formerly of LHL), drummer Tony 'Tone Smasher' Howell and bassist David Kierstead. Kaleb Hikele also lends a hand on the EP with some backing vocals on We.
The EP, which also reveals strong punk and experimental influences, is available on Bandcamp.
I had a chat with Ian Boos, creator of Black Lab, to pick his brain about his obsessions.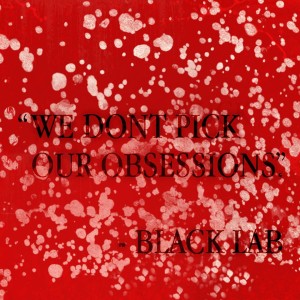 Stephanie Beatson:  What does the term "psychedelic rock" mean to you, and how do you think it applies to Black Lab?
Ian Boos:  The term psychedelic to me means mind expanding. A song like We on this EP can potentially take your mind to a different place, if you let it. I unfortunately or fortunately don't consciously include any aspects psychedelia in the music. The sonic parts of the song dictate this to me and I just go with it.
SB:  What was the driving force between forming this band and making this EP?
IB:  An obsessive need to create and express myself. It keeps me somewhat sane. And I fucking love sound!
SB:  Tell me about the making of the album.
IB:  I recorded the album with my good pal Ryan James Webb at Hungry Lake Studios. We worked on the LHL record together and had an idea of what type of record I wanted going into the studio. I very much had a punk rock approach to things. I do lots of prep before and bang out the parts in 2 or 3 takes. On this album we did ghosts tracks than I layered everything over top. Besides Al Grantham's haunting vocals on Nothing to Spare and his insane guitar solo on Telephone Me Telephone You and Kaleb Hikele's backing vocals on We, I played everything. I wanted to get the project off the ground with this EP. I am extremely happy with the band now though. The next recording will most likely be live off the floor.
SB:  This album already has a pretty raw sound, in terms of the production, which is cool. A live off the floor album would compliment that aesthetic nicely. What aesthetics are most important to you with your writing and recording?
IB:  The aspect of the music I want to feature most is the raw energy of the performance. After that's achieved I have an idea of how I want the song to sound, which I communicate to Ryan (producer), for the most part during the recording.
SB:  Who have your influences been with this project, or in general?
IB:  I am influenced by passionate artists, whether it's Ohbijou or Operation Ivy. I suppose I am trying to create soundscapes that are influenced by the sounds of my environment. Artists I look up to have certain vibes.  My music has a vibe.
SB:  How do you choose what to write about in your lyrics?
IB: All of my lyrics come from the times I am extremely emotionally vulnerable, or when I am feeling extremely loving, or when I think something is really hilarious (like the song Telephone Me, Telephone You). I'm not interested in writing about going to the store; only Ween, Cake and Frank Zappa can pull that off.