If this is what the New World Order looks like, then sign me up. I'm speaking, of course, about Illuminatease, the latest offering from Blood Ballet Cabaret running in Zoofest three more times this weekend.
The actual Illuminati could take few branding tips from Miss Bloody Maryanne and her troupe of burlesque performers. Freemasons, for the most part, aren't known for being sexy, these performers most certainly are.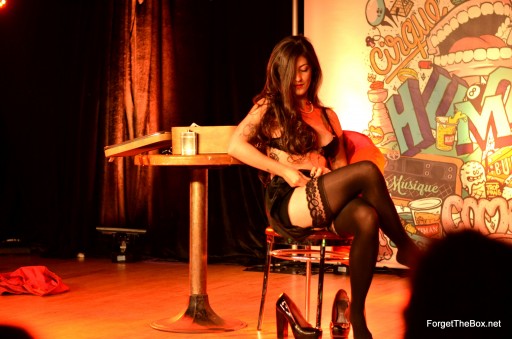 The troupe hasn't performed together in a year and it has been even longer since I caught a BBC show. I'm happy to report that they haven't lost anything, in fact they seem to have gained a bit in terms of energy and spontaneity.
BBC has always been big on theme and this time they set it from the start, with four of the night's performers clad in Druid-esque robes trying to crack a secret code. For world domination? Not quite, more like a hidden message to follow them on Twitter.
This opener was high on the tease factor as the performers didn't disrobe (ha ha, get it, robe, pun fully intended) all that much. This would change very drastically and very quickly.
Soon enough we got to see Miss Bloody Maryanne shimmy out of a bathrobe (there's that word again) playing a sultry Jackie O. More like Jackie-oh-yeah!
No more bad jokes, I promise, host Sherwin had enough of those. But his jokes they weren't as much cheesy as they were perverse and at times self-depricating, though he really should be more confident, he has a fine ass as he demonstrated to the crowd.
Speaking of being in shape, new BBC contortionist Michelle Addessi certainly was. They may have faked the moon landing, but she didn't fake the flexibility in her entertaining and clever moon landing skit or when she made enhanced interrogation sexy.
Marilyn Monroe is already sexy, the challenge with bringing an interpretation of her to a burlesque show is maintaining her level of sex appeal while offering something original. Mission accomplished for Lulu Labelle Mirette, one of the new faces in the troupe.
Lady Josephine is a familiar face both in the BBC and to Montreal burlesque audiences. It's that face's expressions that I've always adored.
When she walked on stage decked out full disco, crazy 70s hair, glasses and all, I thought I wouldn't get to see those facial expressions, but I was wrong. She delivered them and so much more.
The show culminated with Miss Bloody Maryanne as the Virgin Mary. As far as the theme is concerned, I'm guessing this was a DaVinci Code riff, but it doesn't matter, really, as it was the highlight of the show thanks to multiple performers (including Sherwin), audience participation and, of course, damn sexy dancing.
I'm glad Blood Ballet is back and in fine form. I thoroughly enjoyed their take on the Illuminati and other such conspiracies. My only complaint: no reptiles, next time, include lizard people! Sexy reptilians! Seriously, though, go see this show!
* Blood Ballet Cabaret presents Illuminatease runs Thursday July 31 – Saturday August 2, Agora Hydro Quebec de l'UQAM, all shows at midnight. Part of Zoofest, tickets available through Zoofest.com
* photos by Chris Zacchia