I love boobs. All sizes, shapes, colors, big nipples, little dime nipples, hairy boobs, round boobs, perky or saggy, squished in a bra, on my face, or naked in the sun, I love boobs.
It is strange to me how a part of the body is so obsessed over as these bags of fun are. They are mother's milk, sacred life giving pillows, warmth, comfort, safety, and love.
I share my boobs for a living, I promote their loveliness and love the unique breasts I am privileged enough to see on a regular basis. I touch my boobs in my shirt often. I haven't worn a bra in over a year, and the only one who has ever called me out on my nips showing is my own mother.
Boobs are so hypersexualized and that often times a woman's "worth" is placed on what her breasts look like. I want to compile every kind of human's thoughts on their own boobs/chest and how society fetishizes them in general.
It is important to think about how others view their own bodies and strive for things that some of us take for granted- trans woman, women with implants, a non binary human who binds their breasts, and a transman who had top surgery. It must be an incredible feeling to have your body finally match the gender of your soul.
My grandmother had one breast, she was a cancer survivor. She told me the story of how she went in for a routine check up and then that day was under the knife, she was so confused and scared. My grandfather didn't know how significant this was. It was in the 1980s.
No woman should ever have to feel so scared. I have seen burlesque dancers with one breast proudly swinging their tassel. It means they survived, they are proud of their body no matter what people say.
Dahlia Dubois- Stripper, Artist, Badass…
On being a stripper with natural breasts:
"I feel like it really depends on what area you're working in and what type of club you're at. Like if you were working at the Hustler club it would be almost expected that you would have some form of breast augmentation. But as far as my experience here, it's really a 50-50 crapshoot. I've only ever had one customer tell me my breasts were too small and that was as I was giving him a lap dance so clearly I must've not been that bad hahahaha Although I feel like I do want to get augmentation done but not to an excessively large level. Because I do feel like that would increase my profits."
Colleen Dunphy- Writer, Burlesque Dancer , Model…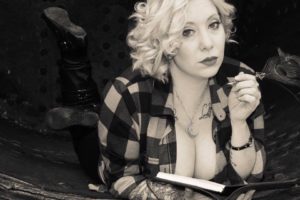 "I had my breast reduction 11 years ago and I know without a doubt that if I hadn't done it I'd never be doing the things I do today. I would have never become a half marathon runner, I'd never have done nude modeling and I definitely wouldn't perform burlesque.
My breasts made me very uncomfortable with my body, and especially the attention I got. I still get some of that now because I am still a DDD, but it's not like it was before.
Getting the reduction took a huge weight off my shoulders, literately and figuratively. I had some body dysphoria right after my surgery, because it was such a big change so quickly. I lost 4lbs from each side. But eventually I was able to become comfortable in my skin.
I have some mental sensitivity with the scarring when I am first with a new partner, because I had someone have a really negative reaction right after my surgery, but that was the only one. I am actually working on getting the worst ones tattooed over now.
I still have some nerve damage, where it doesn't feel the same as it does in areas above or below. But I actually have more nipple sensation now than I did before surgery.
I've been told I won't be able to breast feed, and that was something I willingly gave up. Even through everything I've never had any regrets about my decision and I know without a doubt I'd do it again in a heartbeat.
I welcome anyone that wants to talk about it, or is interested in having one. I wish I'd had more people to talk to before I had mine. But it was before the major rise of social media and I just didn't know where to go for that."
Janna Willoughby-Lohr – Mother, Poet, Rapper..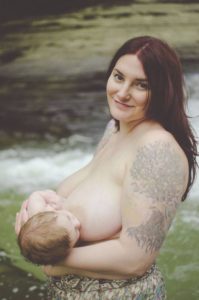 "My view of the world as a woman as it pertains to my body has changed dramatically throughout my life…from a pre-teen girl when I didn't even have enough boobs to hold my training bra down, just begging the great beyond to gift me with some curves…to a supple 20-something with cleavage for days who could (and did) rock any low-cut top I could find and often found myself admiring my own boobs in the mirror…to a 30-something nursing mother with 34G breasts that are no longer the same as they were, trying desperately to find a bra that actually fits and longing for the days where I could get away with low cut tops.
I used to want to be wanted for my body, before I knew better. Now that I'm a mom, I see how many ways the world blames women for being too sexual…or not being sexual enough…all at the same time.
I am proud to be a woman, and I'm proud of my boobs that have been able to feed my child for almost two years and even though I sacrificed my amazing cleavage to do so, I still love my body. As Baz Luhrmann says, 'Enjoy your body. Use it every way you can. Don't be afraid of it, or what other people think of it. It is the greatest instrument you'll ever own."