What happens when we put our heads together? According to Toronto-based performance group Frenzy, we trip balls and have to scramble to escape our own chaotic creations.
Frenzy Saves Your Brain is a fast, funny and creative show which swings from clowning to sharp dialogue, and twists through a variety of surreal vignettes. For the show playing at the Montreal Fringe Festival, the audience has become a hive-mind through scientific experimentation, while the performers intermittently appear through the maddening haze as they try to pull us back to reality. This unique approach to narrative gives the otherwise unrelated and disjointed sections a twisted logic. Of course it is a comedy show, but Frenzy has taken the time to make the laughs matter!
The show falls just under an hour in length, but the smooth flow and fast-paced humour fills it out nicely without becoming tired. At the beginning, it is difficult to grasp what is happening, with lights flashing, voices swirling and scientists ranting – but the confusion is intentional. We begin to trip before we realize we've taken anything. Things progress quickly, snapping from one scene to the next, with something new always appearing, disappearing or swirling past. There is little respite, though the scenes are flanked by fluid transitions that give our minds a moment's rest before the next wave kicks in.
The sense of humour is quite broad – sometimes silly, and often left of centre – but intelligently conceived and delivered by the five performers who are naturally funny guys. Nor is the show afraid to reference pop-culture, from a fast-forward "Cheers" bar scene, to a hilarious bit in which two DJs compete for a record contract. Each of the many pieces is unique and well thought out.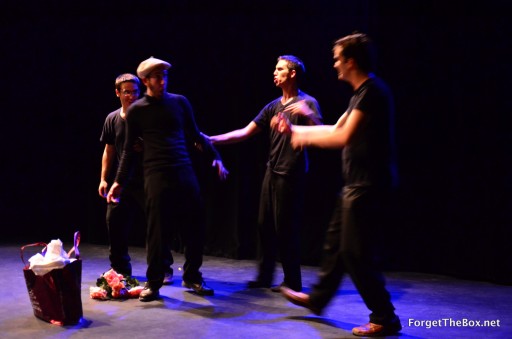 Frenzy Saves Your Brain makes good use of sound, lights and props to create their 'head-space'. It also means that a lot of humour in this show is derived from the visuals. The strangely saddening tale of the shop-mannequin's familial disaster, or the x-ray view of a bullet penetrating a heart, are perfect examples. Both of these pieces, among others, rely on clowning, physical humour and perception. On the other hand, Frenzy includes a lot of hilarious scenes where the performers use nothing but dialogue and their imagination to create the laughs. Both styles work within the show and complement each other well.
Throughout the evening, the audience was audibly and visibly having a great time. The humour was quick enough to keep most people laughing, and varied enough to provide something for everyone. Once it really got going and the audience was nice and warmed up, the buzz in the theatre was great. The performers were clearly having a lot of fun, and this was reflected right back at them. It would appear then that the experimental approach really paid off for Frenzy. They didn't really care what a comedy show should be. They took a surreal idea and stuffed it full of great humour.
I went to Frenzy Saves Your Brain not knowing quite what to expect. Comedy back in Europe can be pretty unimaginative, and so I had a tendency to steer clear. This show, however, with its blend of humour and performance, reignited a little hope for my relationship with the genre.
The show is running until the 19th at Théâtre MainLine, with details available on the Montreal Fringe website. It's definitely worth checking out. At the least you'll be intrigued; at most, you'll have a riot.
See all the photos by Chris Zacchia of the Frenzy Comedy show on FTB's facebook page.