Pointe St-Charles is a neighbourhood known for its community spirit, mobilization for social justice, and commitment to equal and affordable housing.
These are all great things. So is espresso. Unfortunately, The Pointe has not been known for its Joe.
To be specific, there were, before the opening of Centre St.'s Café Bloom last year, three types of establishment one could rustle up a morning coffee: a diner, a casse-croûte or a dépanneur. I know this because, as a neighbourhood resident, I tried them all. It wasn't pretty. 
For the uninitiated, Pointe St-Charles is demarcated by the Lachine Canal (to the north), the St. Lawrence river and train tracks (to the south), the 15/Décarie (to the west) and the Bonaventure expressway (to the east). If this sounds, on paper, like a forlorn little island-within-an-island, it's because it pretty much is. But oddly, it's also why most residents hold it in such tender regard.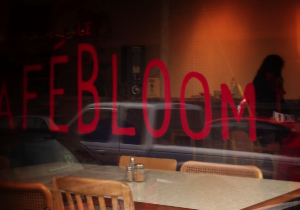 If I've gleaned one spiritual lesson from living in the Pointe, it's that all things are impermanent. The neighbourhood's collective unconscious is both vital and mutable (if the two can be separated)–tangibly cohesive yet continually twisting and contorting to grapple with surrounding forces. Some local militants even aspire to a Sovereign Pointe!
In the Pointe, buildings seem to persist for centuries and yet remain in constant flux. Most historic buildings have enjoyed umpteen lives—one day marked for demolition, the next day saved, and the day after that partially-reconstructed…only to be aborted, put back on the market, then ultimately reclaimed by the community.
So I was half-expecting, half-shocked that the Pointe should sprout its first upwardly mobile café. In many ways, the forces have been at play for years.
To this end, most locals seem very supportive of the caffeine joint, which also serves nicely thought-out breakfasts with a Belgian bent, themed salads and bowls (last week was Scandinavia) and decent pastries. The fact that they've created a low-key, welcoming community space certainly goes a long way toward ingratiating themselves in the 'hood. But that space is also warm, wide and bright, with quality allongés and stark yet introspective photographs on display–the perfect excuse to trek out to our fair neighbourhood. Service is friendly and communal (you might have one person take your order, another bring it, and yet another drop by to ask you if everything is okay), and you're never rushed out the door.
I'd like to say the Pointe has many qualities that warrant a visit–but most are eccentric enough as to warrant a bit more prose. Café Bloom, on the other hand, makes the Pointe an easy sell. Which worries me, because we all know what happens to neighbourhoods once too many espresso-drinkers "buy in."
Bloom has set a cautious precedent for trendiness in the long-neglected Pointe. Let's just hope that future businesses pay close attention to their tastefully-caffeinated model.
Café Bloom is located at 1940 rue du Centre. Getting there:
Photos by Joshua Davidson