Today I wake up knowing that in only a few short hours I will be in a kitty pool covered in chocolate pudding and living out my every fantasy at an erotic art show called Wet Dreamland. Last year for this event, I rode my pimped out tricycle from Babeville to the Wet Dreamland show wearing mutton chops, a beard, a tie-dye wolf shirt, and an adult diaper. Once I arrived, my friends and I stripped and painted canvases with our boobs. The Buffalo Infringement Festival is a sweet escape from reality. It is my Christmas, my bliss, my safe haven, my pride.
Its roots run deep and start in Montreal over 11 years ago. Infringement rejects corporate sponsorship and the oppression and censorship that goes along with that. It is about artistic freedom and breaking free from social norms. Infringement excludes no one. It is a state of being. The Buffalo Infringement Festival is in its 11th year.
We take inspiration from the Montreal Infringement festival started a year before us as a direct protest to the corporatized Fringe festival. Infringement is a non-profit ,non-hierarchal, grassroots art festival. It is a revolution that brings together independent, free spirited, and often controversial and experimental visual art, performance art, dance, film, theatre, and music. Everyone is accepted and celebrated in this 11 day art explosion that hits Buffalo from the last week of July to the first week of August. Art can happen anywhere, anytime, with no restrictions, and for free!
11 days of art under the radar has evolved into an all encompassing artistic free-for-all that spans the entire city. The Buffalo Infringement Festival is my favorite part of the summer and makes me proud to live in Buffalo. It revitalizes my soul and the city I live in. All of the artists and hardworking organizers and venues inspire me beyond belief.
We are now in day 7 and it's very bittersweet. So much incredibleness has occurred already and it will all be over soon. Then I can finally sleep. But not yet. On my agenda: Wet Dreamland tonight, Sex and Body Positive night at Ol' Wondermoth tomorrow, Wam Bam Thank You Slam at The Gypsy Parlor on Saturday, and a big block party on Allen St., and the Iffy Awards on Sunday.
I'm also really excited for Car Stories, the show that inspired this whole movement. It is interactive street theatre where the audience becomes the show by traveling from car to car. It is the show originally rejected by Montreal Fringe for being too political. Donovan King is the man who started it all. I always look forward to seeing him during both the Montreal and Buffalo Infringement festivals.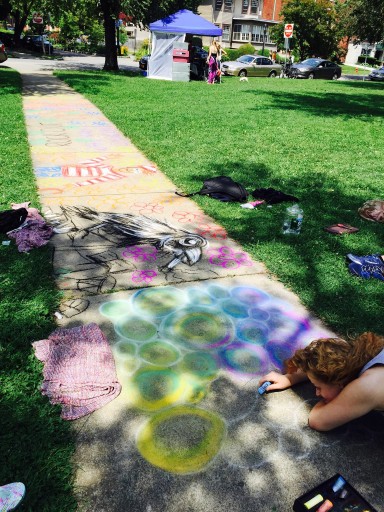 Some highlights so far include The College St. Block Party and Kidfringement. I love making art with children. They are so open and free spirited, the ultimate inspiration. I also loved the first annual Purple Sparkly Unicorn Potluck Party which turned into a Hooked on Casiophonics dance party that felt like an acid trip. The ice dragon Erica Wolfling has continued to blow minds this year. Lazy Ass Destroyer never ceases to amaze me. My pride and joy was The Worst Show Ever at Nietzsche's, a satirical variety show filled with satire, comedy, music , and burlesque. I did burlesque as both Ronald McDonald and a creepy old man.
The street performance and open busking has been on fire this year,taking the city by storm. The other night I walked out of a bar to see two girls dressed like angels singing beautiful music, it was magical. I can't wait for the rest of the weekend. Bring it on! Infringe Everyday!