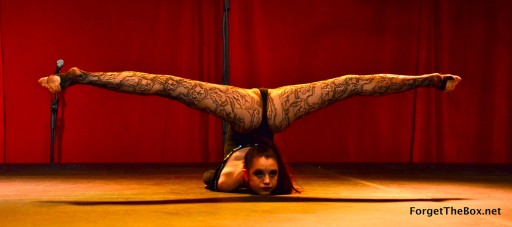 In a small tent near Place Des Arts, something sexy is happening. The playful Blood Ballet Cabaret is on, this small troupe of talented performers baring themselves for a surprisingly tame-looking assemblage of round, white-topped tables.
The MC of the night is a tall transvestite named Sherwin. Adorably uncomfortable with his French, he nonetheless makes a valiant effort, reading his cue cards closely, stumbling over words and blushing once or twice when applauded. It's worth noting that, though he may be uncomfortable in his French, he is far more at ease in sexy black stilettos than I have ever been.
Set to various recorded musical scores, each piece has a theme or story, and, with the exception of the last, all are solo performances. Each piece is driven by one lady, her sexy bits, her costume and her ability to enthral the crowd.
There's the playful and over-the-top acting of Lady Josephine as she plays a naughty 50s barrista or an uptight 20s aristocrat with a love of exotic dancing. Her costumes are perfect, especially in her aristocrat bit, where I saw pieces of lingerie I didn't even know existed.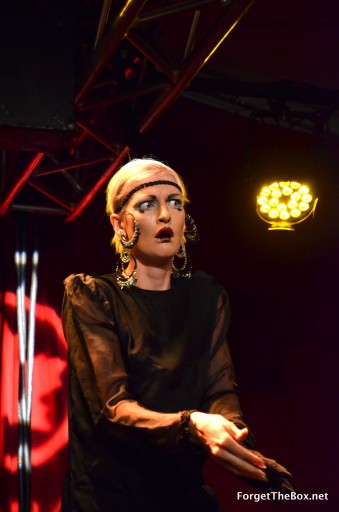 Sucre à la Crème's pieces are also playful, and possibly my favourites: one a timely dig at the STM (showcasing Sucre's powerful voice and involving a very creative costume) and, the one that stole my heart, a cute little striptease based on the old Zelda games. I can honestly say that, even at Hallowe'en, I've never seen a sexy Link costume, but Sucre's scene relies on one, and is even set to the exact sound-effects of the old version of the games. Most of her clothes come off to a lounge version of the game's theme, which had me laughing in disbelief. How do you find music like that?
Esmeralda catches the audience attention by bringing fireplay into the equation. Hot in several senses, her performance was a nice touch to an already edgy and alternative night. She would later appear on stage with Fabienne, offering homage to same-sex love in the 20s. All smiles and suggestive positions, the two girls executed some impressive lifts and old-timey swing moves.
Not every act in the night involved clothes being shed (as much as we love it!). Petite Pandora's pieces are focused much more on movement and dance, displaying her astounding flexibility. She did take off a jacket at one point, but that's as close as she got to showing skin, choosing instead to wow the crowd with her contortions, like her ability to touch her butt to the back of her own head. The only one of the performers that didn't once flash a playful smile, Pandora was instead all smoulder and dark eye makeup.
Apart from Pandora's slow and sensual performances, the other shows had a coquettish edge to them in true burlesque style. The girls tease and grin and hide maddeningly behind bits of clothing just about to drop. They keep things just this side of classy, and the only nipples we saw in the night were Sherwin's, when he held his tits out at arm's length to jiggle the silicone for us. Oh yeah, baby.
At the end of the night, when all the talented and fearless ladies line up on stage to bow out, it becomes obvious that the Blood Ballet Cabaret's performers cater to all tastes, refusing to fit into just one mould. The girls represent all body types, from Esmeralda and Fabienne's muscular bodies, to the tall and curvy Sucre, petite Petite Pandora and tall, slim Lady Josephine. And every single one of them knows how to work it.
At only an hour long, the Blood Ballet's show for Just for Laughs is shorter than their usual. However, keep your eyes peeled, there are nights when they will be performing with Pyrometheus, a fire-spinning duo. A hot show all around, based on performers that feed off your applause and catcalls!
* photos by Pascale Yensen, for all the pics, see our Facebook page
The Blood Ballet Cabaret runs until July 26th, for tickets, hahaha.com