The locked-out Electro-Motive plant in London, Ontario has decided to close the plant permanently. The announcement comes just over a month after Progress Rail decided to lockout its workers citing operating costs as its main motivation.
Progress Rail Services Corp., a subsidiary of U.S. construction equipment conglomerate Caterpillar that owns the Electro-Motive plant had locked out its unionized workers on New Year's Day. The company demanded that workers take a 52% pay cut along with fewer benefits despite the fact Caterpillar earned record profits last year of over five billion dollars.
The 450 locked out employees naturally protested in anger and found plenty of outside support. The lockout brought upon the biggest protest in London's history; company personnel alongside the people of London, other union chapters and politicians all voiced their opinion denouncing the lockout, all but the most important voice that is, Prime Minister Stephen Harper.
Harper used Electro-Motive as a backdrop in 2008 to promote big tax breaks and incentives for industrial capital investments, he even gave the company a five million dollar tax cut before Caterpillar took over. A clear blow to the Conservative myth that corporate tax cuts create jobs and that free trade will attract job-creating foreign investment.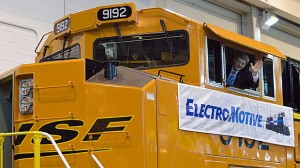 Harper still refused to get involved in the labour dispute right up until the announced closing and impending move to Indiana, predictable given Harper's staunch anti-union history. CAW President Ken Lewenza called the decision a "callous move," and was extremely critical of Ottawa for failing to require that companies commit to Canadian jobs when making corporate takeovers.
Something is clearly wrong when a foreign corporation can swoop in and buy up Canadian companies, lay off their work force and move them at will, especially when the government has given them incentive to stay. "There were particular incentives and advantages offered to this company and the net result is that 450 jobs have been lost," Liberal MP Ralph Goodale suggested.
No one in their right mind would consent to such a decrease in a person's standard of living. It was clear Caterpillar wanted Electro-Motive to pack up and leave from the get go. Whether it is by coincidence or design, the move comes as Electro-Motive was set to host a job fair in Muncie, Indiana this past weekend.
Additionally, Indiana Gov. Mitch Daniels signed a bill into law last week that effectively bans mandatory union membership. The starting wage for Indiana labourers is expected to be around $13/HR and thanks to the "Right to Work" bill, they'll have far less bargaining power.
With all the talk throughout the 99% movement about the declining middle class in the last six months, I hope this blatant example of corporate greed continues to garner the attention of the press, politicians and everyday folk. The best thing we can do to honor the 450 people whose lives have been turned upside down and careers flushed down the toilet is to make sure it does not happen again.