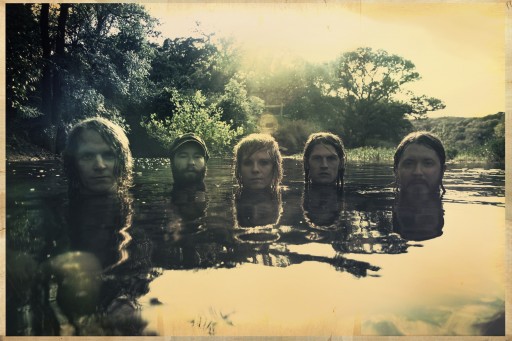 Where do you even start with a band like The Black Angels?
I caught their show in October, 2010 when they opened for Black Mountain and the whole thing simply melted my face. Why? And how will you know when your face is melted?
Well, let's see here…
Take a song like Bad Vibrations, the first song off their newest album Phosphene Dream. Close your eyes. Turn it up. Loud. The wailing guitar, those vocals from Alex Maas, timeless, insistent and trembling, steeped in a far off echo, the hectic tempo change at the end…It's total unmodern madness.
The Black Angels' music could be a real 60's flashback; luckily it's not and that means there's hope for the joke that has become the crumbling "popular" music industry. The Black Angels are instead, a mix of revival and experimentation. And you'll get to see them live this Tuesday at Sala Rossa.
Listening to a catchy number like Telephone from their new album proves to be a thrashing thrill. It starts off crackling and distantly quiet, before breaking into frantic organ and retro melodies, and all you can picture is kids in purple and gold polyester trying to do the twist on acid or something.
The track calls to mind the boppy offerings from the British Invasion, even though the band is actually from Texas. Go figure. They prove that time and place are irrelevant when measured in the context of truly mind-rearranging jams.
Going back a bit further in their discography, their singles and EP's match up to a solid style that didn't necessarily improve over time, however, The Black Angels have always had the talent to create thought- provoking, trippy and total blast-to-the-brain kind of music.
Taking their name from a Velvet Underground song, the five piece band was formed in 2004. The band is associated with six different side projects, releasing three albums, Phosphene Dream being their third that dropped in September of 2010.
Touring with bands like the Black Keys, Wolfmother, Brian Jonestown Massacre, and The Ravonettes, and being described by Passover as "Walking in the shadows cast by Spacemen 3 and Spiritualized mastermind Jason Pierce," hasn't hurt the growth of fascinated fans, either.
With Suuns opening, The Black Angels will be creating another wild experience tomorrow night, April 12th at La Sala Rossa. Tickets are 17$ in advance or twenty bucks at the door, and worth every dirty cent.