Benji Rogers, founder and CEO of Pledge Music, kindly sat down with us to explain how he plans to revolutionize the way that artists and fans interact by allowing fans access to the creative process of music making. Pledge Music is not equivalent to a crowd-funding company. They bring something unique and valuable to artists and fans alike. Read about how they deliver their unique and tailored service:
Can you start by telling us about what you're doing at Pledge Music, a brief rundown of how you help artists and what the benefit is to both sides.
I was an artist myself and I made five albums over about nine or ten years. I was obsessed by the fact that fans wanted to be a part of what I was doing as an artist and what my band was doing. It was very much a participatory thing. When I was going into a town, they'd be like, "don't stay at a hotel, come stay with us, we'll make you dinner."
What we found was that if you offered fans a kind of online version of that experience, I always thought in my head, if fans could be a part of that wherever they are in the world, that would be kinda cool. I was lying in bed one night, and saw in my head, artists, fans, charities. So the concept was, rather than say, "buy my album, it's coming out August seventh," we say, "pledge here to be a part of the making of my album."
And from day one you get access to a special part of the site that has on it rough mixes, live tracks, demos, video blogs.  It tells a story of the album as it's being made. And private video blogs. It's not just posting on You Tube. It's private for the pledgers. At the end of it, if you make more that what you needed, a part of the profits can go to a charity of your choice.
So the artist wins because they get the fans involvement early.  The fans win because they get to see this process unfolding. The charity wins because someone shows up with a cheque.  And within that, the producer, the engineer, the manager, everyone else gets something because it's not reliant on selling it all after the fact.
We often get compared to crowd-funding companies, which are like, "please give us something, we will go make something and then we will deliver it to you at a different time." To me that's just another form of consumer commerce, if you will. But if you say to the fan, "we're going to go into the studio today and as we do that, at the end of every day or every couple days, we're going to share something with you."
We've got an iPhone app that literally says, "hey, I'm in the studio. Come check it out, I'm going to beat my drummer over the head with a stick because he can't keep time. We've had a great day, have a listen." Then it auto-feeds the artist's account on Facebook and Twitter. If I'm a fan, that same update can feed my Facebook and Twitter, so what you end up seeing is a thirty second clip and you can pledge to see the rest of it.
Really I think what it was, was I think there's a place in music for just selling to consumers. But what the industry has never addressed is how to sell to fans. Fans are the ones that want to be a part of something larger than just the moment that they go into a shop and buy.
There's still a place for retail. There's still a place for labels. What we try to do is build a tool that means an artist and fan can have a direct connection and that the label can also use this tool to foster that same thing, because it's coming from the artist in real time.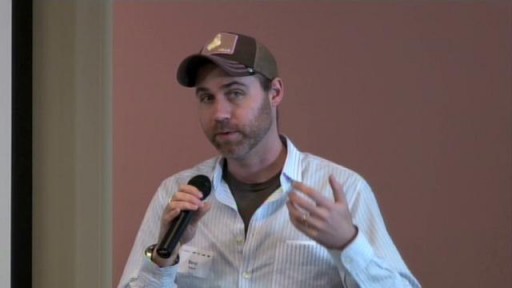 You can't go back and have the experience. You've got to have it while it's drawing out. It's like a gig that unfolds in real time. If you don't offer that, then the fans simply can't be a part of it. All they can do is go to a shop and buy a CD or go to iTunes and download it.
We did a study with Nielsen (SoundScan) in the U.S. and what they found was that there's between 0.5 to 2.6 billion dollars available to labels and artists if they open this method up. All fans want to do is connect. They want to be a part of it. You want to say, "I was there. I got the signed vinyl that says 'I was there.'" That's really how I view us.
It's part crowd-funding because there is an element of reaching a hundred percent goal and doing that, but we never display how much money is being raised because I think it distracts from the point of it, which is not how much is being raised, but the music. So I don't care if they're raising $5000 or $500 000. I care about how good the bass is sounding, personally.
So that's basically how it started and I built a tool as a musician that I would want to use.  I launched the company on my own EP and it works really well.
Compared to crowd-funding programs, we tried to start it as a larger way of releasing music than just a show up and buy it, or fund it and then I'll make it.  It's about the participation all the way through.  So we just elongated the way in which you can do this.  Rather than say, "we've got six weeks to sell, fund and make an album," you've got six months.
I think this is a brilliant idea because what you end up doing is you get music fans for life.
That's a great one. You're right.
In today's world with social media especially, everything's happening so fast. People want things right away and if you're not constantly in their face, there are other things that will come along.
And also think of it this way. If you post on social media, "hey, we're in the studio, day one." That's a broadcast to everybody. What can I do about it?  Nothing. I can stare it, I can comment on it, I can like it, but what have I done?
What if you could pledge on it at that moment? Then, all of a sudden, you know that the album will show up. You bought in. Then all you have to say is, "whatever we're doing on a social level for everybody, we'll create another layer in between," and all you need is an iPhone to do it. We don't have an Android app, sorry.
Really what I think it's about is that the artists are creative people. They've never been given a tool that is this creative to release music. People who work at the record labels are creative people. They've never had this tool to use. So we provide not only the tool, but the team who will help get it done as well. That's a big key to it.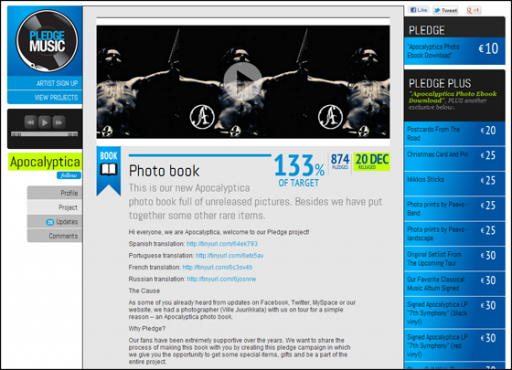 How do you choose who you work with? Do you take anyone on?
We have A&R reps who go out and find artists to work with who are at the right cycle, who are making an album or have made an album. We have a sign-up process and artists can sign up on a platform and one of our team will work with them to help get their campaign ready to go.
We don't say no, we say, "not now." Unless it's something racist or sexist, or offensive. We look at whether artists can do what they want to do in the time they want to do it, and if not, let's not let them fail. Let's work with them to get to where it makes sense.
Millions of crowd-funding campaigns launch all the time and die because no one takes the time to just say, "that won't work. That's just not possible."  I didn't want to do that.
How does it benefit Pledge Music as a company?
We commission whatever comes into the platform and the artist owns the rights all the way out. We take fifteen percent and that includes the credit card processing fee. So it's slightly more expensive that other straight crowd-funding companies, but what you get for that is us and we're the guys that help make it happen.
It's been a good year. We saw 176% increase in pledges! Our CFO said that to me. I think that's good.
Wow!  I've never run a business, but I'd hazard a guess that that's extremely good. Geographically who do you take on?
Global. Anywhere where credit cards or PayPal can be used, we operate there.
So all languages? All genres?
All genres. We have a Spanish version of the site, a German version of the site and English. I've been talking to a lot of people about how we're going to grow and give Canada what they need to work, but then we have to do a French Canadian version of the site. If you know anyone! I'm a big ice hockey fan too.
What are hoping to achieve from this point forward?
I think there's not going to be one album in the next twenty years that wouldn't have a better experience for everybody involved if it had Pledge as part of it. So my goal is that all albums begin their life in this way. With me being a part of it. With me being able to be a part of it as a fan.
It's not working the way it is. It's not effective anymore. You can't just say "go buy stuff in shops, go buy stuff on the internet." That's not working. So we have to reinvent the way in which music and art gets to be built.
People who have done crowd-funding campaigns have said they feel bad going back to the well. My thing is abolish any concept of the well.
Do you stop making albums because the last one was the best you're ever going to get? No. You just make a better campaign, a better way of doing things.  Our job is to help with that.