The Canadiens played back to back games Friday and Saturday but I promised an Ottawa review as I've dodged the last two Ottawa games. We play Ottawa as much as we play Toronto so I was bound to get a game in soon.
First, a  big shout out from  Friday's Buffalo game. I was tipped off that a crew  of Hab's Inside/Out bloggers were meeting at Hurley's on Crescent Street so I joined them. There were a lot of Habs fans in the house some even came from as far as the Yukon to drink and enjoy Montreal's 3-2 victory. People came for a  hockey summit, which featured a tour of the Bell Centre, and   good old fashioned hockey talk.
Hurley's was packed with hardcore fans, nothing new to this Irish pub. It's one of many popular hockey hotspots near the Bell Centre and convenient come playoffs when you want to be in on the action.
They were a great crowd and invited me to get my blog up there and have my say about the Habs! Rather than picking on the Halak lover/Price haters on Facebook. (To the douchebag who is waiting for Price to suck: you're not a real Habs fan so shut the f#*k up until the season is done.) Both goalies have been consistent but its still too early to determine who is better. No premature expectations here, what are you, Toronto fans?
Onto Ottawa: November is when I give my liver a break because of too many sporting/drinking events in Montreal year round. I blame the extra damage this year on the extra six weeks of hockey the Canadiens played last season.
So instead I opted for the next best thing: good  food. My  diet during hockey season often consists of chicken wings, nachos, good pub food like burgers and of late, fish and chips. But for Ottawa's game I was with a friend who was craving ribs so we opted  to go to  Bofinger on Parc.
Originated in N.D.G, Bofinger now has four locations serving authentic Southern style BBQ cuisine, where they smoke their meats for 24 hours before cooking them on the grill. Even their BBQ sauces are homemade.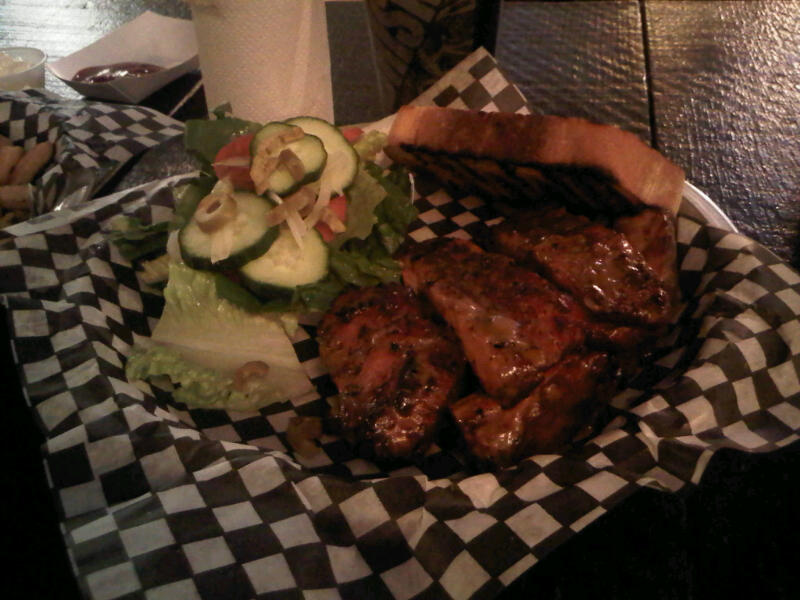 We got a plate of pork ribs and chicken wings with a choice of BBQ sauce (you can choose how hot you want your BBQ sauce). Bowfinger also has daily specials! For the hockey game you can get a pound of chicken wings and a pitcher of beer for only 16.99$! Luckily they also offer free refills on soft drinks so I wasn't out of luck.
Couldn't say much for the Canadiens on this night, after surviving Buffalo, they were running on empty in their 3rd meeting against the Senators. Their last two meetings  saw Andrei Kostitsyn and Tomas Plekenec lighting up the scoreboard. However AK46 was trying to add life to the Gionta/Gomez line while Pleky was feeling sicky with the flu.
Price was kept busy trying to keep the Habs in the game like he has for the past few games and numerous games so far in this young season. It's not easy when one of your best lines is your fourth line, the newly named PhD line – Pouliot/Halpern/Darche (As Darche & Halpern both have university degrees from McGill & Princeton respectively)
You don't need a Masters to know that these guys  can produce, (Pouliot and Halpern scored  against Buffalo).
The Habs  couldn't get out of the sticky situation we called Ottawa; my situation was pretty sticky as well as I was covered in BBQ sauce. The roll of paper towel on each table is a real plus. Great save by Bofinger.
The only major drawback about Bofinger's was that there was no crowd for the game, only a handful of people to see a Spacek goal (yes, he finally was useful) and Gionta breaking out of his slump. It's hard to cheer when you're the only one yelling at the TV.
The low point of the whole evening was that the "Good" Kovalev showed up.
Alex Kovalev, ex-Canadien and fan favorite, was playing the way we hoped he would when he was in Montreal: scoring goals. A gifted player with a knack for scoring, he has the habit of showing up to games when he feels like it.    It gets annoying for any team he's played for, we had this problem for 4 seasons. Unfortunately he picked a Montreal game to show up for and score twice, aw crap! Final: 3-2 Ottawa.
Montreal's new problem is waiting for Scott Gomez to score. When was the last time he had a goal? Quit passing the puck, shoot! Funny that we're waiting for our superstars to get points while the fourth liners are proving their worth.
As for my meal, it satisfied the foodie in me, but the atmosphere didn't fill me up as a hockey fan, especially not the way the bloggers & Habs fans did the night before.
We may have lost the game but we now have a place to get good ribs!