Last Tuesday, I braved the Jekyll and Hyde weather and made my way to the cozy Verre Bouteille to meet up with Erik Evans and Daphné Brissette of bluecrass folk eight-piece Canailles. In light of the launch of their sophomore album Ronds-Points, Canailles' upcoming local shows and ensuing tour, I sat down with Evans and Brissette — who took the time despite the flurry of preparations — for a couple of beers and boisterous conversation about generating their new record and an intimate look at some of the titles on Ronds-Points.
Last September, when I last interviewed Evans, the band was off to begin working on a "baby brother" for their roaring debut Manger du Bois (released in 2012), which they toured for three years. Determined to produce new material, Canailles took off to a cabin for days on several occasions during the late summer and fall. With four songs already started, they began writing and composing what would later be a motley of raw 'swamp' folk tunes.
Similarly to the the process for Manger du Bois, the four main singers — Brissette, Alice Tougas St-Jak, Dan Tremblay and Evans — are responsible for a big chunk of the writing. This time, JP Tremblay, the drummer, and Annie Carpentier, who plays the washboard joined in. Evans and Brissette explained that they worked collectively to work the songs, deadline in mind, to build on each others strengths.
The recording process took about two weeks in studio at the Treatment Room, where they recorded Manger du Bois. They worked under the direction of Erik Villeneuve (Avec Pas D'Casque, Bernard Adamus). Thinking of the number of voices and instruments, I asked if they recorded track by track:
"No. That's 'illegal' in our case," Brissette said passionately. "We play folk. Our thing is a question of mojo and being in the moment: to try and make people feel like they are in the room or in the middle of a concert when they hear the recording. I often say, folk is 'gras et sale' [it's thick and dirty]. That's what works for me, makes me vibrate. In reference to the recordings of Alan Lomax, he toured the states, took recordings of prisons, old farms, lost bayous. That's where you have the nature of the sound. Those are our big inspirations. So we are looking for that at the same time as production quality."
Touring is not the place for writing new songs, and even when back in Montreal the writing hasn't seemed to flow. Both agree that going out to the cabin, a sort of isolation, has worked best for them.
"During tour, you're exhausted, you're in production mode. When shows are done, you want to do other things. On mornings, you want to sleep and it's hard to see when there would be time. The free time we have is for resting," Brissette said.
"And we don't do much of it," Evans laughed.
Recalling my earlier conversation with Evans, I asked about the party atmosphere on tour. They answer with amusing complicity.
"Well, there are teams on tour,"explained Brissette. "We have teams in our group."
"We are 'Team de Marde' [team of shit or troublemakers] with Annie, the washboard player," Evans expanded.
"There's the 'double checks' who are really dedicated to doing things well, and the 'misunderstood poets'," described Brissette.
"The 'misunderstood poets' refuse to be in that team, because they don't understand that they are misunderstood poets, reinforcing their position," Evans added.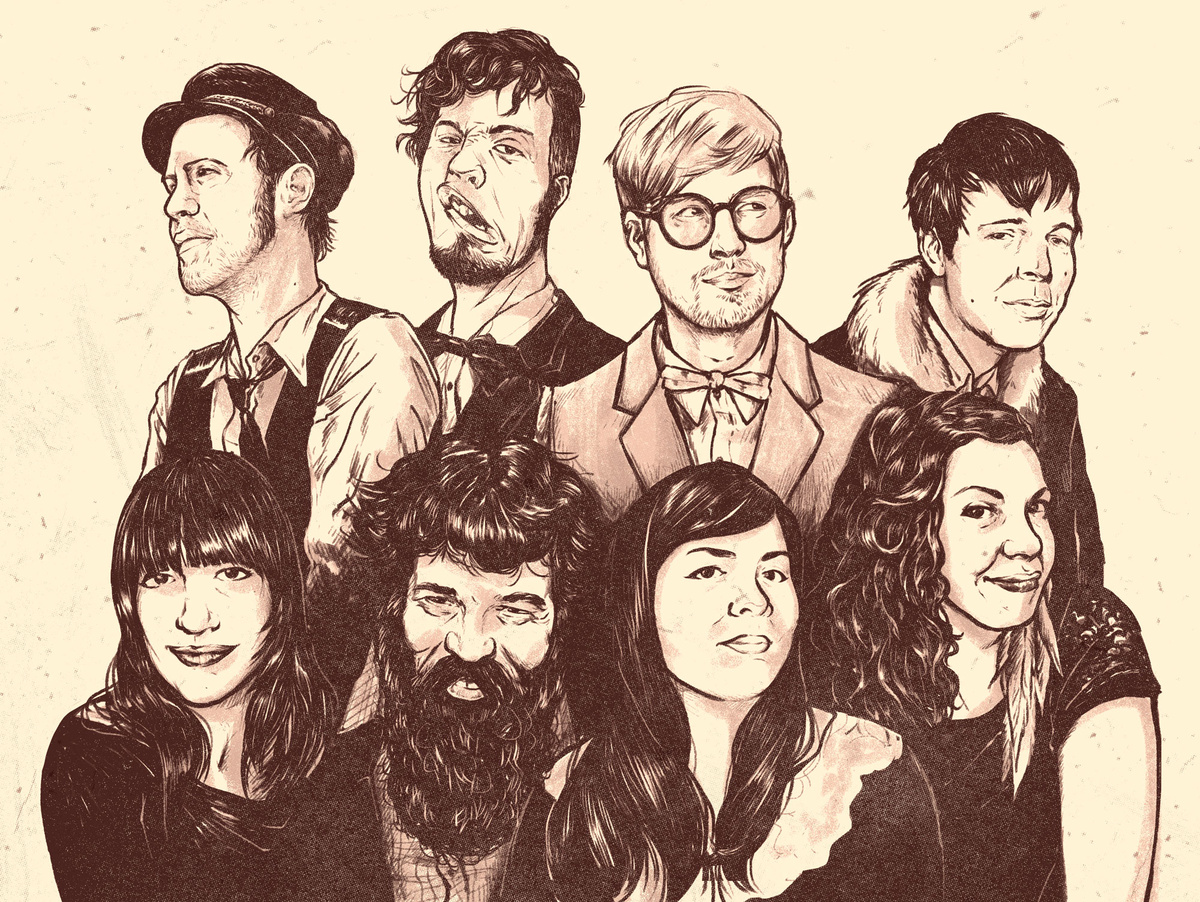 Both Brissette and Evans agree that there is indeed a lot of partying on tour. One of their favourite gigs during their last touring wave was a show at Réunion, an island in the Indian Ocean east of Madagascar. Spotted by a festival programmer during a showcase, Canailles was invited to play the Sakifo Festival, with festival opening act Manu Chao. They found the festival extremely well organized and beautifully located, right by the ocean.
"The next day, the papers spoke of us as 'créole cousins'. Réunion is a former french colony and with a diverse population. I think they understood us and we understood them when speaking better than French speakers from France," Evans said.
I asked whether tour experiences like this one translated into the material on Ronds-Points.
"I have the impression that there is a sort of jet lag with what we go through and when it comes out in song form," Evans replied. "At least for me, I feel like Ronds-Points talks about things before our last tour and that the next one will speak about what we lived on tour. In the creation process, I was not trying to get rid of issues but to get stuff off my chest."
"At the same time," interruped Brisette, "I think the only song related to our last tour is 'Texas'. It was something we just couldn't not put out. Erik couldn't not, he had something definite to let out."
"When you listen to 'Texas', it recounts an entire evening on my way to the airport to go to 'Texas', to SXSW," Evans explained. "During that night, I was with another band member, I lost my passport, things got weird. It didn't end too too well."
Canailles recently launched a video for the first single off their album. The director who shot it had also shot their two prior videos and both Brissette and Evans spoke highly of him. As for the song itself, 'Titanic', according to Brissette is a rallying call.
"In the past, there were tons of shitty times, but we are stronger than that," she said. "'Titanic' is a lot like the hockey theme, a team tune."
Evans wholeheartedly agrees.
To feed my curiosity, I ask about the track 'Coeur de Gawa' and what exactly a "gawa" is. They laugh.
"A kind of typical people at shows," Evans started to say.
"A little too into it," Brissette continued. "The term comes from the 80's up in the Saguenay. It's an attitude that people who are way too into it have. People with mullets who listened to metal back then."
"Yeah, they'll get drunk and spill their beers all over the speakers. We love them, but … So, when Dan wrote the song, he was talking about his ideal woman, who would be a gawa," Evans finished.
The album isn't a "comfortable" one, Brissette explained. With Ronds-Points they weren't looking to produce a direct sequel to Manger du Bois. Rather, to craft  something that fans would recognize while at the same time surprising them.
'Mon Chien est Mort' is one of their favourite tracks from Ronds-Points. Both of them underline its transformation from its initial state as a sad song penned by Dan Tremblay — whom they affectionately call 'le barbu' [the bearded one] — alone and down in the dumps by the river to a ragtime survivor hymn cherished collectively.
Brissette's favourite songs on the album are 'Fromage' and 'Breaker'. Evans also has a soft spot for 'Breaker'.
"It gives me such a feeling, a strong emotion," he said. "With the two singing in unison, it gives me a weird feeling like a film credit roll right after an abrupt and troubling ending to a film."
After our talk, Evans was off to see the Les Hay Babies show before joining Brissette for birthday celebration karaoke. I asked them about their karaoke guilty pleasures. Brissette names 'Runaway' (original by Del Shannon) and 'Une autre chambre d'hôtel' by Gild Roy. As for Evans, he takes a moment to think, and names 'Seul au combat' by Quebec kitsch artist Les B.B. and 'Careless Whisper' by George Michael. Much respect for that.