To conduct a pre-show interview with Toronto band The Nursery last night, I followed the foursome down a dimly lit alley, where, as we were getting started, a lone wanderer passed by and commented, "are you guys a bunch of models or something? I mean, people that good-looking shouldn't be allowed to travel in groups together. You all look like you've just come from a photo shoot!" I'm not sure why he felt good-looking people shouldn't travel in groups, but he had a point; every member of this group is a babe, which makes watching them perform that much nicer on the eyes.
Looks aside, this is a very talented and creative group of musicians with far-ranging influences who come together to form something uniquely theirs. They've been labeled individually as psychedelic-rock/pop, synth-rock, synth-pop, electronic, indie-rock, alternative, post-punk and more, but their sound seems to me to be a blend consisting of elements made up of bits and bites from each of these sub-genres.
Their synth work is definitely a driving feature, and they use it to successfully convey the sense of psychedelia and headiness that pervades their music. The guitar work is also tasty and top-notch, and the driving drum beats make for songs that are danceable as well as lyrically and musically interesting. Frontman Alex Pulec's lyrics read like poetry and convey deeper meaning when read beyond the surface of the rhymes. His voice connects me at times to a couple of different vocalists including Matthew Bellamy of Muse, but more often than not I am reminded of Jack White during his White Stripes years.  It's the punchiness in the way he delivers the lines, his vocal range and the way his voice is presented in tracks like "Lysergically Yours" that are reminiscent of White.
The Nursery is made up of Alex Pulec (vocals and guitar) who does the majority of the music and song writing, Victor Ess (bass, vocals, bass synth), Jared Roth (keyboards and synth) and Jocelyn Conway (drums). I want to linger on Conway for just a moment. Female drummers are a rarity, and I'm sure there are lots of theories about why this is, but listening and watching Conway hammer on those things is watching art happen. For her petite frame, she still manages to play with such strength. Not only does she hit hard, but with speed and precision as well. She's a keeper!
I asked the band about their formation, their writing process and what they're up to and planning to get up to in the future. Here's what they had to say:
Stephanie Beatson: How did The Nursery form?
Alex Pulec: Victor and I have been playing for a few years now in a few different projects. The Nursery is the first time we decided to extend beyond the both of us. We formed The Nursery about a year and a half ago.
Jared Roth: I joined a little after that and Jocelyn joined in February.
SB: Your album, Carnival Nature, has the obvious carnival theme that you continued through the track "Lysergically Yours," which reminds me of being trapped in a fun house. What was the inspiration behind the carnival theme?
AP: I co-directed it with Devon Stewart. I wanted to make a video that you can get lost in. We didn't have the biggest budget, so we had to think about how to create a space with pretty much no budget that could move you out of any type of typical space that a band would play in. We came up with the idea to cover our rehearsal space and studio with tin foil. We wanted to make it feel like you're suspended.
JR:  We wanted to go with the idea of the fun house where something catches your attention, and you're mesmerized, then something else catches your attention and you don't like it. We think it matches the lysergical nature of the song.
SB: And the music has the carnivalesque nature about it too, so it's all in the same vein.
AP: We wanted to play off that for the video. It's polarized a lot of people. The jimmies that are glued to our mouths, some people love the idea and some people find it disturbing.
Victor Ess: I had someone call me and say that they loved our previous video for "This Wild Heart," but "Lysergically Yours" made them feel uncomfortable with the candy around the mouths. It made them feel difficult feelings inside [laughs].
SB: What was the reason for using the jimmies?
AP: We wanted to do something that was fun but also had a dark, twisted edge to reflect the song. I thought of it like a mixture between childhood innocence with kind of a darker, sexual edge. But it's mostly stylistic. There were blue, red and turquoise lights so we kept to those colours with the sprinkles.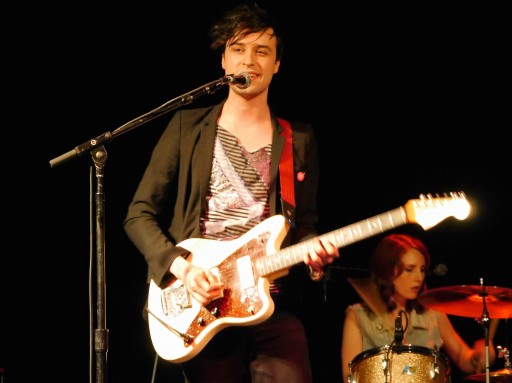 SB: In the video for "This Wild Heart," I thought it was cool how you filmed the desert scenes in colour with the band shots in black and white. What does that signify for you?
JR: Again it was an aesthetic decision.
AP: To make each world its own so they didn't really cross into each other. The black and white world that we were in had to be its own character and vibe just to keep them unique from each other.
JR: We bring the two worlds together at the end a little bit. One of the characters in the black and white world is in the desert at the end.
SB: I understand Alex does most of the music and lyric writing. When he brings a song to the band how does it take shape from there?
JR: We each get to add our own input through the arrangement of our parts, through the writing of our own parts. Alex or Victor usually will come with a musical idea which we'll each fit our parts around, and then the lyrics and melody will come. I wouldn't say it always works that way though.
AP: It's very organic. Sometimes songs come in eighty percent done, sometimes songs are created at rehearsal. Certain songs have come together in half an hour of us working on them, and some are still not where we want them to be after working on them for a long time.
JR: Sometimes when that happens, we'll take part of an incomplete song and add it to another song so it won't be a total loss.
SB: How do you choose your subject matter when writing lyrics?
VE: It just develops. I always feel that a song will reveal itself to you as you go along.
AP: It's that moment where you're writing and you're almost in a suspended reality where you're saying something, but you don't really know what it means yet. A moment later you go, "that's what that song's about." It reveals itself later.
JR: Sometimes the lyrics pair really well with the music and other times we might have a lighter, dance-pop song with deeper lyrics.
SB: Your lyrics read like poetry. I love the flow and that there's depth to the meaning of each song.
AP: Lyrics are the things that people hold on to. Melodies can excite and mesmerize people, but if a song doesn't have lyrics that communicate to you, the song doesn't have as much life.
JR: Alex has really good attention to detail in his lyrics.
AP: One thing that's really important to me is that I want the lyrics to stand alone. If someone were just reading the lyrics, I want them to convey almost as much as listening to the actual songs.
SB: What's next for The Nursery?  
AP: We're recording an album right now in Buffalo, at GCR Audio, and we're about seventy percent done. We chose GCR after it was recommended to us. Robby Takac from the Goo Goo Dolls owns it. We checked it out and fell in love with the space. It has really good energy and a great engineer, and at this point we've created such a comfortable, amazing relationship that it just feels like home. We're also going to do a tour in November and we might put out a single first before we release the full album.
They've got the looks, they've got the talent and they've got the drive. I daresay more good things will be coming their way. Look for them on tour come November. In the meantime, they have several videos to scout out, including "Lysergically Yours," the other single off Carnival Nature, which indeed sounds (and looks) like being in a house of mirrors, possibly while on acid.
Support indie musicians! The Nursery's six-song EP, Carnival Nature, released last June is available on Bandcamp.
Photos by Stephanie Beatson.