"I'm not stuck in anybody's body — this is just who I am as a human being" – Caitlyn Jenner
I could not even imagine what it feels like to be existing in a body that doesn't match how you feel on the inside. Told from childhood that you have to be a certain way. Boys on one side and girls on the other. No acknowledgement of the in betweens. Pink or blue! Well I like purple.
I have always celebrated my femininity and given strength to my masculine side as well. All people are a mixture of both, gender and sexuality are not cut and dry. They are both fluid terms that have been influenced by societal standards and cultural norms. Nobody fits in a box.
For the haters out there – just stop! It takes a lot of courage to do what she is doing and your ignorant trolling is not welcome. This is 2015, we live in a world where people should feel safe sharing themselves and not tormented by hate mongers. The media pisses me off by putting the pronoun she in quotation marks and still calling her by her former name, Bruce. Have some fucking respect.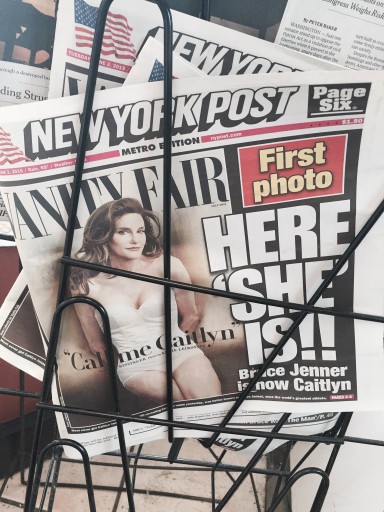 Caitlyn Jenner is in an interesting situation of privilege. She is in the spotlight during a very private point in her life and she isn't hiding any intimate details. Her former self was the pinnacle of masculine achievement, winning all the Olympic medals and being the patriarch of a famous reality TV family.
She spent her whole life hiding inside of that success. In the 70's Jenner wore a bra and panty hose under a suit, now she is able to strip out of that unnecessary layer.
She is now on the cover of Vanity fair with loose curls, flawless makeup, and a white corset. It took a lot of courage to reveal her true self. Her position and celebrity status has thrust her into becoming one of the most recognizable and talked about trans-women ever. Fame is a big responsibility, she has chosen to use that to her advantage and be honest about her body for the first time in her life. She looks spectacular.
At 65 years old, Caitlyn Jenner is also the oldest woman ever to grace the cover of Vanity Fair. She shattered multiple cultural hurdles with her bold cover shot, she is now a revolutionary icon.
Being a woman is hard enough in this society, being a trans-woman is exponentially more difficult. Suicide and hate crimes are both sadly very prevalent in the trans community.
Ageism is also a real problem. When even cisgender women reach a certain age they become desexualized and forgotten by the media at large. Caitlyn has proved that beauty has no age limit.
With this simple "Call me Caitlyn" she is finally seen for who she is and not who she used to be. This is a hard task for someone who has been famous for decades. There is no way that her public transformation would not create a spectacle – and I don't think that's a bad thing.
I am proud of her for not hiding this and going on her whole life with inner torment. She was unapologetically honest with herself and the world, shedding positive light on a minority group that is often discriminated against even in the LGBT community, never quite being understood, always marginalized.
By talking to Diane Sawyer on 20/20 and allowing the world to listen Caitlyn has opened up a really important dialogue about transgender acceptance and understanding. We should celebrate her extreme visibility and openness with her journey as a win for all people who have been marginalized or dehumanized by being transgender.
Hopefully by talking about it the world as a whole will have a better idea of what transitioning really means. I knew that things were changing when the topic of transgender folks came up at the family dinner table the other day. It was refreshing to have this conversation openly with them.
Some people are judging her, saying its all for publicity. Those people are idiots. Who would change their gender for a stunt? It's not an act of vanity, she hid inside her body until she was 65 years old because she didn't want to disappoint her family or fans.
She didn't need the attention. Especially being someone who is already rich, famous, and doesn't need any more justification.
Personally I hate reality television, it's a superficial circus. Jenner's new reality show on E! is definitely going to be a little different than anything we have seen before. I hope they keep it classy.
No more lies or hiding, Caitlyn is finally free – especially when the camera is there, she will have no choice but to be real.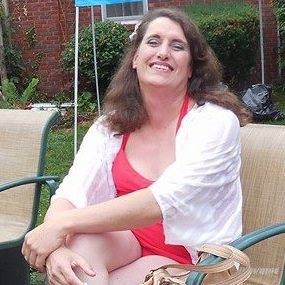 I only wish that my dear friend Chelsea Lee Jones was able to see this story unfold. Chelsea was a trans-woman that I was lucky enough to be friends with. She illuminated the world with her grace, style, and compassion.
Her story was very similar to Caitlyn's. She was successful and married with a family, then later in life came out as trans. Chelsea was so important to her community, she made sure that everyone felt safe and fabulous, often leading the charge and inspiring other trans-women to be themselves in public, which is scary as fuck.
Tragically Chelsea was taken from us only a week after she finally received her new drivers license with her true identity on it. I remember the joy in her face when she proudly showed it off. She had finally become the person who she always was on the inside, and she was so lovely.
I remember once she showed me a photo of her mother and I commented on how they had the same beautiful smile. I will never forget the happiness in her eyes upon receiving that compliment.
She changed my life forever, her courage inspired me to be myself no matter what and her legacy will always live on in the hearts of all who knew her. I miss her every day. Every dance is for you girl! Chelsea would have been proud of Caitlyn and her inspiring public transformation.
At the end of the day Jenner is a rich woman who can pay for the thousands of dollars of gender affirming surgeries. To the public eye this transformation might seem quick and easy (we got to see the before and after). For most trans people this journey will take years of engaging in risky procedures, poor health care, and lack of understanding and support from their families.
It's often a long and lonely struggle to become who you feel on the inside. I hope someday that everyone will have the same access and acceptance as Caitlyn. We have a long way to go, but this is a step in the right direction. Nobody should be afraid to let their true light shine.