This Thursday, the Habs kick off their 34th playoff rendez-vous with the Bruins. At least one pundit is calling for a 7 game tussle. Do you know what equates to? Twenty-one hours of screen time, multiple weeknight drinking sessions, and, if you're lucky, a sprinkling of good food.
Back at series outset, BlogMTL highlighted some viewing hotspots and Eater helpfully listified some foodie-oriented playoff viewing joints.
But we're on to round 2 and we feel it's time for a fresh, eccentric and fiercely budget-friendly compilation of playoff bars in Montreal:
1) Fiddler's Green
This small pub is ridiculously underrated. A semi sous-sol steps south of its more cavernous Irish cousin, the Embassy. This is where to come for a true change of pace. You'll be enamoured with the die-hard fans that make this their pub of choice (and will probably hate me for blowing their cover). Prices are better, vibes cosier, and atmosphere more homey than their pubby cousins up the street.
WARNING: the back section is for very serious fans only–don't even consider sitting there if you want to sneak in conversation during the game!
1224 Bishop / Facebook page
2) Pub Sir Joseph
The St-Laurent gastropub has truly come into its own with its carefully considered menu, tasteful décor and a heady range of booze. It's usually quite full, so get there before first face-off.
4902 St-Laurent / Facebook page / website
3) Café Ciné-Express
Those who haven't stepped inside will probably sneer at the suggestion. But those who've been for a game know what's up. Ciné-Express not only offers a glut of huge screens, cheap pitchers, and affordable nibbles, but they're host to private nooks. Each can accomodate a group of 4-8 or so and contains a private couch and TV. No extra cost.
1926 Ste-Catherine O.
4) Inspecteur Épingle
Tall boys of Labatt 50 and a huge HD screen? A quirky clientele that effortlessly mixes young and old? What more could you ask for? Well, food. So make sure to stop somewhere first on Duluth.
4051 St-Hubert / Facebook page
5) Taverne Régale
See #4. But add more screens, more CH flags and more old men. (Bonus: it's directly across the street from the Charlevoix métro entrance, so you can easily stumble home).
2567 rue Centre / Facebook page
6) Chez Baptiste sur Masson
Chez Baptiste is a perennial favourite, but its Masson outpost is more fun. As their website insists, you risk "2000 square feet of pure pleasure." Interesting drink specials every night of the week, and the opportunity to crawl over to some other spots on thriving rue Masson.
3014 Masson / Facebook page 
7) Taverne Normand
The Taverne takes hockey very seriously, so much so that you might like to reserve your spot in advance. But screens are abundant and the atmosphere is almost like being at the game. What's more, they have $5 pints.
1550 Mont-Royal est / Facebook page
8) Chez Claudette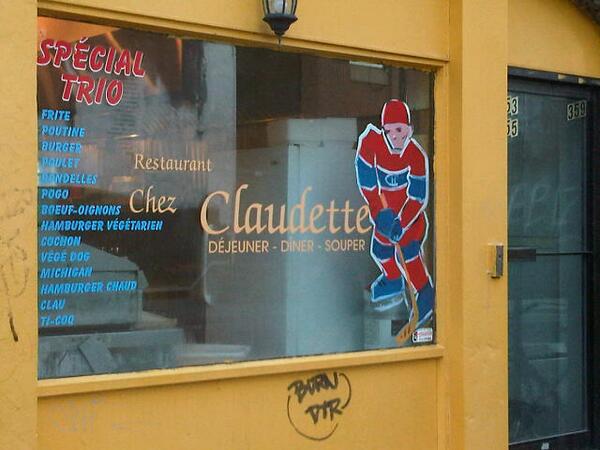 You will not find a casse croûte that more seamlessly merges lack of pretension, budget-friendliness, and utter passion for Habs history/lore. Screens are more limited, but the whiff of excellent poutine and a repeat of '93 is in the air at Claudette 24 hours a day!
351 Laurier est 
Cover photo via Reg Natarajan/Flickr.