There's something depressing about witnessing Sainte Catherine Street's potential-ridden Faubourg slowly and steadily decline, year after year. Even the meagre optimism sparked by Grumman 78's presence quickly disintegrated in 2012.
The food court–impossibly–churns on with stalwarts like Bangkok and Yuki Ramen, but empty retail space has been outpacing fresh menu items for almost a decade.
Rejoice. Japote, a stall less than two months old, has already proven to be the Faubourg's saviour.
The friendly husband-wife duo set out to provide real Japanese fast food. Moments after my visit, I saw just how sincerely they meant it. So don't confuse Japote with "Western-focused izakaya," okay? There is no hour-long wait in the snow, no $50 tab, no show-ey live plating or sake-tinged chants. There is good value for your money. Period.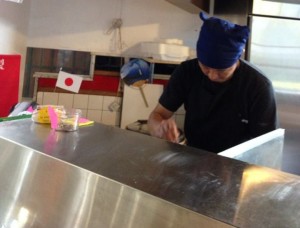 The spicy stewed beef perked up my mouth without the slightest burn, and once swallowed, left a warm trail that spread slowly out to the far reaches of my chest. The Japanese curry (with chicken as its base), was rich and creamy, without the over-sweet coconut base of many fast-food Thai curries and a distinctly different spicing profile than any Indian or Malai blend you've ever tried.
The pickled ginger laid on top was almost impossibly bright–clearly the manifestation of a long-practiced recipe–and miles away from anything I've eaten at those aforementioned MTL-style izakayas. The tiny mound of neon perks you up. It almost makes you want to cry: you want another forkful of it, but you know it's impossible: any more would ruin the balance of the dish as a whole. They also make a Japanese pickle, made ostensibly from cucumber, that is a deep red and much sweeter, a nice companion to the generally hearty Japote menu.
Anyone who has seen my fridge knows that the way to my heart is hot sauce. Well, that, and homemade condiments that look like art experiments. In this domain, too, Japote had me at hello. A tray of nine homemade condiments–from ginger vinaigrette to spicy mayo–lies in wait of unlimited squeezing.
Keep in mind that this all costs $5.40 (before taxes).
Avoid the optional salad; it's the wateriest of watery iceberg lettuce with a few slivers of long-refrigerated carrot, etc. But do throw in a miso soup for $1.50, or a drink for $1.
I later asked the male half of the cooking duo (he was alone that night) how he was finding life in the Faubourg.
"Still not as busy as we want," he said.
"Why did you come here then?"
Suddenly he smiled.
"It was perfect. We want to make good, filling food, tasty food, for students. I was also a student. Even the cheap fast food was eight, nine, ten dollars. Not even good. We want to make something affordable–in Japan that's real fast food."
"I promise I'll do something to help," I responded. And I meant it.
If this is real fast food, sign me up for the first franchise.