I almost fell for it. When I sat down in Cafe Cleopatre before the start of the Zoofest version of Bad Ladies and the Detective there was a flier on the table with instructions to immediately log onto KENSAKU and tweet my location. Had this Montreal-based burlesque troupe found a new social media site? Not quite.
The show started and I found out that KENSAKU was actually a social spying tool that was part of the futuristic Orwellian dystopia that the show was set in. Yes, this burlesque show had a futuristic setting and a plot.
Giving a storyline to sexy dance numbers is always a nice touch. In this story, the only freedom from the tyranny of the state is burlesque. In particular, it comes from Lady Josephine and her Bad Ladies underground cabaret.
The ladies are being chased by Detective Stormy Typhoon (Cherry Typhoon) while sending manifesto-type event invites to the investigator's sister Secretary Shimi Typhoon (Yanomi Shoshinz). I like the use of social media in a show set in a surveillance state, because Orwell's future may be a little closer than we thought but I also loved the hilarious banter between the detective and secretary which also served as emcee introductions for the dancers.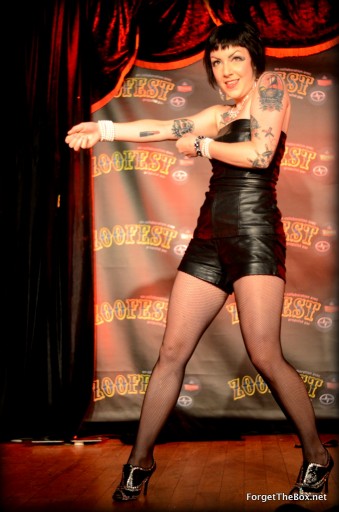 Cleverness aside, this is a burlesque show, so it's all about the burlesque numbers. And we get some good ones.
Troupe founder Lady Josephine graced the crowd with a very classy yet downright sexy couple of numbers. Her highly theatrical facial expressions are priceless and her look is pure classic burlesque if I ever saw it.
By contrast, Libertine Rose is a much more modern rock n' roll type of sexy. Clad in leather, she snuck onto the stage like a thief in the night and stole all of our hearts with her fun and raucous striptease.
As for Billy L'Amour, well, there's plenty to love about this performance. I won't give too much away, but let's just say the upstairs of Cleo is known for more than burlesque and fetish.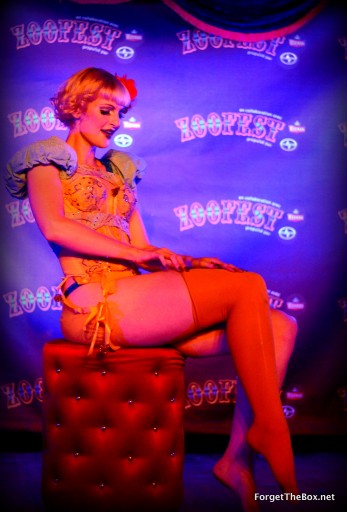 It's rare that I get to name all the performers in a burlesque show, but Bad Lady had a cast of only five. I didn't see the earlier version of this show at Theatre St-Catherine, but I hear the show was cut down to accommodate a tighter schedule at Zoofest.
After seeing this stripped down version, pun very much and very happily intended, I find myself wanting more. And isn't that what burlesque is supposed to do?
* Photos by Chris Zacchia
* Bad Ladies and the Detective runs tonight and Friday at 10:30pm, Café Cléopâtre, 1230 St Laurent. For tickets, please visit goodladiesproductions.com
* For the rest of the Zoofest schedule, please visit zoofest.com