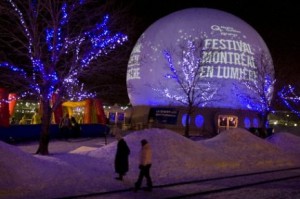 Yet another winter festival is upon us! This week kicks off the 14th edition of Montréal En Lumière. From February 21st to March 3rd the city will be filled with theatre, music, dancing, and visual art programming, both indoor and outdoor! While many of the events are hosted indoors have ticket prices, the central outdoor site is free. Throughout Quartier des Spectacles there will be live performances, interactive art  installations, food and drink vendors and of course beautiful lights. In addition to the live entertainment and arts, Place des Festivales has a ferris wheel. There is also a cinematic dome that will screen films, as well as for performances by VJs and DJs providing eye and ear candy. The festivities run until eleven each evening (excluding Sunday).
The event ends with Montreal's Nuit Blanche on March 2nd. This year will mark the tenth celebration of the all night art festival for Montreal. The downtown site of Montréal En Lumière will remain open until 3 a.m., but there is no lack of things to see. Programming for the event is city wide and has designated spots through quartiers de spectacle, old Montreal, the olympic park, the plateau and mile end, as well as art through the metro stations. There are shuttle buses  provided to get you to and from each happening. Do your best to plan the night accordingly as there's lots of ground and lots of hours to cover! I've experienced Nuit Blanche in several major cities now and am looking forward to seeing how Montreal differs from the rest.
Watch for our complete Nuit Blance preview coming out soon!