It seems southern-Ontario natives Brandyn James Aikins and Daniel Brandon Allen have come a long way in the four years or so since they started Indian Handcrafts. They independently released a self-titled album in 2011 which got the attention of Cathy Pellow, the founder of prestigious Los Angeles-based record label Sargent House.
She hooked them up with producer Toshi Kasai – who has worked with the Melvins and Big Business, two bands that have had an influence on Aikins and Allen – to record their label debut, Civil Disobedience for Losers. The Melvins' Buzz Osborne, Coady Willis and Dale Crover even had a hand in contributing to the current Indian Handcrafts album, recording and providing guitar and drum parts.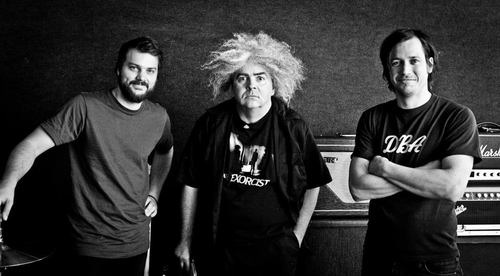 This past year, Indian Handcrafts were featured in a post on MTV Hive of eight new bands that influence the Melvins.
"It was kind of those situations, and I don't like to use this analogy, but a 'pinch me' kind of thing," Allen said, "I thought it was a joke at first."
It's easy to see how Indian Handcrafts ended up on such a list. They possess a ferocious energy that is immediately apparent on Civil Disobedience for Losers and is amplified ten-fold during their live performances. The band manages to sound louder than other bands that are made up of more members and can pull their own weight when playing alongside heavy-hitters like Red Fang and Cancer Bats, who they shared the stage with last night at Cabaret Mile End.
Things are definitely different now that Indian Handcrafts are signed to Sargent House.
"We get to play better shows. We definitely feel more co-dependent, more clingy," Allen joked.
"They've helped us out a lot," Aikin added.
Not to mention they are now part of a family of bands that consistently put out highly-acclaimed records. Sargent House is home to an impressive roster of artists including Russian Circles, Fang Island, Boris, And So I Watch You From Afar, Natives and Omar Rodriguez Lopez.
"We like a lot of bands on the label," they said. "So when you're playing with them, you're nervous but also very happy and grateful because they make you step your game up."
Check out these photos of their October performance at Il Motore. Photos by Bianca David.