The world was supposed to end in 2012. It didn't. In fact, if 2013 in the news is any indication, it didn't even change all that much.
There were a few pleasant surprises, a few unpleasant ones, some things didn't change at all, for better or worse, and there was distraction and that's where I'll begin…
Distraction
Biggest distraction of the year? Without a doubt, this guy:
Not only did Rob Ford dominate the headlines in Canada, distracting from the Senate scandal among other things, he managed to take top billing in the US for a while, overpowering problems with the Obamacare rollout, and even made headline news in Africa. His biggest accomplishment, though, seems to be that his crack use and personal problems have distracted everyone from the fact that he really has terrible policies and kinda sucks as mayor.
The biggest distraction this side of the 401 has got to be the Charter of Quebec Values, or the Charter of Secularism or whatever Marois and company are calling it now. It's garnered the ire of everyone from the Jewish General Hospital, QPIRG Concordia and even Anonymous and it's the proof that, despite how they may try to promote it, the PQ has lost any progressive cred they may have had.
With even Harley Davidson coming out against it, it's clear that some people are seeing through what it essentially a cynical ploy designed to galvanize the right-wing separatist portion of the PQ's base. Marois' endgame is clear: re-establishing politics as usual in Quebec, which brings us to…
More of the same
You'd think in a year that saw a record-breaking three different mayors of Montreal, there would be some change. Well, unfortunately, Montrealers, or a small portion of them, voted in Denis Coderre, a candidate that ran with a good chunk of Gerald Tremblay and Michael Applebaum's former Union Montreal teammates. So far, he's stuffed the executive committee with his own people despite not having a majority and has declared war on erotic massage parlours, something he didn't mention at all during the campaign.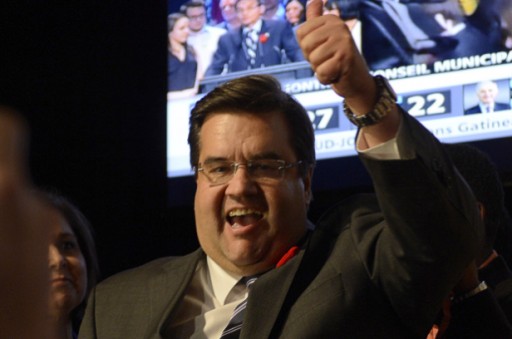 2013 also saw more police repression with the SPVM enforcing bylaw P6 in a very unapologetic and hardcore way. It's also been the year of police political profiling, fortunately some activists like Katie Nelson are now fighting it in the courts and the court of public opinion. ortunately, protesting Stephen Harper still seems to be kosher in Montreal.
It's also nice to see that the Idle No More movement continues to grow, despite it not being as big in Quebec. Local activists here did have a facepalm-inducing run-in with the cops when they tried to put up a tipi in Montreal. F
There's also supposed to be another multi-million dollar building going up on the lower Main, an area that doesn't need it. But, believe it or not, it's not all more of the same locally, there were…
A few pleasant surprises
We're getting new metro cars! And we're not talking about a few tweaks, this is actually a new design! Who would have thought such a thing was possible?
Also, Projet Montreal did end up doing quite well in the municipal election. They held on to two boroughs, nearly added a third, became the official opposition and held Coderre to a minority on council. Melanie Joly also had an impact on our municipal scene and will be someone to watch in the years to come.
Most of the pleasant surprises this year happened in Ottawa (David DesBaillets goes through some of them) and internationally (Niall Clapham Ricardo takes a look at socialism on the rise). For me, the biggest standouts are how Canada just decriminalized prostitution, the courage of Edward Snowden and the fact that the US somehow managed to bungle its way out of a war that nobody wanted or needed in Syria, but most (including me) thought was inevitable.
So that's just a brief look at how I saw 2013. I do hope that in 2014, we can do away with the distractions and the status quo. That would be a pleasant surprise, but not an impossible one.
* Top image by Jay Manafest