A young Inuit woman addressed the assembly at the UN Conference on Climate Change on Canada's behalf this past Wednesday in Marrakesh.
Maatalii Okalik, president of the Inuit Youth Council, accompanied the Minister of the Environment Catherine McKenna to the 22nd Conference of the Parties on Climate Change (COP 22) where she pleaded for the world leaders to take native communities into account.
"With your continued leadership that will define our future on climate action, I am hopeful that it is done in cooperation with Indigenous peoples," Okalik said.
Okalik's brief allocution was showcased in Canada's national statement. The Minister introduced her as "an incredible young leader for the Canadian Arctic and a strong voice for Inuit youth."
The liberal government seems determined as ever to display its good intentions to include indigenous communities in its decisions, at least on social media. On Tuesday, McKenna shaed a picture of Okalik on a stage with several indigenous leaders on Snapchat. The picture was captioned "Amazing panel on Indigenous role on climate action. I want Canada to be a leader on this."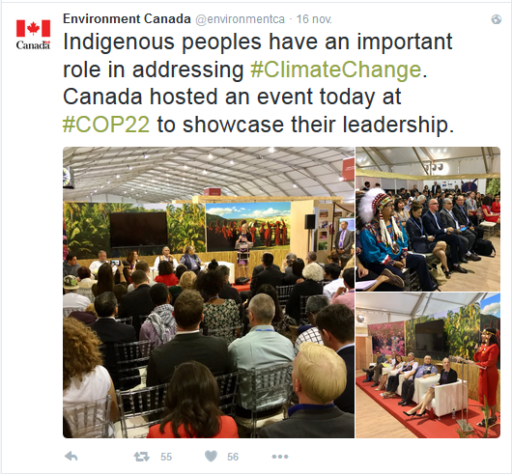 According to National Post, the Canadian delegation in Marrakesh comprises around 17 representatives from various indigenous groups.
The Assembly of First Nations (AFN) decided to send its own delegation to Marrakesh. Manitoba Regional Chief Kevin Hart and Elder Francois Paulette of the Dene Nation are both attending. Their mission is to ensure that First Nations have "a strong voice" in the plan for climate action.
"First Nations are in a unique position to be leaders in climate change initiatives because of our knowledge of the sacred teachings of the land. We must not be situated as passive recipients of climate change impacts. We must be agents of change in climate action," Elder Paulette declared in a communiqué.
Chief Hart, who is also co-chair on the Chiefs Committee for Climate Change, insisted on the importance of indigenous rights and responsibilities being fully recognized.
Both he and Okalik alluded to the UN Declaration on the Rights of Indigenous Peoples. Although the Canadian government officially supports this treaty, the Trudeau administration deemed it "unworkable" as a Canadian law.
Although Trudeau is not attending this year, Canada sent a sizable delegation. Several provincial Premiers and environment ministers are there, including Quebec's Philippe Couillard and David Heurtel. Union representatives as well as environmental advocacy groups like Equiterre and Ecojustice Canada are also there.
Where does Canada stand in Marrakesh?
COP 22 is a two week long event that will end on Friday the 18th. Its purpose is to form strategies to reach the goals set one year ago in Paris for reducing greenhouse gas emissions (GHG).
In November 2015, freshly-elected Justin Trudeau arrived at the COP 21 with nothing but the timid goals set by the Harper government: bring GHG emissions down to 30% under 2005 levels before 2030. But according to the grapevine, Canada will revise its ambitions upwards. Greenpeace Canada told La Presse Canadienne that Canadian officials in Marrakesh said that the new goal was to bring GHG emissions 80% below 2005 levels before year 2050.
The measures to be deployed in that regard are vastly unknown. Last month, the federal government announced that all provinces and territories will have to implement a carbon tax of at least 10$/ton by 2018, to reach 50$/ton in 2022. Canada had already promised $2.65 billion over five years to help developing countries access and create clean technologies.
On Wednesday, the government announced a contribution of $2.5 Million to the Climate Technology Centre and Network to that effect. The CTCN is an agency created by the UN to help emerging countries access and develop new technologies, both to fight climate change and to deal with its effects.
The government also promised an investment of $1.8 Billion to "mobilize" the private sector to do the same.
A more detailed national strategy is awaited in the next couple of days.