How did I get here? This is not my beautiful house, this is not my beautiful wife.
On getting so wasted that you have to ask a friend to re-cap your night:
Starting the night looking like a well polished scary neon clown and ending it looking like a juggalette that gave too many blow jobs and has a five o clock shadow. She sat on the porch grinning in the darkness on Halloween night.
"It was a night. Stuff happened. Let's sleep on the couch and watch scary movies." Two minutes later she is ass up on her bed with her adorable lace panties (on top of her leggings) exposed. Bloody hands and an unlocked bike.
Goodnight sweet clown, we will talk in the morning. I love that human more than words can explain, as I say in shows, I masturbate over her while she sleeps. Jk.
So, um. What is up with running in your ex on Halloween at basement punk shows?
This holiday seems to bring out everyone you have ever fucked or wanted to fuck and place them in the same crusty basement as you. My bestie once threw a punch at her ex in a mosh pit, "You better be drunk." She did it because he was an asshole and she was drunk. Runs into the same ex wearing his "appropriate" undersized Misfits tee and acid wash mom jeans.
I remember one Halloween running into someone I excommunicated from my life, he immediately put his arm around me (and wasn't wearing a costume mind you, fucking pathetic). I quickly lifted it off. I was very proud of myself in that moment. I came a long way to physically lift him off me.
My friend saw it go down and was going to come save me, but I did it myself before she had the chance. It is important to stay true to your convictions.
I am trying to write this while listening to my roomie watch a horror movie, she figured she would get it in the day after. I have such a visual mind that what I am imagining is probably worse than what is actually on the screen. Or not, shit is brutal these days. Horror flicks are all about that gore. I have a hard time with anything past Evil Dead, the first 15 Scream movies, Chucky, Freddie, Jason, and all the classics. Modern horror just grosses me out.
It's either raining or the Babadook is outside. I was stoned watching scary movies all night and my other rookie's boyfriend came over, I heard him on the porch and around back, but he didn't knock, he was texting her and she was asleep.
I picked up a giant stick and was going to beat his ass with it until he said who he was. Real gore on beggars night. Glad that didn't happen. Don't scare couch stoners. We are delicate creatures.
I will always be a fan of Tim Curry as It. I based my routine on It for the She Lives Whorer 2 Show. The next day I was Trump and sat on a toilet I had to carry down three flights of stairs with my lady. We were covered in poo water for art.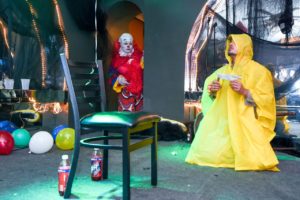 Trump is more frightening than Pennywise the dancing clown because THAT SHIT IS REAL. News is the scariest fucking truth!
You know what else is real? The Midnight Meat Train, Bradley Cooper's first starring role and he is a vegan climbing on carcasses running from an evil butcher. I couldn't stomach it and had to write this blog.
I will watch some stand up or a lighthearted rom com with her after as a reward. Not knowing anything about the movie I decided that the meat train was a drunk forgotten night gone wrong, or maybe a gay gang bang porno, possibly a special steak hoagie, or a GO VEGAN PSA! Yeah thats it.
Spoiler alert…
Weird, it was about lizard people the whole time.