Terra Lightfoot (no relation to Gordon Lightfoot) performed as part of the Sonic Unyon CMW showcase on Saturday night at Cherry Cola's. Lightfoot is playing as part of a trio these days, and the band led by this musical powerhouse lit the place up, performing many new songs which will be featured on an album she's currently working on. Somewhere during the first song, everyone's attention shifted to the stage, where she held it until the last note.
Her rich and powerful voice are perfect for the indie folk music she writes. Influenced by blues pioneers like Robert Johnson and Leadbelly, Lightfoot's music reveals these influences as well as rock, country and more. She blends these together into a truly personal style that allows her to finger-pick some songs (she's proficient at this) and blast out full and powerful chords in others. Yes, she's quite the guitarist!
She effortlessly transitions from ballads to energetic rock tunes to country-infused numbers, including one she dedicated to the Carter Family. The mellow, perhaps melancholy sound quality of her voice doesn't seem like it would fit with the sheer power she wields, yet it's a wonderfully surprising combination that makes her voice unique. She has excellent control.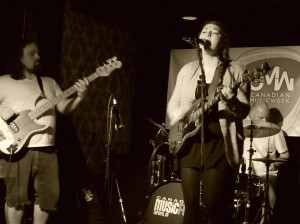 In 2012, Lightfoot won three Hamilton Music Awards including Best Female Artist, Best Female Vocalist and Best Alt/Country Album of the Year. Lightfoot has toured Canada three times, overseas once already, and is now in the midst of recording an album with her other band, the Dinner Belles, while preparing her sophomore album under her own name. So, she's making waves both at home and abroad.
Lightfoot's voice and guitar are the focal point within the band. Here is one of her newer songs, 'Moonlight', performed with her talented trio for Exclaim! TV.
Photos by Stephanie Beatson.