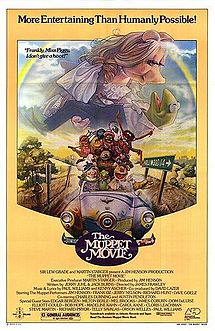 There are a few things that I learned about myself at Canadian Music Week: 1) I wish I was a Muppet 2) Spanish rockabilly is officially my new favourite kind of music. 3) Life would be way cooler if I could use a press pass to breeze through any tough situation or long line ups in life. Sigh…
The Triple Gangers set that had capped off my night on Friday evolved into a full blown 3am after-hours dance party. I kept dancing along to MGMT and Timberlake knowing full well I had another full day of CMW activities ahead of me anyways. As I've learned over several years of festival going, sleep is something you can worry about when its all said and done. When Saturday morning did finally rear its ugly head a coffee, egg McMuffin and hour of trashy reality TV got me ready to start my day.
Being a film geek at heart, I wanted to watch at least one movie at the film festival portion of CMW. The moment I perused the CMW film fest line-up I knew immediately which one it was going to be: A screening of the 1979 The Muppet Movie. While I loved the new muppet movie that came out last year and A Muppet Christmas Carol has become a holiday staple for me, until Saturday I had never seen this movie. I was thrilled to spend the afternoon indulging in childish delights and clearly I wasn't alone; there wasn't a single person under twenty in the entire audience. I also can't believe that I've gone this long in life without ever having hearing the theme song to the movie, The Rainbow Connection. Simple, yet beautiful.
Speaking of the music from the movie, after the screening the audience was treated to a Q & A from one of the music composers Paul Williams. Williams is charming in that very Hollywood kinda way; worlds apart from the quiet and humble Q & A I saw last year with indie filmmaker Panos Cosmatos. Williams talked about what inspires Muppet stories and amused the audience with stories of how when the cameras weren't rolling Frank Oz would make sure Miss Piggy would insult him with some of "the filthiest language you've ever heard".
After stopping for dinner with some Toronto friends, I was ready to go listen to some music. Carefully planning out my route so that I could end the evening in Parkdale where I was crashing, I decided to work my way down Queen street. When I lived in Toronto this fall I had often walked past The Drake Hotel on my way home and thought to myself it would be fun to stop in and check out what all the hype was about. That combined with the fact that the Drake is where Pop Montreal was having their showcase cemented where I started out.
When I first arrived at The Drake, I wandered around the venue waiting for my fellow Forget the Box CMWers to join me. My honest first impression was that I was shocked that Pop Montreal would want to put on a showcase in such a yuppie kinda place. I admit it was more then a little satisfying to show my press pass and breeze past the long line up of club kids with their expensive high heels and suits, but this was not the kind of dirty hole reeking of beer and sweat (or as we joke here at FTB, "eau de partaye") that I was used to seeing at indie rock shows.
But then FTB photographer Chris Zacchia arrived and showed me where we were headed, The Drake Underground was at the back of the venue down a winding staircase. Standing amongst dudes in converse sneakers and plaid shirts and girls with high buns and oversized glasses, I sighed and knew I was where I belonged.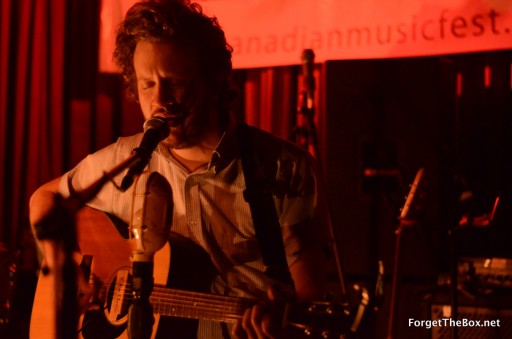 The show I caught was Adam and the Amethysts. A duo for the night (the website is vague on how many people are officially in the band) I didn't realize until I caught the set that I'd actually known about this band for awhile; the song "Bumblebee" is on an old Pop Montreal CD I have from 2008. "Prophecy" and "Flickering Flashlight" are two other really great tracks I recommend you check out from them as well.
Unlike SnowBlink the night before, Adam and the Amethysts managed to make low-key folk rock chill yet completely engaging. The intimate lighting that accompanied the set may have made Zacchia's job of capturing good photos a bitch, but I was absolutely caught up in the moment. Seeing the Pop Montreal showcase washed the lacklustre taste of the Arts and Crafts showcase the night before right out of my mouth. Could it be a matter of feeling more connected to my own kind? Who knows.
While the boys then ran off to catch a bunch more shows, I wanted to go check out another full set before calling it a night. Making an effort to pick a show that wasn't the same Parkdale/Plateau/Brooklyn indie bands I usually see, I thought the Sounds from Spain showcase (whose logo looks suspiciously like that of Pop Montreal's) at the Gladstone hotel might be worth checking out. And what would you know the band that I saw, Guadalupe Plata, ended up being my favourite show of CMW 2012. Even without understanding Spanish it's impossible not to love the fun rockabilly/blue punk sounds these guys produce. Go check out their bandcamp page and I dare you not to bob your head along to "Pollo Podrio" or "Boogie de la Muerte".
Immediately after arriving at The Gladstone I was dancing the night away for the second time in a row; and thank goodness for that. If only we could end everyday dancing!
After the show I managed to chat with the band outside along with members of Bigott, another band that had played earlier that evening. While we couldn't exactly conduct a full blown interview due to language issues, it was fun to chat up the boys. I could tell how excited they were to be in Toronto, and that they looked forward to doing the tourist thing for a few days before returning home.
Crazy to think that another CMW has come and gone. Hopefully next year I can find a way to make it out for the full five days, but then again who knows if my ear drums, liver and bank account could possibly handle it.