In honour of the release of Denys Arcand's most recent film, The Fall of the American Empire, I thought I would take a look at his roots, the head-turning Quebecois classic, The Decline of the American Empire (Le déclin de l'émpire américain). A film that, in 1986, seemed very topical and relevant.
The Cold War was still happening, the threat of nuclear war hung casually over everyone's heads, the Soviet Union was on the brink of collapse, the AIDS epidemic was rampant. For some, society seemed to be in decline or at least on the brink of it.
According to one of the main characters, Dominique, in the film's second scene, society's decline is evident because of its focus on self-indulgence (in this film's case, that focus is mostly on sex). This, she says, is indicative of our collective demise.
This is the thesis of her new book, Changing Concepts of Happiness, and the film itself. In an interview with her friend and journalist, Diane, Dominique recounts how this is evident in examples throughout history: in third century Rome, the idea of conjugal love first comes from Diocletian just before the Empire's collapse and Rosseau's idea of happiness came in during the French Revolution. Now, she argues, we are witnessing the decline of the American empire.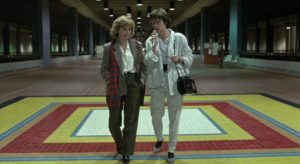 Diane interviewing Dominique in one of the opening scenes of the film
The film follows eight characters, mostly academics, a group of four women –  Dominique, Louise, Diane and Danielle and four men – Remy, Claude, Alain and Pierre. They are all colleagues at their university's history department with the exception of Danielle who is a student.
The four men cook an elaborate meal at a lake-side house, while the women, in the meantime, workout at the gym. The camera constantly cuts and pans from one group to another while they indulge in recounting their sexual exploits.
Of the men, Rémy seems to be the most active hedonist of the group, as they all retell their sexual adventures seemingly trying to one-up each other. In one anecdote, he recounts that on the way to his mistress, he was craving sex so much that he had to stop at a brothel.
Alain, the youngest of the group, believes he is unlike all the others because he "doesn't want to have sex with a new girl every night."
Pierre lives with Danielle, who he met a massage parlor, after learning she was a student at the university.
Claude, the only gay man in the group, recounts how he likes to "cruise" gay hotspots in Montreal. He once had a lover, but he died in an accident and since then Claude has an uncontrollable lust.
He also has a mysterious disease. Claude is portrayed quite well as an openly gay man on the big screen, years before Philadelphia.
The women similarly discuss their sex lives. Diane describes her sado-masochistic relationship with her new boyfriend Mario once Louise discovers scratches on her back and notes how powerful she feels while in it experiencing the "power of the victim."
Dominique, single and never married, is equally as promiscuous as Diane.
Danielle, the youngest among the women, is similar to Alain in that she has not had the same experiences and still believes that all she needs is to "be happy."
Louise, the most conservative of the group and Remy's wife, blushes at the idea of even flirting with her tennis instructor. She suspects Remy is unfaithful on his trips away but takes comfort in knowing (or rather believing) that while he is at home, he is 100% faithful. The women of course, know this is not true as both Diane and Dominique have in the past slept with Remy.
While at first, mostly all in good fun, the conversations and witty wordplay take a dark turn once they all meet for dinner. Secrets about them are spilled and grievances are voiced, exposing a group that at first seemed very modern in their sexual openness now seeming utterly unsatisfied and unfulfilled.
The degeneration of the group dynamic at this point in a way is a reflection of how Arcand saw society. That personal indulgence for indulgence's sake is a sign of decline.
Decline is very much influenced by the 1981 film My Dinner With Andre, in its very dialogue-heavy script rife with wit. Although the focus throughout is very much on sex, we do not really see much of it. That sentiment is encapsulated well from one line from Mario:
"They talked about sex all afternoon as if they were getting ready for an orgy. Instead, the big deal is a fish pie!"
Original trailer for the film
The film itself today with its fashion as well as some racial stereotypes, comes off as dated. The ideas however, still come off as somewhat relevant.
In the era of Facebook and social media, it seems that attempts at quick personal gratification are all around us and might speak to a dissolving social structure With the election of Trump and all the other malfeasance in the world it might seem that society could be in decline once again (or even failing as Arcand would argue in his most recent film).
Some might posit, however, that to argue our "society" itself is in decline is questionable. The fall of empires have generally been a good thing for societies as it can mean change for the better, though it does, in many instances, cause periods of disarray. In this sense, the moral relativism of the film can seem kind of preachy.
Regardless of this, the film is quite fun and edgy because of its wit and subject matter and still has strains of relevance to viewers today. So before you go out and watch Arcand's new film, I'd recommend a quick viewing of this classic first.
Feature Image Courtesy of Cineplex Odeon Films