Norberto Lopez' eyes dart nervously out of our tour bus and at the synchronized commotion occurring at Colombia's only major Pacific Ocean Port, Buenaventura.
The students had been protesting against the privatization of Colombian Universities, and had won – Article 30 had been announced 'repealed' earlier that 35C day, so the students were blockading and occupying the only bridge through town in celebration.
The on-site managing-director for a Port Authority that has 144 different operators vying for cargo and commission on a dock notorious worldwide for its narcotics trafficking, Noberto has the right to be tense – with or without the backed-up bridge.
The 5000 port workers who move 1200 containers of cargo per day are not the only contributors to the portside throng. There are truck drivers, stevedores, private security hired by companies and government agents who are in place to check area regulated by the Port Authority for narcotics and smuggling.
Add in the fishermen, women and informal workers from the neighboring barrio of San Jose de Buenaventura, and you have a controlled chaos that may be too large to contain when the Free Trade Agreements (FTAs) between Colombia, Canada and the US begin requiring larger shipping lanes and port expansion.
Like so many other issues in Colombia, Norberto sees Port Authority issues getting busier and larger as the FTAs begin to have their effects.
"The port will be busier and the port authority will be more important. How can we reduce accidents? How will labour standards be respected?" asks Norberto. "The Port Authority should be in charge of creating regulations – not only enforcing them."
There are currently no security benefits or pensions for port workers. The Port gets around this labour inconvenience, as do the majority of multi-nationals working in Colombia, by hiring general labour through short 23-day contracts – this also ensures competition for jobs dividing the work force because the worker has no job security beyond the next three weeks or guarantee of contract renewal.
Juan (not his real name), was with us for the entire day. From when we hopped on motorcycle taxis to navigate through the car-jam in the noon day heat, until when we exchanged contact information between our teams in a dimly-lit Buenaventura hotel-room later that evening.
Juan was representing the Union Porturia de Colombia – What he stated to be the 'true' Buenaventura port workers' union.
"Many large companies in Colombia create what they call "unions" and then these are who the companies deal and negotiate with – their own creations and not the workers," Juan explains. "The Port Authority in Cartagena is the only PA which negotiates directly with its workers."
What the Workers' Union would like to see is an occasion to sit down, in a civilized fashion, with both port workers and members of the port authority to come to a working arrangement that would guarantee good lives and outcomes for all.
One important item to be discussed is the infiltration of labour co-operatives into the working pool. Not only do these sub-contractors take an additional fee from the workers' salaries, these groups hardly, if ever, represent or respect acceptable labour standards.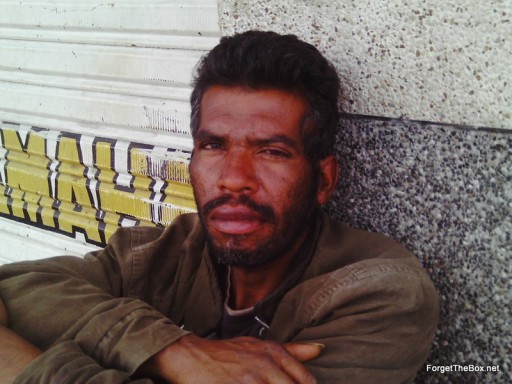 There are 144 operators organizing at Port Buenaventura because each company sub-contracts their own workers to load and unload within the Port Authority. It has become so convoluted that there are some workers who have been unloading for years at Buenaventura, yet still receive different pay per load depending on which company's load they are moving.
Both Juan and Norberto feel that there should be only one operator at the Buenaventura Port Authority, to assume all responsibility and standardize the pay rate at the docks.
There is also the problem of racism that needs to be discussed. The current impression in the Afro-Colombian community is that Afro-Colombian port workers, who are local, are being fired and replaced by workers brought from the Colombian interior, who are then paid better salaries and provisions.
Hopefully, these working discussions can translate into labour rights legislation from both the Colombian Congress and Senate – Juan and his union feel that these labour guarantees and protections will be more important now with the FTAs between Colombia and both the US and Canada.
What the Colombian Port Workers' Union does recognize is that what they are asking for within their specific industry are the same recognitions sought by workers in different industries throughout the country.
Sugar cane cutters, flower growers and pickers, palm oil specialists and port workers all understand that by working together they will strengthen the success of the movement and avoid being part of a divided labour force which weakens the voice of demand.
And you will not be heard in Port Buenaventura, Colombia if you speak with a weak voice.
* Pictures by Tariq Jeeroburkhan, people pictured are not those mentioned in the report